New circuit looks to add spectators, standardization to the sport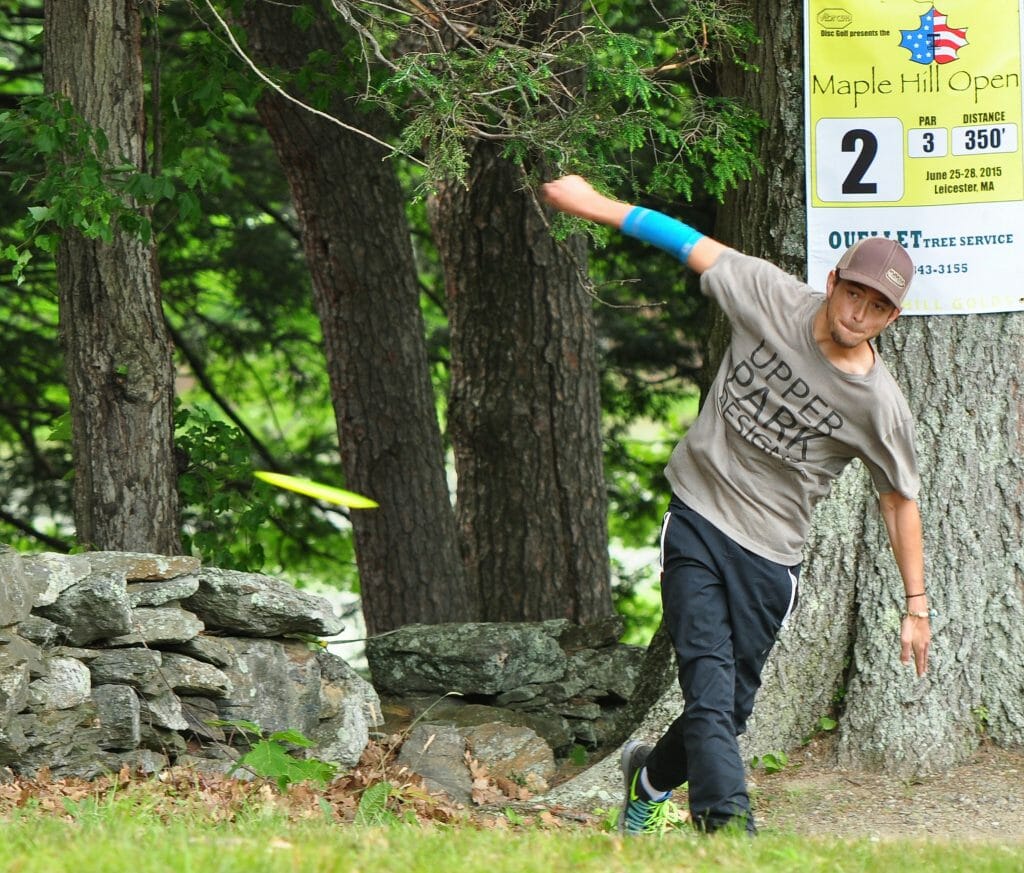 As Gregg Barsby packed up his life in preparation for 10 weeks on the road – "It's a pretty daunting little tour" – a tone that was equal parts resignation, frustration, and determination came over his voice as he reflected on his runner-up finish at the 2015 Maple Hill Open.
"Last year, I had that tournament in my hands," Barsby said. "That was mine to win and mine to lose. My hat goes off to Rick [Wysocki] for jamming those couple of really big putts coming down the stretch. However, it didn't really intimidate me or anything like that."
The longtime Professional Disc Golf Association veteran and fan favorite, known as much for his skill on the course as his penchant for drawing laughs, brings that unflinching spirit back to Maple Hill this weekend for the Vibram Open, which doubles as a PDGA National Tour event and the first stop on the inaugural Disc Golf Pro Tour. Comprised of daily rounds today through Sunday at the hallowed course in Leicester, Massachusetts, the tournament finds Barsby back to health after a six-month elbow injury ended his 2015 season. Now fully rehabbed and working consistently to keep both his mind and body sound, he'll look to recapture the fire that saw him chasing down Wysocki and Paul McBeth in last year's final round before bogeying three out of the final four holes to send him home in second place.
Disc Golf Pro Tour Round 1 Livestream
"I just made an errant shot on 15 and caught a really unfortunate break on the green, skipping off that log," Barsby said. "To put it in perspective, it would be like if they put a strip of bricks on the green at a big tournament on golf, and a guy hit it three feet from the hole and it hit the brick and it bounced into the bunker. I didn't get up and down. Those are the little nuances that happen in disc golf, and I understand that. That's the way it goes…I was right there."
It isn't just Barsby versus McBeth and Wysocki at this year's Vibram Open, though. Jeremy Koling, who placed fourth at his first National Tour event during 2009's Vibram before winning the event in 2014, is putting together a strong season and is fresh from a couple weeks of downtime in North Carolina. That history at the event, combined with winning a spirit award in 2010 and being a four-time champion of the tournament's annual pie eating contest, brings the man known as "Big Jerm" to this year's iteration brimming with sentimentality and positivity.
"The very first time I ever drove up on Marshall Street, I just knew that place was something more special than any other place for me," Koling said. "I would argue that that event means more to me than any other person on the planet, outside of [tournament director] Steve Dodge and the people that run the event."
More than just desserts, though, Koling said the Maple Hill course is the real jewel of the event. With a mix of elevation, woods, and water, the venue poses a full test for any golfer and ranks as his top course in the United States.
"[The holes are] fair, they're challenging, and they're fun," Koling said. "Those are the three keys to knowing a good course. Are the holes fair, are they fun, and are they challenging? And I feel like, for the most part, every single hole at Maple Hill has all three of those checked off."
That quality, combined with the atmosphere created by Dodge and his team during the week of the event, had Koling raving about the impact the Vibram Open has on his overall game.
"When I'm having fun, when I enjoy the course, when I can respect that the designer designed holes that challenge the player and keep in mind the fun and fair factor as well, then I'm in a much better mood," Koling said. "When I'm in a great mood because I'm excited about the golf I'm playing, then that translates to playing better. So those things all play a pretty vital role in me having success up there."
And capitalizing on that feeling – of disc golf being so captivating and fun – is at the crux of the Disc Golf Pro Tour's mission. Since its announcement last October, Dodge has embarked on a campaign to bring more relevance to the professional side of the sport by making it more appealing to spectators. Using a two-pronged approach – live streaming and statistics for online viewers, and a disc-based family festival for those in person – the aim is simple: for more people to simply watch live disc golf.
"If I don't succeed in that, then the Pro Tour will have a much lower chance of succeeding," Dodge said.
As a player who has been around since the early '90s and has seen the sport continue to grow and evolve, Barsby said he was looking forward to seeing how this first Pro Tour event came off.
"I think it's really cool that there are some different avenues opening up in the disc golf competitive realm," Barsby said. "Also, with the culture I'm excited to see how many people come out because I think it can be really fun, and to get the whole vibe of it because it's new…It'll be exciting."
For Koling, the Pro Tour presents an opportunity for disc golf to be more appealing not just to people who might watch the sport, but also to those who play it for a living.
"It's just going to have a more professional quality to it than, I think, a lot of the National Tour events have had in the past," Koling said. "The National Tours have been fun and all, but there are a lot of standardization issues that we've all had as players, and I think Steve will – he's open and receptive to those things, and he's willing to make changes to make the game easier to play as players, but also to follow as spectators."
Case in point: Every Pro Tour event will be comprised of two divisions – Open Men and Open Women – and will play four rounds. The circuit will also run chronologically and in a geographically-organized fashion, with the 2016 season seeing events confined to the upper Midwest and Northeast. Those features, combined with the man behind it all, made Koling confident in the tour's future.
"[Dodge's] vision and his ambition is inspiring, because you know what you're going to get: a top-level event with a guy that's listening to criticism and having fun with the players while it's happening," Koling said. "He works so hard for this event, but he works so hard at everything he does, so there's a very high level of respect for what he does."
Forecast and Coverage – Watch at Ultiworld Disc Golf
This week's official start to summer bodes well for the Vibram Open forecast, with high temperatures for the weekend hovering around the low-to-mid 80s. There is a chance wind could be a factor for Sunday's final round, with 13 MPH breezes in the outlook, but for the most part Mother Nature should not be an issue.
With the Pro Tour's reach for spectators comes an increase in coverage. Live streaming of the event will be broadcast by SmashboxxTV each day, with coverage including today's "Champions Card" – an all-star lineup featuring McBeth, Wysocki, Koling, and Vibram Open amateur winner Anthony Cavalieri – beginning at 2:30 p.m. EDT and available for viewing at Ultiworld Disc Golf's front page. Viewers can interact with real-time statistics via UDisc, and next-day videos will be provided by Marty McGee of Prodigy Disc Video.
Since the Vibram Open doubles as a PDGA National Tour event, live scoring and updates will also be available through the PDGA's website and @PDGALive on Twitter.