Three-time U.S. champion seeks first NT victory this season, while Bjerkaas looks to build on recent success in the Women's Open division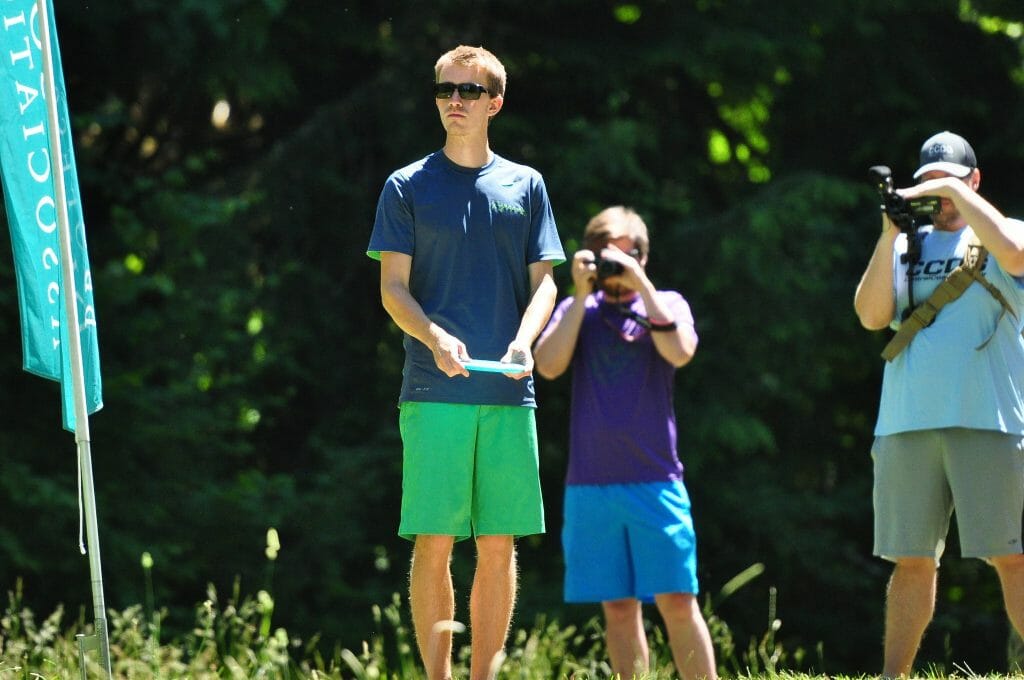 Will Schusterick is not in denial about his 2016 season.
The three-time United States Disc Golf Champion has struggled through the first half of the year, with his highest finish at a Professional Disc Golf Association National Tour event being 16th place at the Memorial Championships in March. He sprinkled in a win and a second place finish at two A-Tiers, but since the Glass Blown Open he has not finished higher than 11th place and finished out of the cash at last week's Tennessee Disc Golf State Championships.
"It's safe to say that it's the worst start to any season I've had since I've been playing disc golf, honestly," Schusterick said.
This weekend's fifth National Tour event – the Beaver State Fling in Estacada, Oregon – couldn't come at a better time, then.
Taking place today through Sunday on two Par 61 courses at Milo McIver State Park, the Fling has, historically, treated Schusterick well. He won the event in 2013 by going 35-under for the tournament's four rounds, came in second in 2015 after being bested by Paul McBeth in a playoff, and has never finished worse than fourth in four career appearances. As a result, Schusterick sees the tournament as a chance to right the proverbial ship.
"I think it's definitely going to be an opportunity to get back on track," Schusterick said. "I think that these courses play really well to my game. I like playing out here, which is a big factor in it – I'm just always looking forward to it. I think this is the fifth year in a row I've played this tournament, and I've been in the lead every single time I've played the event at some point in the final round."
While Schusterick has that history on his side, so does Nate Sexton. The veteran is playing in his 13th consecutive Fling – it was his first professional event in 2004 – and he has his own win at Milo under his belt from 2014, when the event was a B-Tier. Coming off a sixth place finish at the St. Jude Disc Golf Charity Invitational, Sexton said the courses at this weekend's event open the competition up to more than those with experience.
"It's a cool course because it demands rollers, it demands backhands, it demands forehands," Sexton said. "[It's] well-rounded, and then obviously good putting is always the most important thing."
That's where Paul Ulibarri is looking to get back on track after a difficult time around the basket at last weekend's Fort Steilacoom Open. In addition to the need for close range accuracy – he'll rely on the spin putt he feels more successful with, as opposed to the in-development push putt he deployed at Fort Steilacoom – Ulibarri said the typically tight scoring spread at the Milo McIver courses also makes the event a challenge.
"Milo's more of a mental test than anything," Ulibarri said. "There's not a lot of stroke separation, it's always close. The difference between a really great round and a really poor round is five strokes or something. You can shoot a 57 on the West course and feel like you shot yourself out of the tournament, and you could shoot a 53 and be on the lead card."
Indeed, the scoring spread is a factor at the Beaver State Fling, as the last time the Open division was taken by more than two strokes was in 2009. If a player can catch fire late, Ulibarri said, he or she usually has the best chance of winning.
"I feel like it's more staying in it and letting the round come to you and getting the birdies when you can," Ulibarri said. "…I think in the past three or four years it's been whoever has had that best last hot round won the tournament because everything is so close."
Aside from mental endurance, though, physical fortitude is also key. Unlike typical National Tour events, the Beaver State Fling is, in Sexton's words, "kind of a throwback," with players cramming two rounds into the first day of play instead of the standard single set of holes. While it might seem like more golf in one day than a professional would like, Schusterick brushed it off as nothing more than another psychological hurdle.
"I don't think the courses are long enough to be dreading it," he said. "I think that the courses are still a good length to where [over] two rounds it's definitely somewhat of a stamina thing if you're going to play really well back-to-back rounds, but it's also something that I just don't really think about."
Ulibarri, though, said he prefers the typical one-round-per-day format, as it brings disc golf closer to traditional golf and its set tee times that spectators and players can rely upon.
"Imagine telling Tiger Woods, 'Hey man, it's time for you to play the biggest tournament of the year. But you're going to have to play two rounds today, and then a round tomorrow, and then a round on Sunday,'" Ulibarri said. "He would be like, 'My body can't take that, I'm not doing that.' He wouldn't play that tournament."
Regardless of the number of rounds in a day, or the scoring spread, or history, though, Schusterick said he knew what he had to do reacquaint himself with his prior success. It just isn't going to happen overnight.
"You kind of just have to get through it because I've been at the top, and I know what I did to be at the top," he said. "I know that second guessing myself, really, is going to have the opposite effect. It's not going to help me to second guess myself, it's not going to help to tell myself that there's a huge problem and I have to fix it as fast as possible. Really the best thing to do is just power through it and practice every single day and keep going at it."
Bjerkaas bringing increased confidence to the Fling

Coming off her best National Tour finish and a victory at the A-Tier Zoo Town Open last weekend, Paige Bjerkaas is brimming with confidence heading into Beaver State. But, as she tells it, that hasn't been the case the entire season. It took a well-timed pep talk from a friend and teammate at the Kansas City Wide Open to help the 19-year-old flip the mental switch.
"I had no confidence [in Kansas City] because I didn't practice the week before, I had finals," Bjerkaas said. "I was playing one of my rounds, and Eric McCabe came up to me and he's like, 'Paige, you are so good at disc golf. I wish you had more confidence in yourself, because that's all it takes for you to be one of the best players in this game.' And I'm like, 'You know what, you're so right. I've been playing this game for nine years, and I'm good at this game.' I've had my ups and downs, but I don't know, since then in my mind I've kind of been cocky and have been like, 'You're going to do well, you're going to make this putt, you're going to do this.'"
And while the Women's Open field is a little thinner than usual with Sarah Hokom out with an injury and Val Jenkins taking the weekend off, Bjerkaas will still need all the mental toughness she can muster to go up against Melodie Bailey – who comes off her own A-Tier win at Fort Steilacoom – and Catrina Allen.
"I love playing with Cat," Bjerkaas said. "When I play with Cat, seeing her shots kind of motivates me, and I think it pushes me. Almost every round I've played with Cat this season I've done super well."
Bjerkaas' top finishes this season – at the Masters Cup and the Glass Blown Open – have come when playing on the same card as Allen for every round, she said. While she enjoys their battles, the admiration stops at emulation.
"It's really fun to be able to watch that and see her lines and see her shots," Bjerkaas said. "She has a bigger arm than me, so usually I see her lines and am like, 'Dang, that's a really cool line,' but unfortunately I don't have that distance, so I stick to my own game."
Forecast and Coverage
It just wouldn't be a 2016 National Tour event without some weather. As such, forecasts for today in Estacada call for highs in the mid-60s with a 60 percent chance of rain and scattered thunderstorms in the afternoon. Early rounds on Saturday could be affected as the showers leave the area, with afternoon clearing paving the way for Sunday's high of 73 degrees under sunny skies.
Live streaming will not be available for the event, but a plethora of post-produced options will be available. Central Coast Disc Golf has plans for next-day release of recap shows and the men's lead card, while The Disc Golf Guy will also be onsite covering as yet unannounced cards with a one-day turnaround. Scoring will be frequently updated at via the PDGA's live leaderboard, and play-by-play will be given on Twitter via @PDGALive.
This post was updated to correct information about Paige Pierce's playing status. Ultiworld Disc Golf regrets the error.