Five-time PDGA world champion Juliana Korver shares her WGE experience.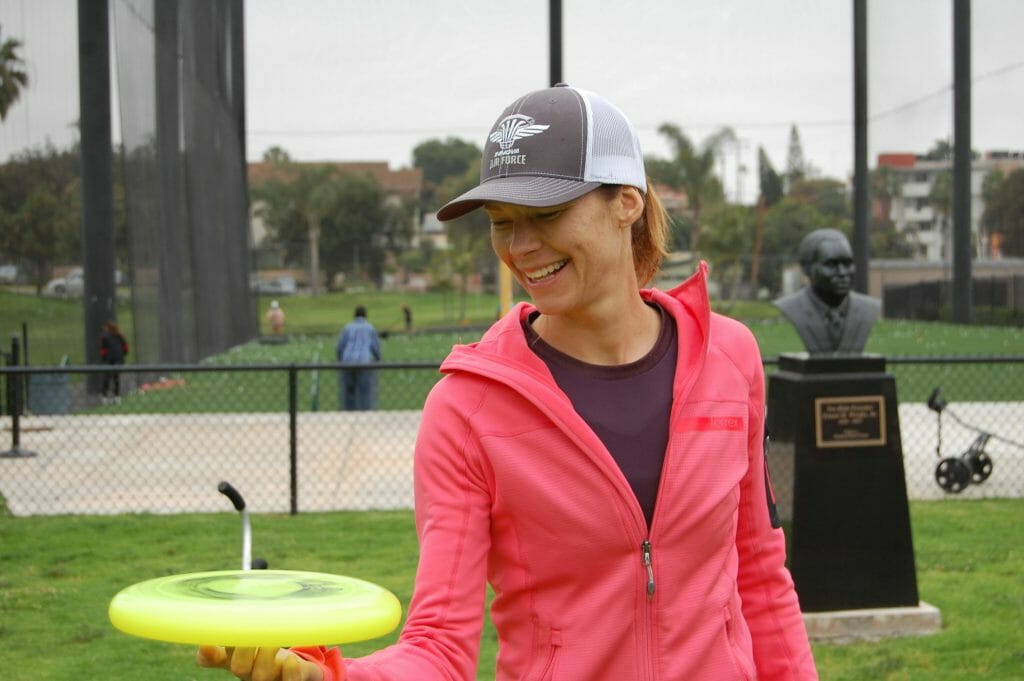 It was a day of reflection for me on Saturday at San Diego's inaugural Women's Global Event. This sport has given me more gifts than I could have imagined, and as I looked out on the beautiful executive golf course filled with women and girls of all ages, I saw myself in all of them. My stages of growth, maturity, drive, and enthusiasm were reflected back to me from every direction.
Our WGE, hosted by the San Diego Aces Disc Golf Club, had 34 participants playing a very small and, dare I say, adorable disc golf course somewhat recently installed on the Colina Park Golf Course. Most notably, we had five junior girls – three under the age of 10 – who all played with unbridled enthusiasm and impressive grace. They, deservedly, had the largest gallery, which I believe measured in double digits all day.
At the end of the first round, the group of five was finishing up in close proximity to tournament central. I saw three of the five drives, and all were highly impressive. The distance from their tee was not more than 100 feet, but the drives I saw flew with obvious control and accuracy, all landing less than 15 feet from the pin and one nearly hitting the basket. On the same hole, those of us at tournament central had the pleasure of watching one of the girls make a solid, aggressive. and perfectly aligned birdie putt from at least 20 feet. Her immediate reaction was to whip her head around in the direction of her father, where they shared a beautifully-connected moment.
After their final hole, another of the girls took off running back toward tournament central with a look of joy spreading across her face. She weaved in and out of the few players between her and her destination, whom I assume was her father and whom she threw her arms around. It was heartwarming on multiple levels. Clearly, these girls have some impressive skills but, better yet, the enthusiasm they felt playing in this event was tangible.
The rapid growth of the WGE proves its worth and successfully stirs up support for female disc golfers, the sorely under-represented gender in our sport. When I started playing disc golf in 1992, women made up 7 percent of Professional Disc Golf Association members; 24 years later, that ratio has barely increased. Of course, it is wonderful that our total numbers have increased greatly worldwide, but it remains a mystery to me why women still make up less than 10 percent of active members.
Over the years I have seen a number of strategies implemented in an attempt to increase women's participation. I've seen the pendulum swing back and forth, trying to find the magic ticket that will entice more women to compete. This has included creating more divisions and smaller entry fees, which has come full circle as those two ideas have also been blamed for discouraging women. The answer is not binary, but I believe the WGE has solidified its position at the top of the long list of possible solutions. I can't wait to see how the growth of this event continues to explode.