The first installment in a series exploring disc golfers who fell off the radar.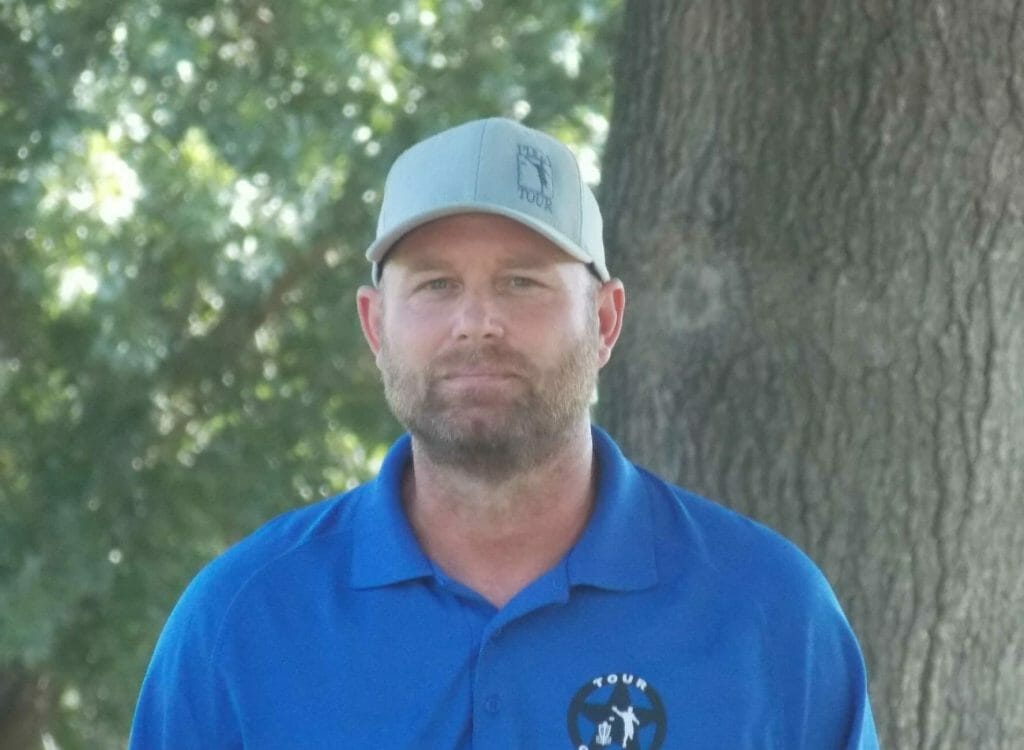 How can someone have the desire and talent to compete at the highest levels of disc golf, and then not even play a one-day C-tier tournament? In "Where Are They Now?" Ultiworld Disc Golf staff writer Robert Leonard seeks to find out, as he looks at players who once toured, had success, or made a splash in the disc golf world and now don't even compete at a local level.

It is not an uncommon sight to see Shawn Sinclair at a course, dressed in disc golf apparel during the Professional Disc Golf World Championships. Ready to go with his backpack, water, sunscreen, and shades, Sinclair gets to the courses weeks early, like many, to prepare for the event. That backpack, though, does not have discs in it. Instead, it has notebooks and a PDGA rule book. He's not there to compete; he's there to marshal.
Sinclair is one of many people in the sport who play a vital role in the PDGA but is not a member of the organization's paid staff. He's on the PDGA Board of Directors, has served as the chair of the discipline committee, is a member of the game development team, is the head marshal for both the Amateur and Pro World Championships each year, and also does site reviews of courses played in those events.
For those that recently started playing, this is the only Shawn Sinclair they know. Few people who see him around the course at the World Championships or read his name on Board of Directors meeting minutes know that, at one time, Sinclair was an elite disc golfer.
Originally a physical education teacher, Sinclair used his summers off to tour. While on the road at the 1997 Masters Cup he met Juliana Korver, who is arguably the best female player of all time. The two became friends and eventually married after Korver's divorce was finalized.
Sinclair was struggling financially as a teacher and knew he had the talent to compete with the game's best players. This, combined with his new love interest playing disc golf for a living, made touring was an obvious choice.
"Juliana quit her job and was touring full time," Sinclair said.  "The last day of school, I had my truck already packed and drove straight to Iowa where Juliana was waiting with our van. I threw my stuff in and drove all night to Kansas City for the event that weekend and we were off and running from there."
And away he went.
Sinclair played 17 events in 2000, 31 in 2001, 37 in 2002 and 21 in 2003. He won 16 times over that stretch, with his most notable victories coming in 2002, when he won the Mid-America Open and the Discraft Great Lakes Open, both A-tiers (there were not National Tour events at this time; A-tiers were the biggest events that were not majors). Included in those fields were names like Dave Feldberg, Cameron Todd, Brian Schweberger, Barry Schultz, and Ken Climo, who was at the time still clearly the game's top player.
Sinclair capped his season with an 11th place finish at the 2002 World Championships. Combine that placing with the A-tier wins and 21 other top-10 finishes that year, and you're looking at the resumé of an elite player.
"There was a period during that year where I felt I was going to make every putt inside of 40 feet," Sinclair said. "When your putting is working, the rest of your game falls in line. I absolutely felt like I could compete and beat anyone in the game."
After what would be the most successful year of his career, subsequent seasons saw Sinclair regress a bit. He finished 21st at the 2003 Worlds, 25th at the 2004 Worlds, but did have a runner-up finish at the 2004 Waco Charity Open, a National Tour event.
Not only did Sinclair gain respect as a player during that era, he also gained respect as a caretaker of the sport. As voted on by other players, Sinclair was awarded the 2003 Bob West Sportsman of the Year. Everything was going right.
Then, Sinclair woke up one day with a small kink in his neck. It progressively got worse, and he had to drop out of a few events and never really fully recovered. This, as well as a major life event, signaled the end of Sinclair's days on the road.
"Juliana and I bought a house in 2004 and that was pretty much the end of our full time touring," Sinclair explained. "We still played a bunch of events, but we were no longer living out of a van. Since I wasn't playing the 2006 Worlds due to a knee injury, I was offered to be a marshal, which worked out because I was going to be there anyway with Juliana playing."
The neck and knee injuries, combined with renovations on the house and a computer consulting business the two opened shortly thereafter, led to the dynamic duo leaving the road full time.
"We played solely for fun after we toured," Sinclair said.
Stop touring to be with your wife, work on your house, and start a business? This makes sense. Sinclair, though, hasn't played a PDGA-sanctioned round since 2008. For someone who had elite level ability and "played solely for fun," this is quite the 180-degree turn.
"Plain and simple, I lost the desire to compete and it was no longer fun," Sinclair explained. "I wasn't excited to play tournaments. However, as a marshal and a tournament director, I feel that excitement."
Sinclair channeled that excitement and, in a fashion similar to how he took the disc golf world by storm as a player in 2002, brought it to his new life as a volunteer. In 2009 he was awarded the PDGA Volunteer of the Year, making him the only person to be named both the Volunteer of the Year and the Bob West Sportsman of the Year.
The competitive desire it takes to travel around in a van and play disc golf for a living may have gone away, but the passion for the sport obviously did not. This begs the question, then: At some point, doesn't the desire to play come back? Cam Todd and Scott Stokely came back after long hiatuses, so might Sinclair consider a similar renaissance? What about just a local C-tier on a course he likes or is close to home?
"Never say never, but I don't see myself ever competing again," Sinclair said. "As bizarre as it might sound, I love going out and running by myself for five to six hours. I have run several 50Ks and 60Ks, ran a 56-mile race in North Carolina, and really want to get a 100-miler under my belt."
Now divorced from Korver, Sinclair lives with his girlfriend, current PDGA Women's Rookie of the Year Sara Lamberson, in Nashville, Tennessee. He works part time in the mornings as a postal carrier and has some investment properties.
The lifestyle change has made the sport something it is for many average disc golfers: recreation.
"My thoughts at the time I was playing and traveling was it was not a sustainable model," Sinclair said. "Even playing at a very high level, with sponsors we barely kept our heads above water. Then once you have a steady job, roof over your head, in some cases kids and family, you get wrapped up in life and disc golf becomes just a hobby. I haven't stopped playing; I have just stopped playing tournaments."
If you ever want to meet one of the nicest and most impactful people in the sport, Shawn Sinclair is a good place to start. Don't head to the next PDGA event in Nashville, though, as he won't be there. But attend a Worlds or get involved with the PDGA, and it will be impossible not to know who he is.
And for someone who never won a major and hasn't competed in eight years, that's quite the statement.
The next 'Where Are They Now?' will feature Mike Randolph, who compiled back-to-back top-four finishes at the 2007 and 2008 world championships and has won more than $60,000 in his career. While he never traveled nationally, he almost always played at Worlds, the United States Disc Golf Championships, and local events. What is he up to these days, and why does he no longer compete?