The 2015 college champ is set to take on Europe's best - and a determined McBeth - at the Disc Golf World Tour's second stop.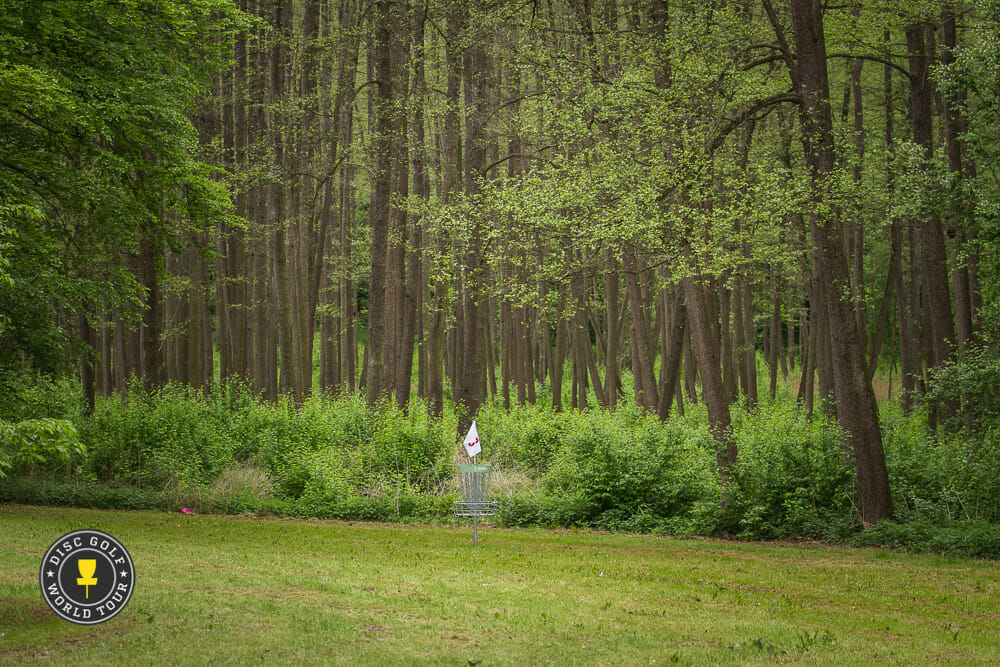 He's the third-highest rated American player heading to the Czech Republic for this weekend's Konopiště Open, but it's likely you've never heard of him.
With an individual National Collegiate Disc Golf Championship title to his name but appearances in only six National Tour events throughout his career, James Proctor and his 1020 rating have breakout potential at the second stop on the Disc Golf World Tour.
He just needs to actually see the course, first.
That's just one of many storylines heading into this weekend's DGWT tilt in picturesque Benesov, where the young American will take on some determined countrymates and Europe's top-rated player over three days at the Konopiště Castle Park's Franz Ferdinand course.
A junior at the University of Nevada-Reno, Proctor heads to Konopiště having spent the semester studying abroad in Madrid, Spain. It's an experience he has relished, but also one that has not afforded him a normal practice routine or tournament schedule. Case in point: He's played one event this year – the B-tier Open de España, in which he obliterated the field – and has taken to putting on acquaintances' portable baskets or on trees at the park near his house.
Combine that with a school schedule that finds him unable to travel to Benesov until the night before the tournament, and Proctor heads to the Par 67, 3,353-meter (11,001 feet) course relatively blind.
Not that he's complaining.
"Pretty much this whole trip is just taking all the experiences and making the best of them," Proctor said. "I'm just so lucky to be out here to be able to play this tournament, I'm not worried about winning it. I mean I'd like to win, I'm going to try to win, but I understand that some of the guys are more well-prepared than I am. They'll know the course, they've been playing."
That doesn't mean the 21-year-old hasn't been trying to acquaint himself with the venue. He's been studying photos of the layout and watching videos of last year's Konopiště Open, and he said that, from afar, the course reminds him of the Beaver State Fling's Milo McIver Park, where he has some experience. Plus, Proctor says he has fared well in other tournaments when he hasn't had sufficient time to prepare.
"When I do play a course blind, I seem to do pretty well," Proctor said. "Although I never play it blind in the tournament, I play it blind in the practice round. But with the way the World Tour has been working – at least at La Mirada with all the O.B.s and all the knowledge you need to gain by playing summer rounds – I won't have that."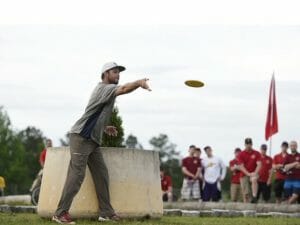 Proctor does have one more preparation factor stacked against him, as well: A sponsor change early this season from Prodigy Disc to Latitude 64 will see him tackle Konopiště with relatively new plastic and only about 25 discs that he has with him in Spain.
"I don't have multiples of one, one may fly differently than it's supposed to and that's just what I have to work with," Proctor said. "I feel like I have every disc that I need, so we'll see how it goes."
So with everything pointing toward difficulty for Proctor at this event, why can he be a factor?
Experience. It may seem paradoxical given his lack of NT play, but Proctor has logged A-tier victories over names like Locastro, Rico, and Brathwaite, while also securing a Top-20 finish at last year's PDGA Pro Worlds. He does it with what he calls a "power game," one honed throwing hyzers on the long fairways of Northern California's Stafford Lake County Park, and a mental game that doesn't see him daunted by the sport's current top dog.
"I've played with [Paul] McBeth before, I don't worry about what he's doing," Proctor said. "He can do crazy things and get in your head, so I'm not going to be worried about what anyone else is doing. I'm going to be there to have fun and hopefully, if I play well, I do expect to be up there."
There's more than just McBeth to be concerned with, though. The current top-rated European player will also be on hand and is taking on Konopiště from the opposite end of the preparation spectrum.
Denmark's Karl Johan Nybo, who brings a European-best 1030 rating to his defense of the Konopiště Open title, arrived in Benesov Saturday to scout the course and, as of Tuesday, had already logged two practice rounds on the Jussi Meresmaa-designed layout.
The advance reconnaissance was a necessity, he said, on a course that has been altered to play significantly longer than last year.
"It's Jussi's design and he tweaked all the holes that he could just to make them like 30 meters longer, so it's not the same layout as last year," Nybo said. "Maybe last year it was [throw a] drive [then throw a] midrange, or drive, putter sometimes. Now it's more drive, drive. It's long, it's a long course, but it still fits me well, I think."
While Nybo was familiar with Proctor's game – "He has a sick sidearm" – he also lamented that he was not able to make it to the course in time to see it before the event.
"If I didn't have the right preparation for it I don't think I would go there," Nybo said. "But he's a good player. Maybe he can still, after the first round, he will probably make the second round way, way better I think."
Regardless of how ready either player is for the Franz Ferdinand course, they also have to account for the competition – in particular, a world champion who is coming off two consecutive losses and is known for added determination in defeat.
"I think he's ready," Nybo said of McBeth. "Of course he's ready. You want to have a win here, for sure. It's the World Tour."
And that focus on McBeth coming off two heartbreakers, as well as the presence of Simon Lizotte and Nate Sexton, may actually play to Nybo's advantage as he seeks to repeat.
"I think when you're defending champion there's always some kind of pressure on you," Nybo said. "I think most of the pressure is kind of taken off my shoulders because Paul and Nate and those guys are here, too. I'm not feeling the pressure, not really. Just a little bit."
Besides the well-known PDGA Tour names, Nybo also highlighted Finland's Teemu Nissinen as a European player who could make some noise in the Czech Republic.
"He's a lefty, he beat me in Copenhagen, and I think this course is set up well for lefties," Nybo said. "If you have the sidearm here…you can make that good hyzer and push that hyzer long [as a] lefty. That's a benefit of being lefty here."
No matter whose name ends up on top of the leaderboard Saturday evening, for Proctor this event is all about adding to his adventures abroad.
"I'd like to play well and I know I can be on the lead card," Proctor said. "I know I'm capable of it, I'm capable of competing with McBeth and Lizotte and Nate Sexton and K.J. and all those guys, but it's all up in the air right now.
"I would trade nothing for this. It's been an amazing semester."
Coverage and Forecast
Unlike the DGWT's first event, the Konopiště Open will not be streamed live for viewers in the United States. It makes sense, given that play starts at 8:00 (2:00 a.m. EDT) in the Czech Republic. However, with the premier card teeing off at 13:00 (7:00 a.m. EDT), hardcore fans on the East Coast can check out live scoring on the Disc Golf World Tour website while waiting for post-produced coverage to trickle out.
The weather in Benesov, save the possibility of rain late Thursday, looks to be perfect for championship-quality play, with clear skies and a high of 70 degrees in the cards for Friday and Saturday.