Pierce looks to repeat as PDGA National tour picks up after a two-month hiatus.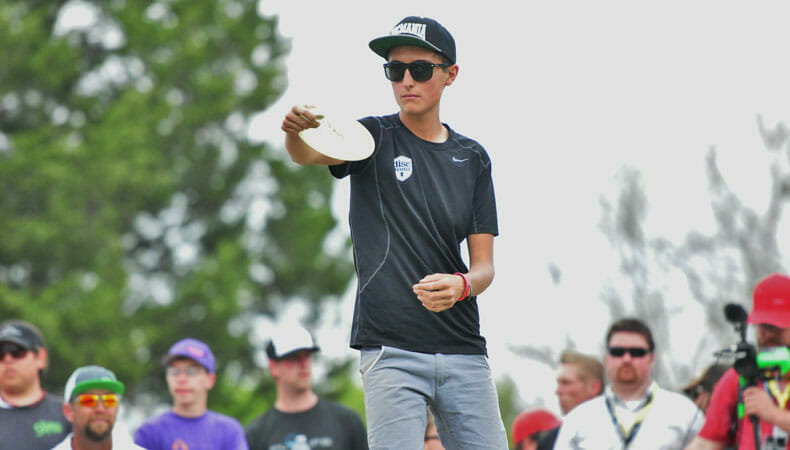 Last year's Glass Blown Open signaled the de facto arrival of then 17-year-old Eagle McMahon. Playing in only his second Professional Disc Golf Association National Tour event, the Boulder, Colorado, native stormed out of the gates to land himself one shot out of first place and on the final round lead card alongside names like Paul McBeth, Dave Feldberg, and Will Schusterick.
It was a placement that put him squarely on the national disc golf radar, but, he admitted also led to his ultimate demise. After struggling to a final round 65, McMahon ended the tournament in ninth place, but with a lesson learned.
"I definitely threw a lot O.B., but I can tell you the reason [I struggled]: I felt pressure for sure," McMahon said. "I was just this kid coming out of Colorado, no one really knew who I was, and to be thrown into the mix with Paul McBeth and Dave Feldberg, it was really exciting. I felt like that kind of got to my head a little bit. Ever since then, I've kind of worked on that and seen where I can improve, and I feel like I'm a lot better in pressure situations now."
He'll test his mettle starting today at this year's GBO, which plays through Saturday on three courses in Emporia, Kansas. The second National Tour event of the season is also the first in almost two months, and finds McMahon with some momentum after second and fifth place showings at back-to-back A-tiers in Texas the last two weekends.
"Between Texas States and Nick Hyde [Memorial], I'm starting to gain confidence in my play, so coming into this tournament I'm feeling good," McMahon said.
He'll need that confidence to take down Discmania teammate Simon Lizotte, who is also riding high into Kansas after winning the Nick Hyde Memorial in a three-way playoff with McBeth and Nate Sexton.
"An A-tier win is awesome, and then with that field we had – especially with Paul and Nate and with how close it was – it was just a mental challenge," Lizotte said. "Coming out on top was a big confidence boost and a great way to carry momentum going into this big event."
For Lizotte, who will be heading to Europe for three months after the GBO, last week's victory marked a distinct change in his playing style as he recovered from an illness that knocked him out of the previous week's Texas State Championships. He said the malady caused him to slow down his play, which is something he will try and recreate this week.
Still, he wasn't making any promises.
"That's always the plan, but sometimes during rounds, especially if there's a gallery, I just get carried away and change my game plan because I get too bored," Lizotte said.
A top mental game is something Lizotte noted he'll need again against McBeth, who is notorious for playing lights out after a loss.
"Always when he doesn't win a tournament he comes back even stronger from it," Lizotte said. "It really motivates him to work harder, so he'll be really tough to beat, as he always is, but this weekend especially because he got beat last weekend."
Lizotte also pointed to Schusterick, who finished fifth at last year's GBO, as someone who could get back on track after some early season struggles.
Then there's McMahon, one of the few on the professional tour who has the arm to go toe-to-toe with Lizotte.
Now that he is "95 percent" recovered from an injury he suffered on his right index finger after smashing it in the trunk of his car in January, McMahon said he is ready to tackle the GBO's three pro venues – Peter Pan Park, Jones East Park, and the Emporia Country Club – with a year's worth of seasoning and maturity.
"Last year was the first time I played with the big boys, but now I'm kind of with them," McMahon said. "So it's kind of a different mindset in that case."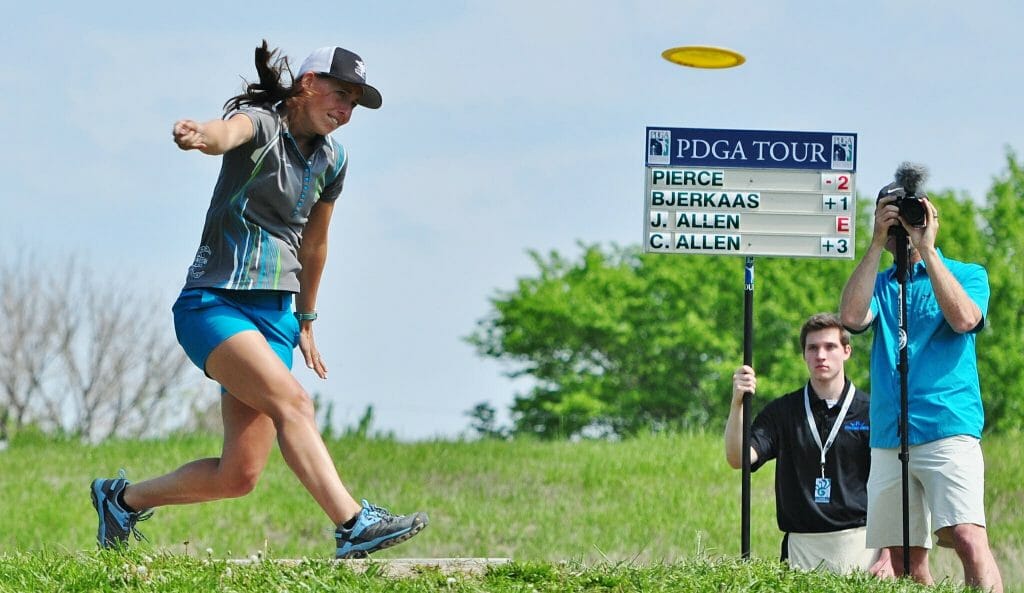 Pierce, Allen on display with the 'Texas Hyzer' versus the 'Okie Hyzer'
Defending women's world champion Paige Pierce also happens to be the defending GBO champion and has won two of her last three performances at the event. Combine those victories with recent wins at the Texas Women's Championships and the Nick Hyde Memorial, and the Plano, Texas, pro brings a full head of steam into competition this week.
With her proclivity for more distance than many of the other women on tour, too, Pierce said her game is perfectly suited to the more open courses of the GBO, where she can put her Lone Star State upbringing on display.
"We have the Texas Hyzer, and you get to do a lot of that out in Emporia because there are not as many trees," Pierce said. "It's not like wooded golf, it's mostly on ball golf courses which are generally open."
While Pierce has spent the last couple weeks battling back and forth with Sarah Hokom during the Texas events, she said that the latter's playing style is not as well-suited to challenge her at the GBO.
"Sarah really excels in the woods because she's really good at angles," Pierce said. "So when it's an open field, it's hard to envision your angles because there's…no gap you have to hit."
Instead, Pierce pointed to Catrina Allen and Jennifer Allen, the current women's distance record holder and a co-runner-up at the 2015 GBO, as her strongest competition this weekend.
Jennifer Allen, who placed fifth at the Nick Hyde Memorial, agreed that her length off the tee gives her an advantage.
"We call it the Okie Hyzer," she joked.
No matter what label is put on it, though, a player has to be healthy to execute the shot, and that is where Allen is at a distinct disadvantage after hurting her elbow while throwing some forehand shots last weekend.
"You just can't trick your body," Allen said. "Even if I was telling my body it didn't hurt, my body would stop and not let my elbow fully extend, and your timing gets off and it was hard to hit the lines."
However, she was confident that a few days of ice and rest, as well as less of a need for precision, would allow her to be competitive while she recovers.
"Out in the open, I didn't fully extend and I could still throw fine," Allen said. "I'm trying not to think about it. I'm going to just try to go throw my shots and stay mentally strong and stay confident with my putts. If I can stay confident with my putts and keep errors to a minimum, I think I'll play well."
Forecast and Coverage
Severe storms on Tuesday wreaked havoc on the Peter Pan Park course, with flooding resulting in the course being shut down for practice Wednesday and two holes being relocated for the start of pro play. The outlook for the rest of the week isn't terribly favorable, either, with mostly sunny skies today giving way to the possibility of thunderstorms and 40 MPH wind gusts on Friday afternoon. Saturday's final, though, should be a little cleaner, if still blustery, with highs in the 60s and wind around 15 MPH.
Coverage of the Men's Open field will be live-streamed today starting at 2:48 p.m. CST by SmashboxxTV, with a premier card featuring McBeth, Schusterick, Lizotte, and Cale Leiviska tackling Peter Pan. Subsequent lead cards will also be shown live, with times and players to be determined.
Post production coverage will be offered by Jomez Productions, Central Coast Disc Golf, and The Disc Eye, with @PDGALive on Twitter offering play-by-play action throughout the weekend.