From humble beginnings to bonfires and the Wind Putt, the story of disc golf's largest event, told by those who built it.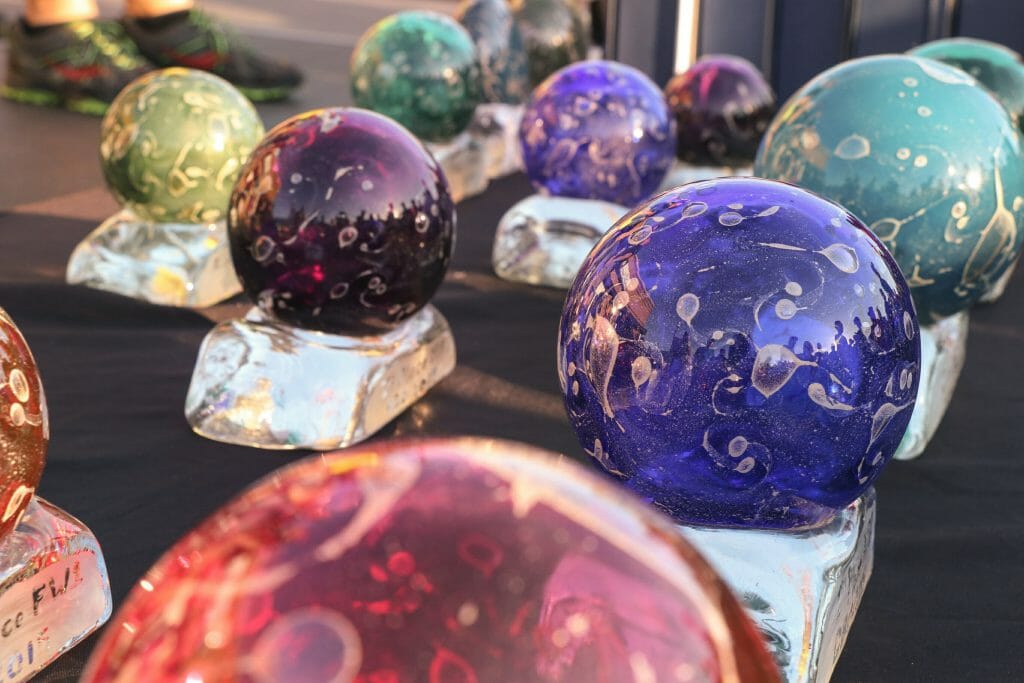 Let's take a trip back to June 2003. Beyoncé was topping the music charts with "Crazy In Love," the San Antonio Spurs had just dispatched the New Jersey Nets to take home their second NBA championship, and "Finding Nemo" was a hit at the box office.
And in Emporia, Kansas, the seeds were being sown for what would eventually become the largest disc golf tournament in the world.
That was the scene of the first Glass Blown Open, an 88-person Professional Disc Golf Association-sanctioned B-Tier tournament run by hometown hero Eric McCabe.
Fast forward 13 years, and here's where we find ourselves: Beyoncé is as big as ever, having just dropped the surprise album "Lemonade;" the Spurs are still doing Spurs things as the second seed in the Western Conference of the NBA playoffs; and we're about the get that long-awaited "Nemo" sequel.
And the Glass Blown Open, with more than 1,200 registered players and a festival atmosphere, is an absolute force to be reckoned with as the second stop of the PDGA National Tour.
How did a tournament in a town with a population of 24,799 become a week-long party and disc golf destination? We let the people who built it up tell the story in their own words.
Eric McCabe, first GBO tournament director and 2010 PDGA World Champion: [2003] was the year I got sponsored by Discraft. It was the year of the first [PDGA] National Tour, that's when I went out on the road.
Before that there had been, as long as I'd been playing – and I started playing in '94, '95 – my whole career, I guess you could say, there was a two-day event in Emporia, Kansas, every year. Beforehand, in 2002, it would have been called the Emporia Open. Just something simple, it was a B-tier as well. It had been run for years by the Emporia Disc Golf Club, which was Kevin Babbit and Ty Wheeler.
Babbit moved away, creating a need for someone to run the event.
McCabe: That's when my good friend Gabe and I decided, let's step up, let's run an event. I was the touring player, and he was the local that knew the ins and outs of the courses and events and all that. So he was my partner in crime, so to speak.
Gabe Werly, original GBO assistant tournament director: We started having meetings at Eric's house and were trying to go out and get sponsors, [to get] everybody to go out around town. Basically, boots on the ground, walking around trying to get people, businesses to give us $20 here, $50 here, $100 here. Eric probably did about 80% of that. I did about 5%.
Jeanine McKenna, Emporia Chamber of Commerce President and CEO: I remember when Eric and Gabe really came in to visit with our Visitors' Bureau office. We had some what we call support grants that are available, and I do remember them coming in and talking to us about their thoughts, their ideas. Having the glass blown trophies, and the uniqueness of that, and really putting the time and thought they already had into having it set up and having it work. But I'll also be honest: At that time I didn't know anything about disc golf. I had, in my mind, Frisbee golf. And I didn't see how it was going to grow, and boy was I proved wrong.
Those glass blown trophies have become the identity of the tournament. They were originally designed by renowned artist Hal Berger, but his untimely passing in late 2003 saw the work turn over to Brice Turnbill, another local artist.
Doug Bjerkaas, Dynamic Discs event coordinator: I can remember playing in my first Glass Blown Open probably in, man I could go and look at the PDGA page to verify this, but I think in 2008 or 2009. I think it was 2009, actually. In fact, I remember driving out from Denver, Colorado, with a buddy and my youngest daughter, Paige, and she won advanced that year. And that was a pretty cool deal to have her bring back that glass blown trophy.
Brice Turnbill, glass artist: I found out that the guys were looking for a new trophy maker and a new design. That was probably 12 years ago. Does that sound possible? I had made a few trophies or awards for people before, but hadn't done any series…
We've tried different designs over time. The reason we do a globe is because it's round, like a disc. We actually tried a flattened disc, I pitched it them to them five or six years ago and made some samples up, and they just weren't as dynamic. The three-dimensionality of the sphere is a lot more exciting, as it should be, so we stuck with that.
Turnbill has employed numerous techniques over the years to make the trophies stand out, from adding stardust to trapping air bubbles in the glass. It took him and his assistant four days to make this year's 16 trophies.
Turnbill: I've made pieces that have gone all over the world, to Hong Kong and Europe. I had a solo show of my own artwork in Paris in 2009, so I've done some things. But to be part of something that's so alive and so vibrant…I've actually talked to a couple of the women and a couple of the men who won trophies I've made. I've talked to the families of a couple of them, and it's really fun because they really remember for years and it feels special to them. The day they get them, the sun lights up the trophies and everything, so that really means a lot to me personally. One of the things I like about glass is when you send light through it, it lights up and that gives it the heart and the life, which is another reason that I like the transparent colors I'm using now. But I feel like that reflects the life in the event itself, and I feel like I get to be a little part of that.
That energy and vibrancy, like the trophies themselves, is a hallmark of the event. But it would not have happened without the support of those in the small town that hosts the tournament.
McCabe: I was born and raised in Emporia, went to school here…I just saw something in Emporia that was unlike anywhere else, how people would get behind us. And I felt our courses were absolutely great around here. And I knew that, and I knew that we could hold some big events. Of course, it was just a dream back then. There was no way I would think that we would host a National Tour event. I thought we could, but how about just an A-Tier? We wanted it to basically be an A-Tier and something big where the pros, all the top players would come through. The thought of [later] running an Am Worlds in Emporia [in 2013] and running Professional Worlds [this year] and who knows what else in the future, it's amazing. It was a goal, of course, but it's one of those goals that you set that you just don't think you're going to achieve.
That goal was achieved in 2006, when the Glass Blown Open made the leap from B-Tier to A-Tier. The number of players grew from 88 to 121 and held steady for a couple of years. But McCabe's touring schedule, coupled with the emergence of Dynamic Discs as a strong, tournament-running company in the Midwest, made for big changes in 2008.
McCabe: It was '08 when I decided that it was time for Dynamic Discs to step in. I'd seen what they'd done at other events that were run down in Texas and Emporia, and I just knew that I needed help. And if I wanted to take the tournament to the level I had dreamed of it going to, I knew DD had to step in and help me.
Jeremy Rusco, Dynamic Discs founder and owner: Dynamic Discs was proving itself as a tournament running operation. It was established and professional, and what appeared to be what would allow the event to kind of take the next step. We just all talked about it and everybody was in support of having Dynamic Discs take it over and just from there on, it obviously kept growing. Still, it wasn't like it was different. Dynamic Discs was able to put the marketing and advertising aspect behind the event, and a little more year-round effort, [but] we still had Eric McCabe involved, still had the club involved. We just built from what they had already established.
McCabe: It was a no-brainer, really, on letting DD take it over and run it. They had more capacity, more reach than I did at that time being a business three years in. So it was very smooth, Rusco was thrilled. I think we both kind of knew it was going to happen eventually, and we finally sat down and [I] said, "Hey, I don't really have the time to sit and plan like I used to and make sure everything's running smoothly. I'm still going to be involved, and I'm still going to do 100 percent work." But 2008 was my first…time that I really decided let's do this, let's hit the road full time and not come home for months upon months. So I needed somebody in place to help me with the event, so Rusco and everybody at DD took it over in '08 and just killed it.
Ron Convers, Jr., first GBO winner: At one point it was a couple of guys getting together to run a tournament, like it used to be. When DD took over, it was a company that was running the tournament. When you're talking to a city and doing your promotion and stuff, it's a little easier to go to the city council and say ""ook, I'm part of the Chamber of Commerce, I do great work I'm here supporting the community and I want you to get behind this," and they did.
Since taking the reins, Dynamic Discs has seen both the number of registrants and the size of the payout increase. In addition, the company has added more courses and more side events, turning the event into more of a festival than a disc golf tournament. A turning point in that transformation was the addition of the Emporia Country Club to the mix in 2011.
Rusco: The country club was kind of in a downhill turn, I guess you could say, where they were struggling a little bit financially and having some issues. They had lost three greens and they were struggling a little bit, so the thought of a disc golf tournament that could generate some revenue – that would certainly generate revenue – was something that worked out for them. And the timing of the event being in April was a time that they could do the aeration of the greens, which again was just another thing that helps with the golfers not being upset about not having a course to play. It was really done, I would say, on kind of…a trial basis and we were hoping it would be able to continue, and we haven't gotten kicked off yet.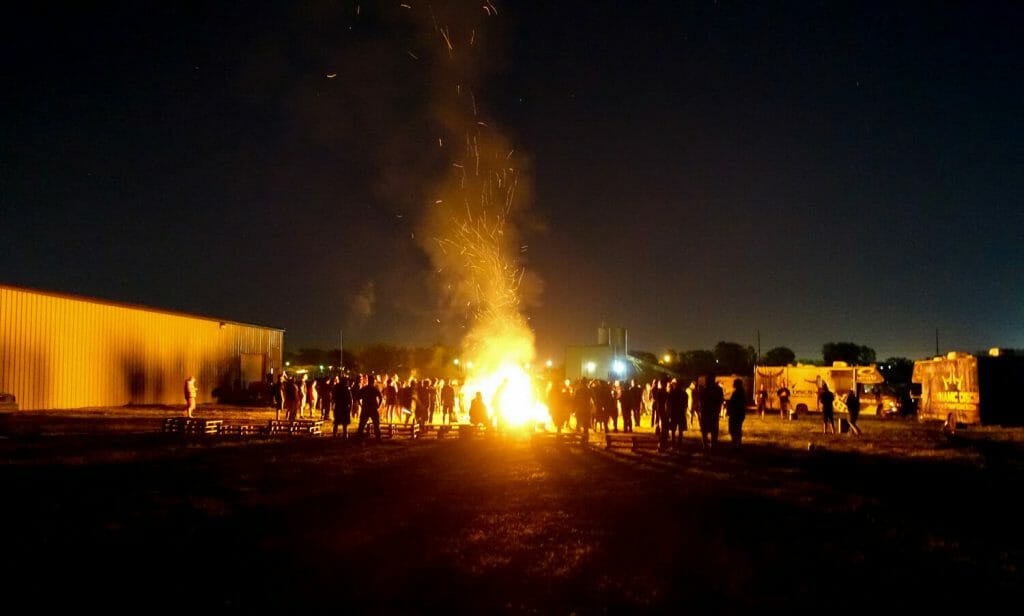 With the country club addition bringing more people to the event, it paved the way for poker night, the post-tournament block party, and the traditional Swedish bonfire that have become the non-disc golf highlights of the week.
McCabe: It was actually the guys at Latitude 64's idea, the Swedish crew. It's a tradition in Sweden because in Sweden it's closer to May when they're finally starting to see the spring colors coming in because it's still pretty cold there right now. Spring time is when they usually have a bonfire to celebrate the coming of spring and warmer months because their winters are so rough. So it's kind of like a big party where they have these massive bonfires, and it's a Swedish tradition that we wanted to implement here at the Glass Blown Open since Latitude 64 is a main sponsor and basically a partner.
Svante Eriksson, Latitude 64 sales manager: Valborgsmässoafton is celebrated in Sweden on the last of April each year. It is in remembrance of Valborg, who was declared a saint on May 1st [in the] year 779 A.D.
In those times, over 1,200 years ago, it was believed that witches rode broomsticks and goats to old sacrificial grounds where they would meet with the devil. To disturb this witchcraft, people would make noise, fire guns, sound horns and light big fires. In modern days, people do fireworks, have choirs sing traditional songs to greet spring. Smaller fires are lit around the massive central fire, and children grill their hot dogs there. With the long dark winters we have most people are relieved once May arrives and we have a few months of warm bright weather ahead of us.
As far as I remember this is something that was originally cooked up between me and Jeremy Rusco. I haven't been to GBO myself since 2013, so sadly I have only seen pictures of the U.S. version of a Majbrasa, which is what the fire is called. The long relationship with DD has meant that we have learned some things about each other's cultures, and I would say that has been good fun on both ends. Maybe except when we had some DD staff over here testing traditional fermented herring. They didn't seem to think that was a lot of fun.
While these side events have come to symbolize the spirit of the Glass Blown Open over the years, there was another memory that has become iconic in tournament lore: the infamous Wind Putt of 2012.
Glass Blown Open Wind Putt Video
Rusco: I think the Wind Putt is something that's haunted everybody's vision of the Glass Blown Open.
John Gold, Wind Putt videographer: It was our final round of the tournament, and it was actually our final hole. It was Hole 18 at the Municipal course. I don't typically video anything during a tournament round, but being from Texas I wanted to show all my friends and family down here the conditions we were playing in. The wind was really howling at that point, so I figured this was my last chance to capture some of these conditions on film. [Laughs] I pulled the phone out and I caught a few putts, but obviously that one was just the one that was mind blowing [laughs].
McCabe: You know, what people don't see in the video is it's cut. So right before his putt, he actually was probably five feet behind his lie, and he was just trying to lay up and he got the disc way too nose down and it just slammed right into the ground. So that's the whole reason he decided "I have to go for this." Otherwise he would have been like any other smart player and just laid it up, but after already attempting the lay-up you've just got to kind of bite the bullet, so to speak.
Gold: Paige Bjerkaas, on Team Dynamic – her brother Hunter, he was on the card with us. And he putted right before Jay [Cram, the Wind Putter] from nearly the same spot. So Hunter threw his putt with a little more steam on it. Well, the wind caught it and it just shot forward and it went all the way into the lake O.B., the lake that you see behind it. So you witness that, and now Jay steps up to his putt and is like, "I'm going to take a little off of mine." And so he took a little off of his, and it was just a little bit too much.
Rusco: He was really upset about that video getting posted. We were like, "Hey man, you know, chill out." [Laughs] He was mad about it at first, but we ended up talking about him getting free entry the next year or something, and he was quickly OK with things again.
Gold: He's never expressed anything to me in a negative sense. The only thing he's said to me, in a joking matter from what I could tell, is that every time he goes to the course it seems like somebody brings it up. But that was that summer, the summer of the video.
McCabe: He's almost as close to going viral as disc golf has ever gone, you know? I feel bad for him in a way. I feel for you as a player, because this absolutely could have happened to any player out there. In that sense, yes. But otherwise, no [I don't feel bad for him]. People try to recreate it, the video. In the moment I think it's great, I think it's awesome.
Rusco: People think they've got to practice and prepare for the wind [laughs], but that was the last year that we had some wild and crazy weather.
Gold: That was very extreme. Even the people up there that go through that stuff all the time, they said it was pretty outrageous that day.
And for the people up there that go through the Glass Blown Open every year, the event has become representative of the mutual love affair between Emporia and disc golf. With the event now expanded to six courses, it is expected to yield an $800,000 economic impact, according to the Chamber of Commerce. But it hasn't always been about money. It's been about opening the doors and welcoming people to a community that is truly enamored with the sport.
McKenna: It's become a main focus of our office to try and promote disc golf 24/7, 365. It's become important to our community, it's a major focus to promote it year-round and that we have a number of quality courses that people can come here and play. And I really believe that is all stemmed because of the GBO.
Rusco: There is no other community that embraces disc golf like Emporia, and they want to and obviously they do. So I feel like that's one of the things that we have over any other event out there, as this event is a big deal for our community.
McCabe: They see the benefit in bringing as many people to their little community as possible, so they're going to bend over for us, so to speak, and let us not necessarily do whatever we want, but we run the city that weekend.
Rusco: If our community were any smaller we couldn't support the size of an event like the Glass Blown Open. And if we were a bigger community like Charlotte, or Portland, Oregon – any of the places, Kansas City, where the World Championships are typically held and other large events – 1,200 disc golfers coming into the community is not really important, and it doesn't really mean anything and players are spread out over a wide radius. You never really get the feeling that you're hanging out with everybody at the same place, same time, whereas in Emporia disc golf takes over the town for the week. It's a pretty cool thing.