Why tour with disc golf's best player when the chances to win are slim? It goes beyond competition.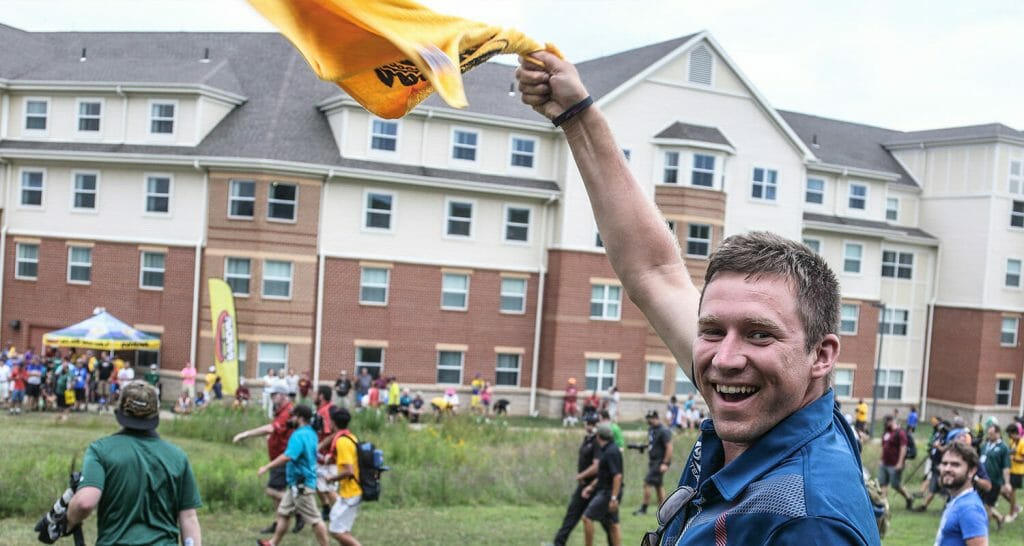 Imagine being a professional tennis player and every single time you hit the court, Roger Federer was your opponent. Imagine being a professional basketball player and every game, you guarded LeBron James. Imagine being a professional baseball player and every at bat, Clayton Kershaw was on the mound.
Such is life for Nate Sexton.
As the touring partner for the game's top player, Paul McBeth, Sexton has a front row seat each and every week to watch McBeth dominate the sport at a level unseen since Ken Climo in the mid-90's. It does not matter what event he plays, McBeth is there. Almost every touring pro makes their own schedule and, intentionally or not, avoids McBeth at some point during the year. Except Sexton.
This leads to one and only question: Why?
"I love competing against [McBeth] and I know that I have to be at my absolute best to have a shot at beating him," Sexton explained. "I have had plenty of easy wins in my career. I don't need any more of those."
Sexton turned professional in August 2004 after winning the Junior World Championships in 2003 and finishing fourth at the 2004 Amateur World Championships. He immediately became known for his sidearm and its combination of power and accuracy. 2004 Amateur World Champion Justin Jernigan remembers playing with Sexton during that event.
"I remember thinking, wow, I have never seen a sidearm from anyone that is this smooth and effortless," Jernigan recalled. "I thought, if he gets his back hand going, he will be a dangerous force on the disc golf scene."
Mission accomplished. Since turning pro, Sexton has won 73 times, only missed cash seven times and has led both the United States Disc Golf Championships and the Memorial Championships heading into the final day of competition. It was his regional success, combined with his wife's relocation, that led Sexton to start traveling.
"When my wife Brianna was accepted to medical school at the University of North Carolina I knew we would be moving to the east coast," Sexton said. "I ended up on Innova's top level, the Star Team. Once that happened I got the offer from Paul to come out on the road."
For the four-time world champion, having a partner on tour was a call back to his younger days.
"Nate was the first pro I ever met back in 2005 at the Am Worlds in Flagstaff, Arizona," McBeth said. "Innova made the suggestion of the two of us touring and we both decided to try it out and it's been a blast ever since."
While it has been fun and successful for McBeth, the same level of success hasn't quite come for Sexton. And while leading the Memorial and USDGC at any point, much less on the final day, is a feat in itself, the success ends there. His top finishes in National Tour events and Majors – second place at this year's Memorial and fourth at the 2015 USDGC – come from those two tournaments.
Immensely talented with a game that many can't compare to, Sexton's career win total in those events is comparable to many: zero.
Still, Sexton remains undeterred.
"I certainly don't feel frustrated," he said. "I know I can be one of them and if I continue to practice and work on my physical shape, I will win."
If there is anyone who knows how to win and what is preventing Sexton from that win, it's McBeth.
"I think Nate's biggest weakness is he doesn't practice enough to win," McBeth provided. "He practices enough to be great and compete, but he doesn't have the consistency to keep up for three to six rounds yet."
But do you have to win one of these events – especially considering it's always against McBeth – to be known as top level player? Neither thinks so.
"Well, think about how few have won a National Tour or Major, especially in the last five years," McBeth said.
Fair point. Since 2011, only 13 people have won NTs and even fewer – six – have won Majors. Along with Sexton, three others in the top 15 in the Professional Disc Golf Association's World Rankings – Cameron Colglazier, Barry Schultz and Steve Rico – haven't accomplished this feat in the same time period.
"It is a short list of people who have National Tour or Major wins," Sexton clarified.
However, isn't confidence a major part of winning? Wouldn't traveling with McBeth and watching his successes somewhat demoralize you in a way? Inspiring, sure. But at some point it has to get old, right?
"I didn't beat him in a single PDGA event last year," Sexton said. "I am pretty used to his game by now, so not much he does shocks me. Every once in a while he will have a difficult 70 to 80 foot putt and will make both his putters back to back while we practice."
So once again, why tour with Paul? Why travel with a guy who you didn't beat for an entire year?
"I never thought I would really tour because I wasn't interested in trying to live out of a car," Sexton explained. "But to be able to play all the biggest events and to practice with the best player in the world sounded like too much fun to pass up."
Fun, sure. This makes sense. But can't Sexton have fun with Will Schusterick? What about Dave Feldberg? Simon Lizotte is on the road as well. These are players that Sexton beat in 2015. These are guys that give you a chance to win here and there and gain some confidence in doing so. Why put yourself in that hole right off the bat every single event?
Perhaps the answer is bit more simple than motivation, a hard headed approach to the game, or the chance to watch greatness in person. Perhaps it's something more basic.
"Nate is definitely better than me at one thing: recycling," McBeth joked.
Now it makes sense. Friendship.