Fledgling tour takes a cue from the big leagues.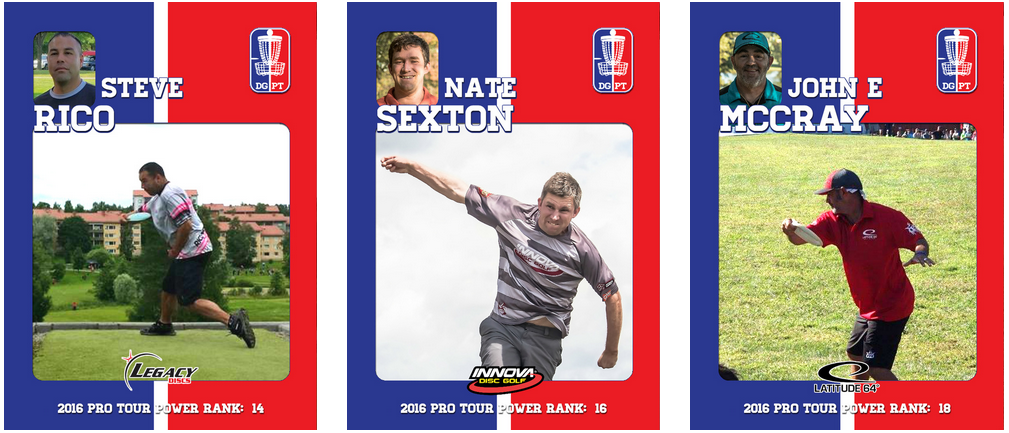 With its red, white, and blue silhouette logo, the Disc Golf Pro Tour (DGPT) has modeled itself after the big leagues from the jump. It only makes sense, then, for the tour to take the homage one step further.
Tour director Steve Dodge announced that the DGPT will be producing trading cards for the top players on this year's circuit. With a set of the top 25 men's pro open players and top 10 female pro open players retailing for around $20, Dodge said the novelty item helps the tour achieve its aim of attracting more spectators.
"The goal is to keep it fun," Dodge said. "And give people – give kids, especially – something to go up and they can say, 'Hey Paul Ulibarri, would you sign your card for me?' and build an emotional bond between them and the player, which is exactly what we need."
Dodge said the cards evolved from preparing player information and photos for the tour website. After reaching out to Paul McBeth to gauge player interest, Dodge contacted other touring pros for all of the pertinent information buyers will see on the back of the cards, including hometown, first course, dominant throw, and putting style. PDGA career earnings and ratings will also be highlighted, with next year's set displaying statistics accrued on this year's Pro Tour.
McBeth, who counted a Mark McGwire rookie card as one of the most memorable from his childhood, said the Pro Tour set would be good for fans of the game.
"I think it's great, it's something that you can have that's personal," McBeth said. "There's a lot of posters and stuff like that with people on them, but this is a different level. It might mean more to certain people. I think it's a really cool idea that they're doing it."
Nate Sexton, who dabbled in collecting basketball cards as a kid and counted a Grant Hill rookie as his favorite, shared the sentiment and suggested a way to amp up the collector market.
"That'd be cool if they sold them, in a way, the same way that basketball cards are," Sexton said. "They don't have enough [players]. But if you got like 10 [in a pack] but you weren't necessarily guaranteed to get your McBeth, then people had to go around trading, then that'd be kind of cool."
With the exception of Simon Lizotte and K.J. Nybo, who are not playing the tour, Dodge said most of the top 50 players in the sport will be represented with the cards.
"It's almost a complete set of the who's who in disc golf right now," Dodge said.
Plus, there might be a throwback surprise in each pack: a stick of gum.
"I am not saying no, absolutely I'm not saying no [to gum]," Dodge said. "And as you know, it would be one of the best tasting sticks of gum in the world."