Both teams captured leads early, cruised to victories on Saturday.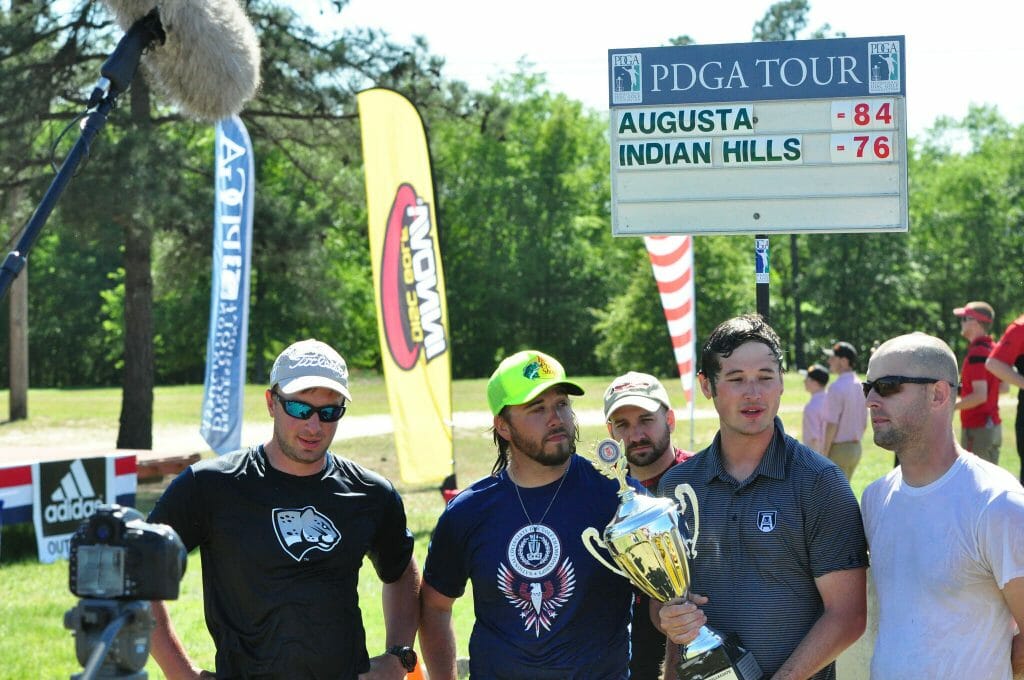 NORTH AUGUSTA, SC — Saturday's National Collegiate Disc Golf Championships team doubles finals saw two teams — Augusta University on the men's side and California State University-Monterey Bay on the women's — enter play with comfortable leads, with only one more round of play standing between them and a national title.
Neither team blinked, and both capped the day with a traditional dip in the pond behind hole 20 of the Hippodrome Disc Golf Complex's Old Glory course to celebrate their championships.
Augusta's 84-under par 580 secured the school's record third NCDGC crown, while the CSUMB women's 46-over par 648 brought the school its second straight national title.
Indian Hills (Iowa) Community College (-76) and North Carolina State (-70) battled to second and third place finishes in the National Championship Flight, while a co-ed team from Ferris State University (+81) and University of North Texas (+82) took those honors in the Women's Flight. Ferris State and Mississippi State topped the First and Second Flight championships, respectively.
After taking home two trophies on the weekend, Augusta's Dustin Perry didn't shy away from the expectations that were heaped on his team.
"We had four really good players, and it wasn't just me saying that we were the best team," Perry said. "Other high caliber teams were saying we're the ones to beat here."
That pressure couldn't keep them from finishing atop the leaderboard on Saturday.
"We played on people's confidence levels," Perry said. "The idea was to keep the round stretching. We didn't come into that round wanting to protect the lead. We wanted to shoot the hot round and extend it."
And extend it they did. Going into the final round of the National Championship Flight, Augusta held a six shot lead over surprise upstart Indian Hills. With some of the world's best disc golfers on hand — including the Professional Disc Golf Association's top two players, Paul McBeth and Ricky Wysocki — the round had the potential to be quite a spectacle.
The format of the final round definitely favored the leaders in the men's division, with teams throwing in alternating pairs and taking the best of the two shots each time. With a top four as solid as Augusta's, serious mistakes would have been required to give Indian Hills a chance.
Both teams birdied hole 1, with Perry putting Augusta within 10 feet of the basket. Indian Hills had long putts bounce out on holes 2 and 3, moving them back costly strokes.
Hole 4 gave Indian Hills an opportunity to move closer to the leaders, as both of Augusta's drives landed just inches out of bounds. But a 35-foot Augusta putt from the drop zone saved par and kept the team's lead at seven strokes.
It's hard to stay mentally strong with a seasoned pro shooting for the opposition, and hole 6 found Augusta exerting its will on the competition. After Indian Hills hit an excellent drive through the wooded tunnel, setting them up for an easy birdie, Perry then made the play of the day, with a dead straight midrange throw that skipped once and rattled into the chains for an ace. The sunken basket on the hole makes an ace a bit more feasible, but only if you navigate through the tightly wooded corridor.
Perry high-fived his teammates as they took an eight shot lead.
The team format allowed Augusta to stay aggressive toward the middle of the round, and into the back nine — despite its best efforts — Indian Hills had failed to close the gap. Clutch putting from Ryan Anderson did, however, keep them firmly cemented them in second place.
An elevated basket on 15 was the setting for the shot that would seal Augusta's victory. Indian Hills had two shots hit off of the basket for a potential challenging birdie. Perry then hit a 20-foot birdie that was the final nail in Indian Hills' coffin, and the Jaguars played it relatively safe for the final holes.
An easy par on Hole 20 was a formality for Augusta's championship. All that was left was a quick dip in the lake.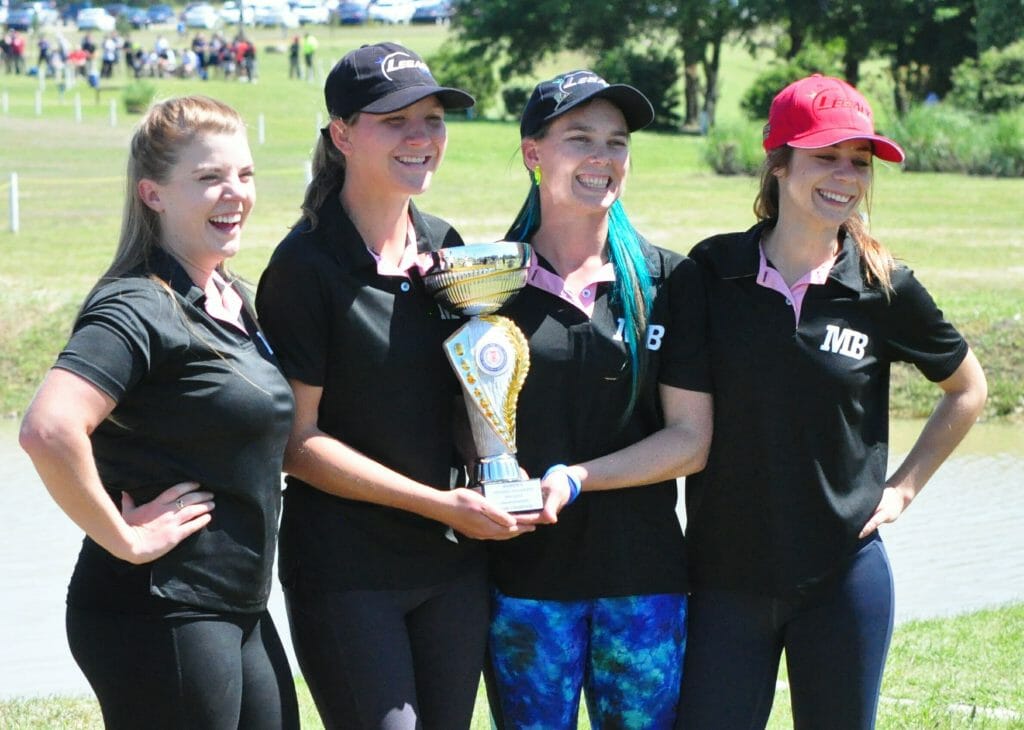 Teeing off an hour before the men, the women's lead card featured CSUMB extending its 27 shot lead over University of North Texas and finishing 35 shots ahead, easily taking the team doubles title.
UNT did snatch some glory of its own, though, with Allison Carlton smoking the rest of the field in the individual contests.
Carlton's first time at the NCDGC was in 2014, when North Texas couldn't field a women's team and she played with the men. It was an experience that helped shape her game.
"It's hard keeping up with them, but it's fun," Carlton said. "They make things interesting."
Carlton seemed even more elated with the growth of the sport in her division.
"I've been here three years, and every year we've come, we've grown by a woman," she said. "We're growing the sport slowly but surely."
After a long week of disc golf, with ten team rounds, the champions were crowned around 5 PM on Saturday. For student athletes, this tournament is an experience unlike any other.
"It's amazing to see everybody coming together to come play disc golf, and to get away from classes for the week," Carlton said.
Luckily for Carlton, she'll return to campus with a trophy in hand.