Manufacturer confirms product leaked in YouTube video; release date to be announced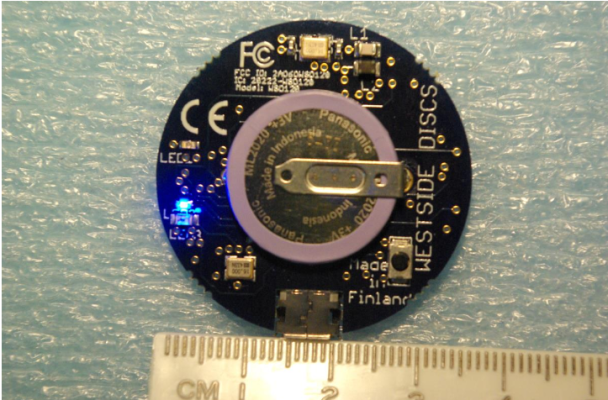 Finnish manufacturer Westside Discs is currently developing "smart disc" technology that will consist of a Bluetooth-linked chip attached to two new molds, the company confirmed this week.
Word of the technology first leaked in a YouTube video titled "Frisbee Telemetry: Virtual Teardowns #4," in which a user analyzed Westside's Federal Communications Commission filings for approval of the technology in the United States.
Dubbed the Westside Discs Black Box Smart Unit, the technology will feature a Bluetooth Smart-compatible, 5.5-gram low power transmitter on two forthcoming discs, the Westside Smart VIP Destiny and Westside Smart VIP Catapult, said Westside CEO Janne Penttilä.
"Westside Discs started its top secret smart disc project in August 2014," Penttilä said in an email to Noodle Arm Disc Golf. "All hardware and firmware design is made in‐house at our headquarters in a local Silicon Valley‐like area."
Dynamic Discs founder Jeremy Rusco has been involved with the project from the start, Penttilä said, and all three of the "Trilogy" brands – Dynamic, Westside, and Latitude 64 – will be licensing the technology.
The unit, which will be rechargeable via a micro USB port, is patent pending in the U.S. and has already been granted a utility patent in Finland, Penttilä said.
"A substantial amount of official documents was filed last year by us to make everything legal in the United States, Canada, and Europe," Penttilä said. "However, we have not yet filed in these countries: Australia, New Zealand, Japan, South Korea, and Taiwan."
While Westside is remaining tight-lipped about any other major features of the Black Box, or what type of discs the Destiny and Catapult will be, the aforementioned YouTube video affords viewers more access into the company's plans.
According to the FCC filings analyzed in the video, the Black Box will link with a Westside Discs application on an end user's smartphone. Once the chip is activated, it will record flight information for 60 seconds, then transmit it to the app.
A deeper dive into the filings finds that the Black Box is "not waterproof but is water resistant and should be kept as dry as possible;" and that it "can withstand impact, but it should be thrown only in an open area without trees, cliffs or other obstacles that could damage the smart disc. It is possible to break the unit by throwing it hard into a tree or into any hard object."
Further investigation of the Black Box user manual submitted to the FCC states that "the smart unit is permanently attached to a disc and cannot be sold separately."
The narrator on the video speculated that the chip's components combine to form an inertial measurement unit, which uses an accelerometer to measure movement "forward, backward, up and down" and a gyroscopic sensor to measure rotation. Westside declined to confirm any design specifics when contacted, and schematics and other operational information about the device were made confidential in the public FCC filings due to trade secrets, according to the filing's accompanying Confidentiality Request Letter.
There are also no statements in the FCC filings related to the information that will be displayed on the Black Box's associated smartphone app, only that the user's phone will sync with the unit post-throw when a player walks close enough to the disc for Bluetooth to pair.
The Professional Disc Golf Association relaxed its technical standards for disc approval back in 2014 to allow for non-exposed metal to be embedded in discs, saying at the time that "the age of electronics in discs has arrived." This standard has, to this point, only been incorporated by TOBU Discs, a company that allows users to track the location of a lost disc via a smartphone app or illuminated LED on the disc.
The Westside Black Box, if PDGA-approved, will be the first flight data-recording unit to be developed by one of the major disc manufacturers.
"We believe that the technology that will be part of these discs will provide the potential for a unique and ground breaking experience," Rusco said.
Frisbee Telemetry: Virtual Teardowns #4 Video