An iconic course closes out the tour before the championship.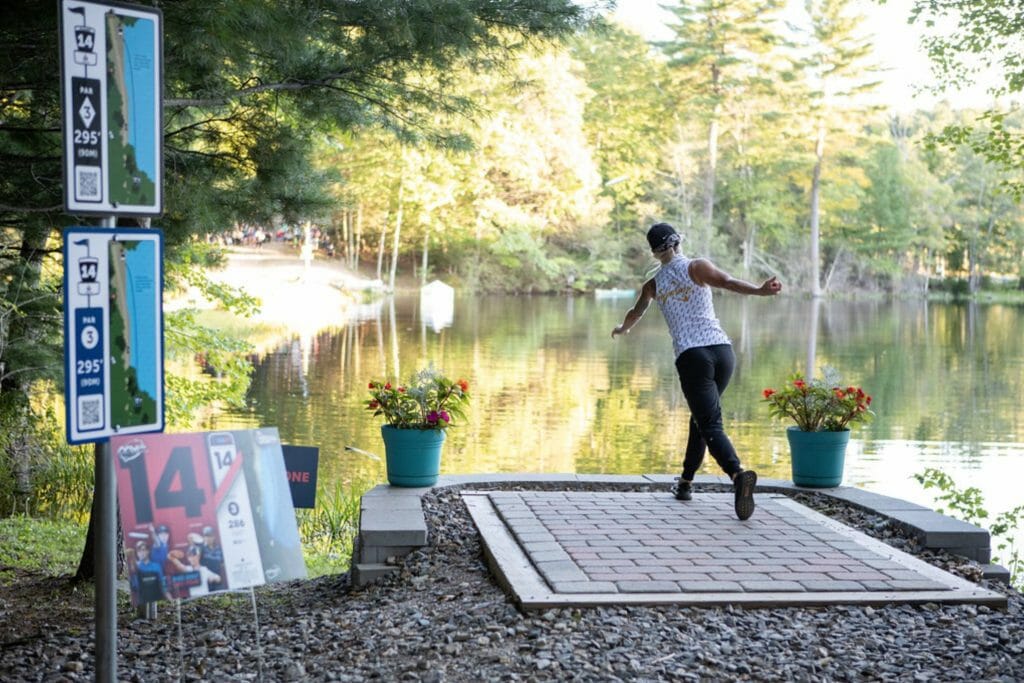 The playoffs continue with the second and final event before the tour championship. Just four hours south of Smugglers Notch, Maple Hill is a favorite among pros and currently ranked as the #1 course in the world by UDisc. The MVP Open at Maple Hill has been run by Disc Golf Pro Tour founder Steven Dodge since 2008 and was formerly known as the Vibram Open. Earlier this year, Dodge and MVP Disc Sports announced a 10-year $2 million partnership to continue running the event and bring new assets to the course. Stadium seating was added to the iconic hole 1, new targets were put in, and the course pro shop was also updated and renovated.
Last year Eagle McMahon entered the final day with a four stroke lead over Adam Hammes and Joel Freeman. After 9 holes, McMahon was sitting at even par on the day while Hammes had carded seven birdies. Adam would go on to win by three strokes, earning his second Elite Series win of the year and first career DGPT win. In the FPO division, Catrina Allen led Kona Panis and Hailey King by two strokes. Allen shot the hot round of 1-under par to take home a seven stroke victory and her 2nd career win at Maple Hill.
Past Winners
| Year | Tier | Open | Open Women |
| --- | --- | --- | --- |
| 2022 | DGPT | Simon Lizotte | Natalie Ryan |
| 2021 | DGPT | Adam Hammes | Catrina Allen |
| 2020 | A/DGPT | Paul McBeth | Paige Pierce |
| 2019 | A/DGPT | Paul McBeth | Paige Pierce |
| 2018 | A/DGPT | James Conrad | Sarah Hokom |
| 2017 | A/DGPT | Ricky Wysocki | Paige Pierce |
| 2016 | A/DGPT | Bradley Williams | Paige Pierce |
| 2015 | NT | Ricky Wysocki | Paige Pierce |
| 2014 | NT | Jeremy Koling | Paige Pierce |
| 2013 | NT | Paul McBeth | Valarie Jenkins |
| 2012 | NT | Cale Leiviska | Catrina Allen |
| 2011 | NT | Nate Doss | Sarah Hokom |
| 2010 | NT | Nikko Locastro | Sarah Cunningham |
| 2009 | NT | Barry Schultz | Sarah Cunningham |
| 2008 | NT | Avery Jenkins | Valarie Jenkins |
Four Things We'll Be Watching
1. Kristin Tattar is coming off four straight wins, three consecutive 1000+ rated events, and is arguably on the verge of the best season in the division's history. The question is whether she will continue that dominance this week, and if she can sustain it through the tour finale next month. Paige Pierce has posed little to no threat to Tattar since winning the Champions Cup earlier this spring, but Maple Hill is not only Pierce's favorite course, she is also a six-time champion of this event. Catrina Allen will surely be looking for some redemption as well, coming off three consecutive finishes outside of the top 10. Prior to this year, Allen only had two such finishes in her entire career dating back to 2011. And, of course, Allen is the defending champion here at Maple Hill.
2. After a win at the GMC, Ricky Wysocki should be looking to run the table as well. With each win, Ricky bolsters his odds of winning Player of the Year, and he currently has more Elite Series wins than any other MPO player this season with four. A fifth win at Maple Hill, in what would be his first at this event since 2017, would certainly help his chances. The list of players who could pose a threat to Wysocki at Maple Hill is lengthy, and last week demonstrated just how quickly a lead can slip away. Whoever comes out on top will need four solid rounds, and still, it will likely be a race to the finish in a packed division.
3. This is the final event to earn points towards the DGPT standings. There are several players to watch very closely as the week progresses, none more so than Ohn Scoggins and Valerie Mandujano, who are battling for 4th place and a two-round bye at the Tour Championship. After GMC, Scoggins leads Mandujano by just over six points. The top 14 FPO players will qualify for the event without needing to play their way in, so keep an eye on Henna Blomroos in 16th and Holyn Handley in 17th. Kona Panis and Macie Velediaz currently sit in 21st and 22nd respectively, just outside of the play-in range. In MPO, Kevin Jones sits 40 points behind Matthew Orum for the final spot in the top 8. Last year's MVP Open champion Adam Hammes currently sits in 17th place: if he can get into the top 16, he will earn a one round bye at the tour championship.
4. As if playoffs weren't exciting enough, somebody could potentially win $1 million with a special ace run on Thursday and Friday evenings. Eight MPO players and eight FPO players will each get three shots to throw an ace from hole 1's teepad to a basket placed 450 feet away for FPO player and 600 feet for MPO. The top six men and women in UDisc's new Precise Power Index will join two men and women from a fan vote. If any of them can find the bottom of the basket, they'll walk away with seven figures and the largest payday in disc golf history!
Course Changes at Maple Hill
As expected, there are only a couple of small changes to one of the most iconic courses in the world. Just like the GMC, it appears every hole has been re-measured for a more accurate caddie book. Hole 12 has a new FPO teepad, which makes the hole 176 feet shorter. Last year, Ella Hansen was the only player to card a birdie from the old tee position. Hole 14's second drop zone has also been moved from parallel to the water to a death putt looking straight at the water.
2021 MPO: 8,577 feet Par 60
2022 MPO: 8,584 feet Par 60
2021 FPO: 7,234 feet Par 60
2022 FPO: 6,995 feet Par 60
Here is the Maple Hill caddie book.
Extended Forecast
Once again it will be fairly cold and quite windy throughout the week, round one looks to be rainy as well.
Thursday: Cloudy with periods of rain, highs in the mid 60s. Chance of rain 73%, winds 10-15 mph.
Friday: Partly cloudy with highs in the low 50s, winds 10-20mph.
Saturday: Mostly sunny with highs in the low 60s, winds 10-20mph.
Sunday: Partly sunny with highs in the mid 60s, winds 10-15 mph.
How To Watch
Ultiworld Disc Golf Subscribers, read on for PrizePicks Lines & Best Bets…
Bonus Content for 2022 MVP Open at Maple Hill Preview: The Last Chance to Make the Tour Championship is only available to Ultiworld Subscribers
Already have a subscription? Log in
Whether you visit Ultiworld for our reporting, our podcasts, or our video coverage, you can help us continue to provide high quality content with a subscription. By becoming a subscriber, not only do you receive benefits like bonus content and full article RSS feeds, you also help fund all of Ultiworld's coverage in general. We appreciate your support!