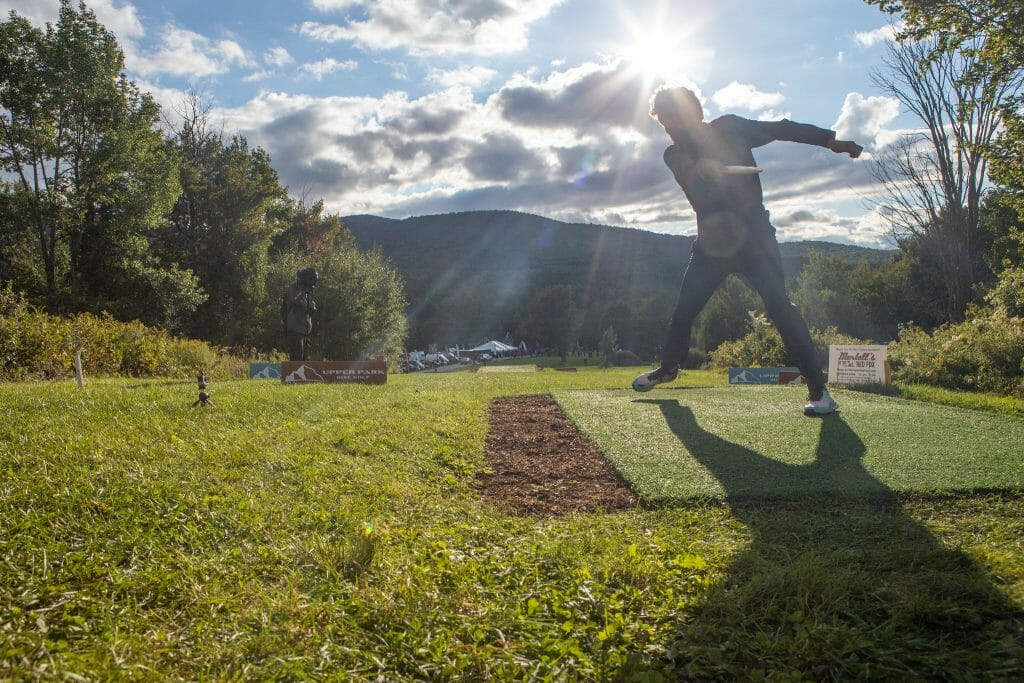 Playoffs? Are you kidding me…playoffs? That's right, it's time to overuse the famous Jim Mora quote because the inaugural Disc Golf Pro Tour playoffs have arrived! DGPT CEO Jeff Spring created the Green Mountain Championship back in 2013 and now in the 10th iteration is still acting as the event's Tournament Director. Smugglers' Notch Resort in northern Vermont is home to two of the best courses in the country and is a favorite travel destination among players. Coming straight off the World Championships, this weekend will also serve as a prelude to the 2023 World Championships, which this venue will host next year.
Last year, Chris Dickerson played phenomenal throughout the week and took home his first and only career Elite Series win. Ricky Wysocki, who won this event four years in a row from 2013-2016, averaged a 1067 event rating but was unable to catch Dickerson. It was the highest event rating of the year for a player who finished as the runner-up. Meanwhile in round 3, Hailey King shot the 4th highest rated round in FPO history at 1052 on the Fox Run Meadows course. King managed to defeat 2019 champion Sarah Hokom by one stroke; Hokom has not missed the podium at this event in the six years she has played it.
Past Winners
| | Tier | Open | Open Women |
| --- | --- | --- | --- |
| 2021 | DGPT ES | Chris Dickerson | Hailey King |
| 2020 | DGPT/A-tier | Kevin Jones | Paige Pierce |
| 2019 | DGPT/A-tier | Paul McBeth | Sarah Hokom |
| 2018 | n/a | n/a | n/a |
| 2017 | DGPT/A-tier | Nate Doss | Paige Pierce |
| 2016 | DGPT/A-tier | Ricky Wysocki | Catrina Allen |
| 2015 | A-tier | Ricky Wysocki | Catrina Allen |
| 2014 | A-tier | Ricky Wysocki | Anne Lewis |
| 2013 | B-tier | Ricky Wysocki | n/a |
Three Things We'll Be Watching
A couple of weeks ago, the DGPT updated their playoff and Tour Championship qualification procedures: one of those alterations was to increase the field size for next week's MVP Open to 72 MPO and 36 FPO players. All eyes will be focused on the standings this weekend with several notable players sitting on the MVP bubble as well as the tour championship. Players like Matt Bell, Robert Burridge, Stacie Rawnsley, and Erika Stinchcomb will need strong enough finishes this week to remain qualified for the MVP Open. Others like Paul Ulibarri, Jakub Semerád, Lykke Lorentzen, and Hanna Huynh will need enough points to jump inside the top 72 and 36, respectively, to earn that invitation.
It doesn't appear that Kristin Tattar will suffer any type of Worlds hangover as she has already played in and won a Silver Series event since being crowned world champion. Kristin played the GMC back in 2019 and finished as the runner-up; she has an opportunity these next couple of weeks to really put an exclamation point on her season. Paul McBeth, on the other hand, has rested since leaving Emporia, and after the most recent ratings update is once again the top rated player in the world. McBeth has never finished worse than 4th at GMC, but he has just one win, back in 2019. Paul would surely like to add to that total and continue to build his Player of the Year resume.
Chris Dickerson has had a very quiet season since winning the Champions Cup earlier this spring. After skipping the west coast swing, he returned to the tour for Idlewild and finished as the runner-up to Isaac Robinson. But since then, he has not finished higher than 12th at an ES event or the World Championship and has continually averaged below his player rating. This weekend is a great opportunity for Chris to right the ship and become the first repeat MPO winner at this event since it joined the DGPT.
The Courses
While no holes appear to have changed at Fox Run, and only a few small changes at Brewster Ridge, every hole on both Brewster Ridge and Fox Run have been re-measured for the 2022 caddie books to give more accurate distances. At Brewster, hole 9 will now share an MPO and FPO teepad, so it will play 80 feet longer in the FPO division. Hole 14 will play 60 feet longer in both divisions due to a new basket placement; it was the easiest birdie on the course last year. Finally, hole 17 now has OB long just behind the basket to increase difficulty.
2021 Brewster Ridge MPO: 7,760 feet Par 61
2022 Brewster Ridge MPO: 7,997 feet Par 61
2021 Brewster Ridge FPO: 7,370 feet Par 61
2022 Brewster Ridge FPO: 7,661 feet Par 61
2021 Fox Run Meadows MPO: 9,405 feet Par 63
2022 Fox Run Meadows MPO: 9,426 feet Par 63
2021 Fox Run Meadows FPO: 8,455 feet Par 63
2022 Fox Run Meadows FPO: 8,453 feet Par 63
Here are the Fox Run and Brewster Ridge caddie books.
Extended Forecast
A welcomed break from the heat as Vermont should offer some cloudy and cooler weather. Currently, there is a good chance of rain for the final round on Sunday, something to monitor as the week progresses.
Thursday: Partly cloudy with highs in the upper 50s, winds 10-15mph.
Friday: Sunshine and clouds mixed with highs in the lower 60s, winds 5-10mph.
Saturday: Partly cloudy with highs in the upper 60s.
Sunday: Cloudy with highs in the lower 70s, chance of rain 60%.
How To Watch
How To Watch The 2022 Discraft's Green Mountain Championship
Ultiworld Disc Golf Subscribers, read on for PrizePicks Lines & Best Bets…
Bonus Content for 2022 Discraft's Green Mountain Championship Preview: The Playoffs Are Here is only available to Ultiworld Subscribers
Already have a subscription? Log in
Whether you visit Ultiworld for our reporting, our podcasts, or our video coverage, you can help us continue to provide high quality content with a subscription. By becoming a subscriber, not only do you receive benefits like bonus content and full article RSS feeds, you also help fund all of Ultiworld's coverage in general. We appreciate your support!