One round left.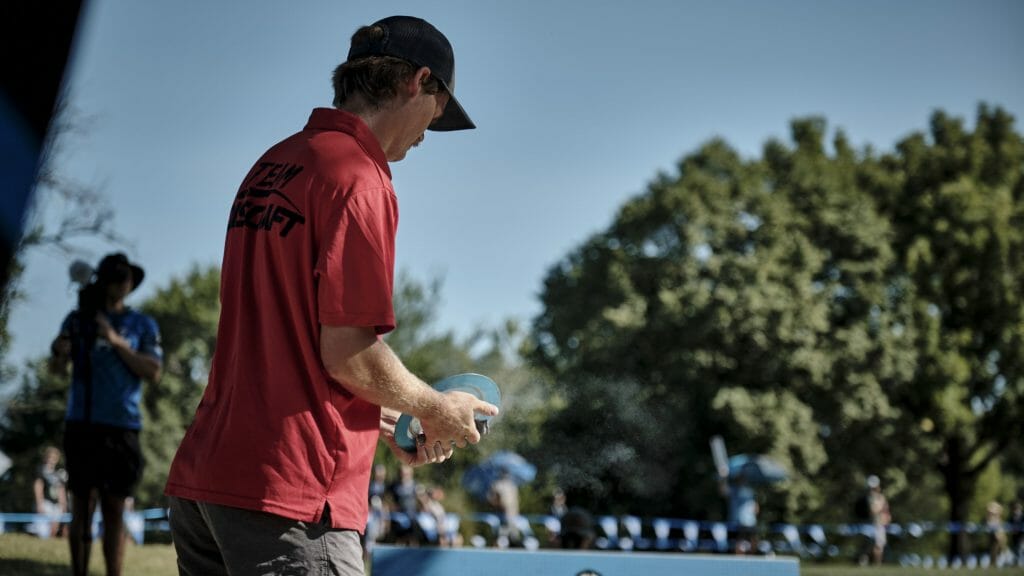 After four days of slight lead changes, we finally have some separation at the 2022 PDGA Pro World Championships. In what must go down as one of the great world championship performances, Kristin Tattar opened a five-throw gap on Henna Blomroos with a bogey-free, 11-under round that was rated provisionally at 1026, while Aaron Gossage maintained his merciless consistency to keep a clean sheet, too, while finding nine birdies. Gossage holds a three-throw lead over Paul McBeth going into the final round.
Course designers are like fishers. They conceal sharp hooks with juicy looking lures and tasty smelling baits that say 'throw it this way, over this golf green or little pond. It'll be fine. What could go wrong?' Tempting disc golfers to their doom. At The Emporia Country Club today, Kristin Tattar and Aaron Gossage didn't take course designer Eric McCabe's bait. They chose their moments to attack. Neither of the leaders threw out of bounds.
"Aaron didn't really make any mistakes today," said McBeth. "I mean he missed a couple of putts, but he didn't really make any mistakes for us to capitalize on. When he had danger, he played to the safe side. If he continues to do that tomorrow, then he's going to have a good chance of winning."
"That's been my goal out here, to play very safe shots," said Gossage. "I made a few adjustments from yesterday, when I had to make a few long putts, where today I was parked, so I was happy with that. At the end the pressure got to me just a little bit, but hopefully I can make similar adjustments going in to tomorrow. To begin this round, I was surprised I wasn't feeling much pressure, but we got to hole 11 and hole 12 and I was feeling it. After I made a couple of small mistakes, I told myself to 'make good misses'. I know that my shots aren't perfect at the moment so any time I can bring danger into the situation I make sure I'm missing on the correct side."
"I think the pressure can get to all of us," said McBeth. "But I hope to put additional pressure on him. Not just the crowds, not just the cameras, I want to be right there chasing him down."
In the FPO, Blomroos and Tattar started the round with even scores and matched each other like dueling banjos on the early holes, each shot upping the ante in skill and precision until Tattar broke the spell by missing a birdie putt on hole six, temporarily handing Blomroos the lead. It was hole 8, though, where the first crack was opened.
Sports psychology 101 tells us to focus on one's own performance and to pay no attention to how other players are faring. That is all well and good until you arrive at the putting green and see your opponent on the edge of circle 2 and your disc resting comfortably near the bullseye. After going OB off the tee, Blomroos threw a brilliant 240-foot approach shot off one knee to be almost parked, while Tattar's third shot came up 60 feet short. Surely Blomroos must have felt some relief. She wouldn't be conceding a throw after all. Then Tattar jammed it from circle 2, Blomroos missed from barely ten feet, and Tattar was handed a lead that she would briefly share, but never relinquish again.
Tattar repeated the effort on hole 14, with a floating downhill putt from so far out that UDisc didn't call it a putt (it was measured at 84 feet). Blomroos followed that with a miss from 20 feet and the crack opened wider. On the next hole, Tattar again hit from range while Blomroos missed from close. Tattar's run of four birdies ended at hole 17, but Blomroos three-putted, all from circle 1, en route to double bogey. The Finn was in tears as she put the discs back in her bag. The gap was now five throws.
"Kristin has played with such patience today," said Disc Golf Network's Elaine King.
"I didn't throw OB, that helped," said Tattar after the round. "I made a couple of long-range putts and made pretty much everything from inside the circle. I feel like I have a really strong game plan. It's nothing special, but if I follow it, give myself opportunities and make the putts, it should be easy."
Tattar also explained why several people had spotted her practicing on the course after yesterdays round until near sunset. "I played from hole 14 until the end because every time during practice rounds, I was so tired for some reason, so I didn't really throw good shots on these holes. I felt kind of insecure, so I needed to do something. I felt a lot better today going into those holes."
It'll be the same lead card tomorrow, with Tattar and Blomroos joined by Holyn Handley and Eveliina Salonen. We've all got someone like Evellina in our club: brilliant but sometimes appearing a little casual. This full spectrum was on display on hole 10 where she threw deep into the right-side rough, then tried a forehand roller that seemed to go deeper into the trees. As she walked up to her disc, she looked like she wanted to be anywhere but the Emporia Country Club. Yet she then threw-in a 60-foot, floating, anhyzer step putt around trees that were obscuring her view of the basket to save par.
I can't say that we've all got someone like Matt Orum in our clubs, though – he appears to be one of a kind. After telling Terry Miller yesterday that the biggest thing happening this week was 'the start of college football', he gave a great post round interview today.
"I haven't bogeyed in the last two-and-a-half rounds," he said. "So I'm really happy about that. It feels amazing to be here. I don't care what happens tomorrow. I'm happy where I'm at right now, I'm happy I put in the hard work to get myself in this spot. That's what it's for, to put myself in the place to have this opportunity. I'm doing the right things; I'm trying not to affect anyone on my cards mojo and just trying to let it all be." Orum, Gossage, and McBeth and will be joined by Calvin Heimburg on tomorrow's lead card.
It was day three of #calfwatch too. Diagnoses circulating the internet about Paul McBeth's lower left leg pain have ranged from delayed onset muscle soreness (from the initial cramp), to deep vein thrombosis, and back related nerve impingement, with absolutely none of these opinions from a real doctor. The five times world champ was clearly affected by the leg though. He seemed occasionally indecisive about whether to push off it in his normal putting stance, or to straddle and use the right leg more. On hole 17, he changed his mind at the last moment, hitting a crucial 27-foot putt to cut Gossage's lead to three throws.
"My putt is up and down as you can tell," he told Terry Miller. "Sometimes I feel really good outside the circle, and I'll drop those. Sometimes I'll feel really good inside the circle, and I'll squeeze those in. It's hit or miss right now but I know if I continue to put the disc close that I'm going to have opportunities. The straddle putt's scariest point is at fifteen to twenty-two feet. Switching on hole 17 just felt like the right thing to do. I just need to trust my instincts and if I feel like I need to straddle then I straddle and don't question that. Just do what my gut is telling me to do and go with it."
Speaking of fishing: in the post round interviews, Terry Miller tried to lure both leaders out of their 'one-throw-at-a-time' psychological game plan with a question about what it would mean to be crowned a world champion in twenty-four hours.
"I don't want to jump ahead," said Tattar reluctantly. "But it would mean a lot for me because I truly feel like I've worked very hard to be here and I've overcome a lot of adversity. This would mean that everything I have done has paid off."
"I haven't given it much thought yet," said Gossage. "That one just hasn't sunk in and it's not going to until tomorrow, so I don't know what to tell you there, but we'll see what happens."
There was a moment when Kristen Tattar stepped up onto the tee of hole 16 today that was loaded with portent. Just as she was about to throw to the island green, the wind turned up. She hesitated, adjusted her line of attack, and made the green anyway. Tomorrow promises to be slightly windier with gusts of up to 20 mph. Not windy enough for a Kansan to even notice, but it will be enough to change how these holes have been played all week and introduce another element to the pressure of the final round.
Playing well is probably not going to be enough to catch our two leaders, who have both been the most consistent off the tee all week. The chasers in both divisions will be hoping that Tattar and Gossage are pressured into making more mistakes in one round than they've tallied-up in the past couple. It seems that the crowd will finally turn up tomorrow too, adding another element not seen so far this week. With more people, wind, subtle elevation changes and OB lines, anything is possible.