Heimburg's first solo Elite Series win since 2020 comes at the same course.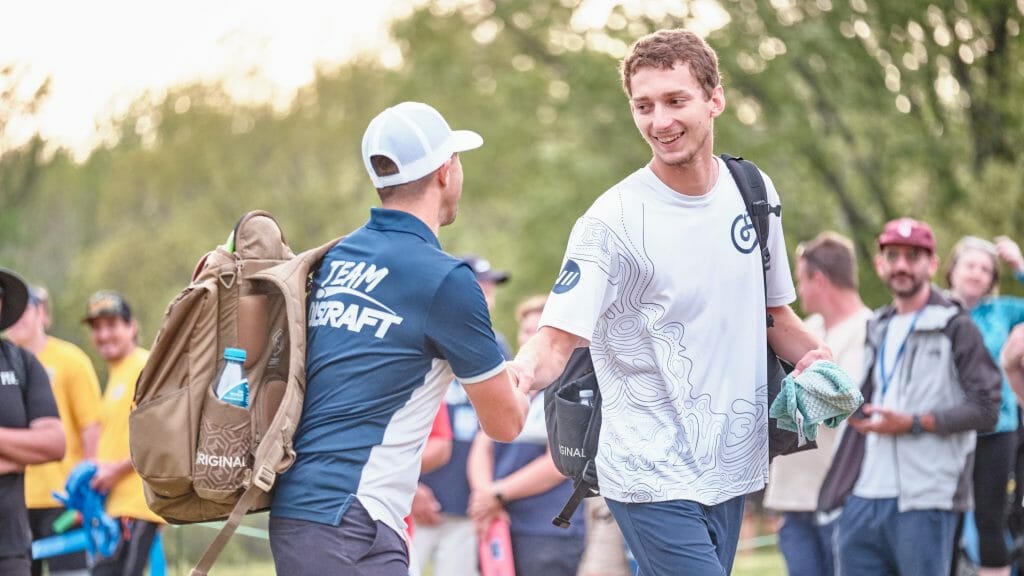 JONESBORO, Ark. — Vinny's all the way back.
For the first time since the 2020 Jonesboro Open, Calvin Heimburg is the outright winner at an Elite Series event after beating Paul McBeth in a one-hole playoff1. After getting off to another slow start while in contention during a final round, Heimburg carded birdie or better on 9 of the last 12 holes to match McBeth and then laced a drive inside the circle on hole 1 after McBeth's tee shot came up short and left to win the second playoff of his career.
"I honestly haven't really got a win that felt like a win in a while, actually since here in 2020, at the end of 2020, "said Heimburg. "Ledgestone [2021], I mean, the final round got cancelled, it didn't really feel like anything. [The] Match Play [Championship] is a different format — it doesn't really feel like anything. It's been a while, and it feels really good to finally be back on top."
It was a thrilling battle between Heimburg, McBeth, and Kevin Jones throughout the final round. Every player had some huge moments. Throwing blind to the basket, Jones threw in an eagle from 174 feet on hole 12 to take a one shot lead. After Heimburg tied it up with a birdie on 13, Jones took the lead again with a birdie on 14 as Heimburg's drive got pushed OB by the wind and he bogeyed. McBeth was totally out of position in the woods on hole 16, but he launched a forehand from a knee through a tiny window to carry the water. He hit the eagle putt from 38 feet to match Heimburg and get within a stroke of the lead.
After McBeth birdied 17, the three players entered hole 18 tied up at 25-under. Jones' drive came up short, part of an untimely cold streak of three straight pars to close the round. Now it was Heimburg's turn for some magic. He launched a distance driver through the tight fairway, pushing more than 500 feet towards the basket, perhaps the best drive on the hole all weekend.
"We had a three way tie on 18," he said. "I knew someone was going to birdie, so I had to send it."
McBeth, who also threw a very good drive, parked his upshot, and Heimburg threw his inside the circle. They both hit their birdie putts to send it to a playoff, where Heimburg emerged victorious. After some high profile late round missteps in recent months, it was a cathartic win for Calvin.
"I've definitely put myself in contention, really as much as almost anybody," he said. "I just really haven't been able to close it out in the final round. Today didn't even feel that great, but I was able to string them together there at the very end."
Heimburg delivered his usual all-around excellence, leading the tournament in fairway hits, hitting 91% of his Circle 1 putts, and getting onto the green in regulation 78% of the time. He now has six Elite Series victories and has moved into 2nd place in the DGPT standings behind Chris Dickerson. This is his fourth podium finish of the season.
Heimburg is now 2-0 in his career in playoff appearances2. McBeth falls to 3-8 in playoff appearances at Elite Series and Majors.
Turf Tee Pads Continue to Rankle
Paul McBeth congratulated Heimburg on Instagram but also complained the turf on the tee pad on hole 1 buckling under his plant foot on the playoff hole:
Tee pad issues have become a theme on tour. There were significant complaints about the tee pads at the 2021 World Championships, and Drew Gibson got hurt throwing off a turf tee pad at the 2021 Portland Open. There are not standardized tee surfaces across the tour, with various courses using concrete, pavers, or turf. Often, players throw from the side of a tee pad on grass or dirt, particularly in inclement weather.
Final Round Highlights
Jonesboro Open MPO Round Three Highlights
---
Heimburg got a tie for first with Ricky Wysocki at the 2021 Ledgestone Insurance Open after the final round was cancelled due to thunderstorms ↩

he previously won the 2019 Hall of Fame Classic over Adam Hammes ↩