A big ol' Texas welcome back to spectators.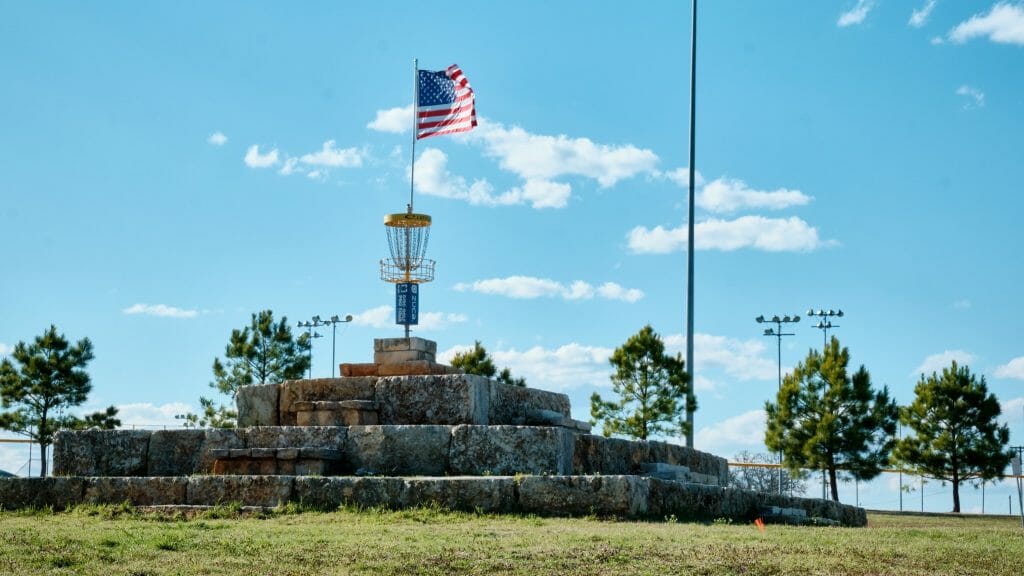 Last year, the Texas State Disc Golf Championships were the first stop on the final season of the PDGA National Tour. The consolidation with the Disc Golf Pro Tour this offseason means that it returns as a DGPT Elite Series stop. This is the first event of the year that makes its debut as a DGPT tournament.
While Texas States has long moved from course to course, this year's new layout — The Thorn, a safari combination of the three courses at Lindsey Park, including last year's Dogwood track — reflects a changing reality of professional disc golf. We are, in fact, out of the woods.
Open holes, plenty of spectator sightlines, and way more distance become the themes of this year's Texas States. It's not just about having good courses anymore; it's about ticket sales and cell signal for the live broadcast.
Hey, they say everything's bigger in Texas. Let's dive into what to watch for this weekend.
Past Winners
| Year | Tier | MPO | FPO |
| --- | --- | --- | --- |
| 2021 | NT | Ricky Wysocki | Hailey King |
| 2020 | A-tier | Bradley Williams | Valerie Mandujano |
| 2019 | A-tier | Ricky Wysocki | Sarah Hokom |
| 2018 | A-tier | Anthony "AP" Perkins | Jessica Weese |
| 2017 | A-tier | Ricky Wysocki | Paige Pierce |
| 2016 | A-tier | Bradley Williams | Sarah Hokom |
| 2015 | A-tier | Paul McBeth | Paige Pierce |
| 2014 | NT | Ricky Wysocki | Paige Pierce |
| 2013 | NT | Ricky Wysocki | Sarah Hokom |
| 2012 | A-tier | Cale Leiviska | Valarie Jenkins |
| 2011 | NT | Nikko Locastro | Valarie Jenkins |
Five Things We'll Be Watching
1. See those five times in the table above that Ricky Wysocki has won this event? Those are the only five times he's played in it. It's a pretty remarkable streak, even if you discount the two years he won it against weaker fields when it was just an A-Tier. And it's not like he dominated the Dogwood course they played last year for the event every time: this tournament moves around, and he's won all over Texas on all kinds of different layouts. Everything's Ricky in Texas. Can he make it six in a row and kickstart his 2022 campaign? This stretch of the tour is where he got it going last season en route to unanimous Player of the Year honors. He's certainly got the game to handle the open and wooded combination course that the Thorn presents.
2. Welcome back, Matt Orum! Matty O got hit with appendicitis before LVC and had to skip the first couple of events of the season following surgery. Armed with a fresh bag, how will he look in his first start of 2022? He finished second at Texas States in 2021, so it could be fertile ground for him to find a rhythm right away.
3. With Champions Cup, the first major of the year, just weeks away, another group of European MPO players has made its way over to the US to begin their tour here. Luukas Rokkanen, Niko Rättyä, Väinö Mäkelä, Kristo Raik, and, most notably, Niklas Anttila, the 2021 European champion, will all be making their 2022 DGPT debuts this weekend. For Anttila, it's his first time ever competing in the United States! Can a full contingent of the best Europeans make a dent in the top 25 — or dare we say the top 10?
4. Hailey King will not be defending her title this weekend after getting turned around by the severe thunderstorms and tornados that swept across the central US this week. That means eyes will be squarely focused on the top performers in the division so far this season: Catrina Allen, Valerie Mandujano, Kristin Tattar, Paige Pierce, and Eveliina Salonen. Neither Pierce nor Tattar has won an event yet this year; could one of them take advantage of the distance-laden layout to card their first W? Or maybe Valerie will keep up her sharp play and get back-to-back Elite Series wins.
5. This is the final Elite Series stop before the Champions Cup. Don't expect to see full fields at the Music City Open or Open at Tallahassee. While those tune-up Silver Series events will still be quite competitive, this will be the one chance we get to see (almost) the entire professional touring scene in one spot before they take on WR Jackson in a few weeks. Who looks ready to contend for a Major? Keep an eye on performance on the wooded and line-shaping holes that define the Jackson course.
The Course
The Thorn: MPO – par 63, 9,772 feet; FPO – par 67, 8,986 feet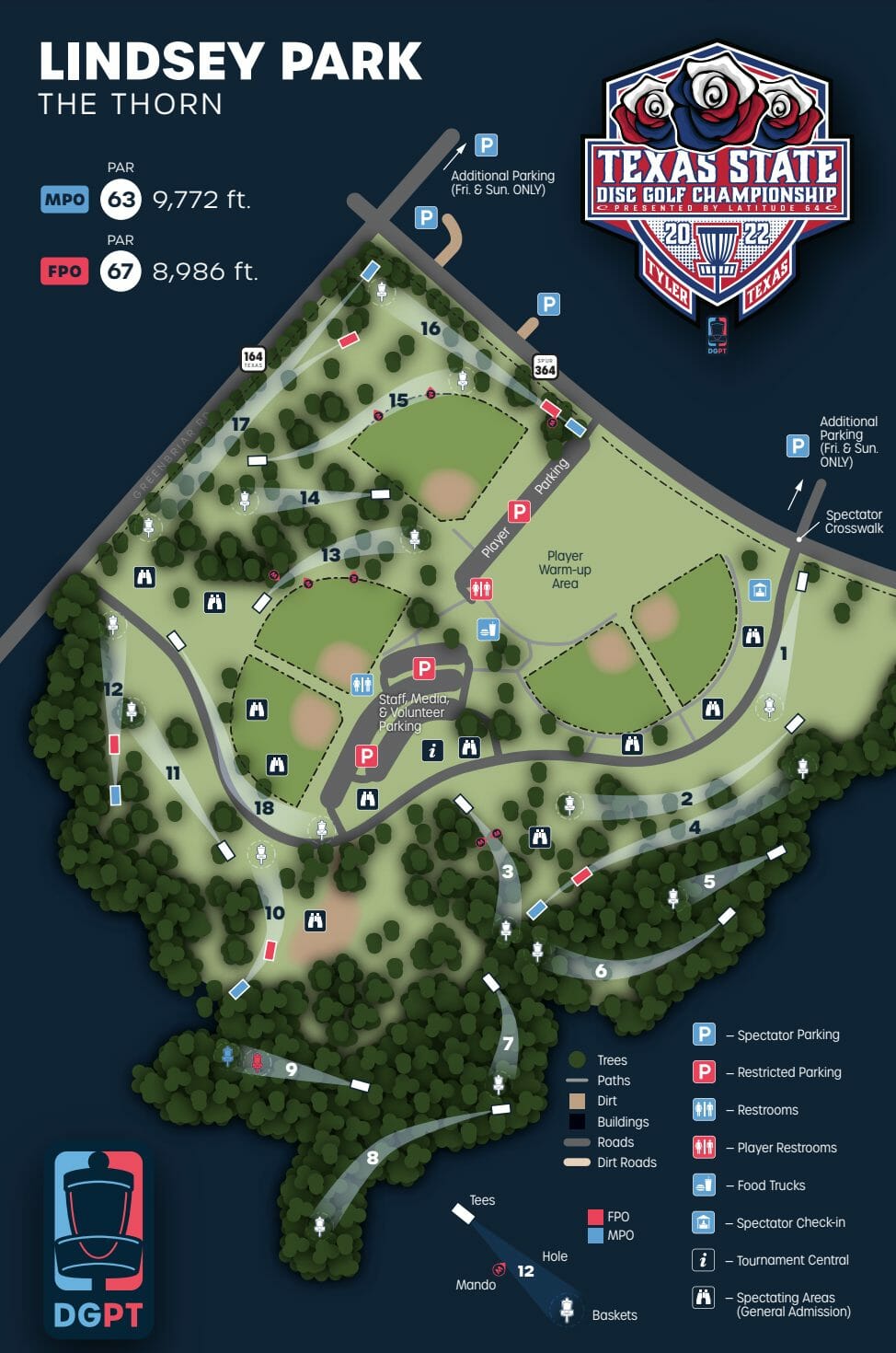 The Thorn is a new layout at Lindsey Park that combines parts of each of the three courses on the property — Dogwood, Cedar, and Hickory — into a safari layout that stretches the distance to nearly 10,000 feet for MPO. While it does contain some wooded Dogwood holes from last year's course, it is far more open and will require a wide combination of skills in order to win.
Designed by Gregg Barsby and the Rose City Disc Golf Club, The Thorn is a physically demanding course with a set of long, difficult finishing holes.
"I just wanted to challenge the best," said Gregg Barsby. "This is a course I feel like the best player is going to win. There's not nearly as much flukiness with this course as there is at Dogwood, and we all love Dogwood, especially us local players. We love playing there all the time. But to bring an event of this caliber to Tyler and East Texas, I'm really stoked they wanted to go with this layout."
Here's a look at the course:
Here is the 2022 Texas States caddie book.
Extended Forecast
Finally, a beautiful weekend for disc golf. It will be a reprieve from cold, wind, and rain that have marked earlier rounds.
Friday: Sunny. High of 77 degrees. Little to no wind.

Saturday: Sunny, high near 80. Wind picking up to around 10 mph in the afternoon.

Sunday: Warmer, high of 86 degrees. Winds around 10-15 mph in the afternoon.
How To Follow
UDisc Live will have livescoring available all weekend. For video coverage, see our How To Watch post.
Read on for PrizePicks Lines & Best Bets…
Bonus Content for 2022 Texas State Disc Golf Championships Preview: A Fresh Start is only available to Ultiworld Subscribers
Already have a subscription? Log in
Whether you visit Ultiworld for our reporting, our podcasts, or our video coverage, you can help us continue to provide high quality content with a subscription. By becoming a subscriber, not only do you receive benefits like bonus content and full article RSS feeds, you also help fund all of Ultiworld's coverage in general. We appreciate your support!