Final Round Recap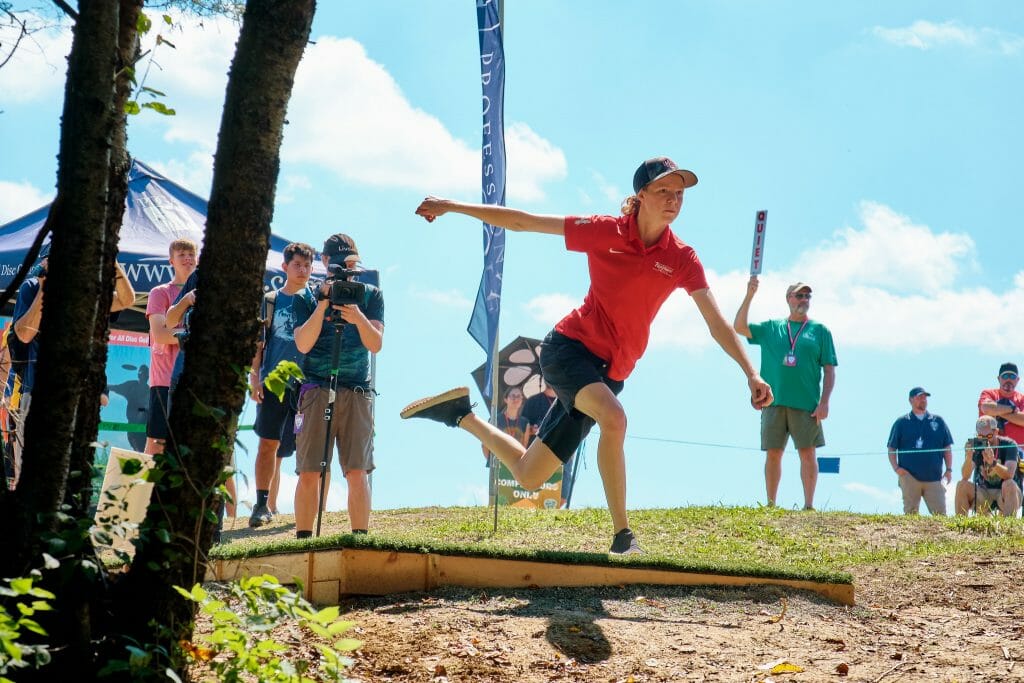 The lead was three strokes for Hailey King heading into the final round at the Music City Open, but it could have been more if King hadn't given three back on hole 18 at Mill Ridge the day before.
King started her final round Sunday with six straight birdies, and seven on the opening eight holes, to take those lost strokes back and give herself enough cushion to cruise to a three stroke win at 15-under par total.
"It was actually really easy," said King, on her ability to get over the triple-bogey that finished her round on Saturday. "I felt like [18] was my only miss so I didn't get mad and I was able to know that I could easily do this."
After a two-putt par on hole 10 and with a nine stroke lead, King's drive would lose its sharpness as she only reached Circle 2 in regulation twice over the last eight holes. While King was going 4-over on the back 9, Sarah Hokom was making a run at first place right beside King on the lead card.
Starting at hole 8, Hokom hit eight C1X putts over nine holes, and the only hole she didn't make a putt on, hole 10, was due to Hokom parking the basket for a tap-in birdie. Macie Velediaz, was not playing as hot as Hokom but was also under par and right there for the final podium spot. A bogey for King on hole 17 to Hokom's par drew the lead down to two with only one hole left. The same hole that bit King less than 24 hours prior.
Utilizing her same play from round 3, Hokom laid up to the right side fairway, not testing the OB around the green. King ran the "island" Saturday and surprisingly decided to follow Hokom and lay-up as well on Sunday. Both players put their upshots into the circle, making King's par putt a formality and Hokom's two-putt bogey meaningful for her final score.
"We weren't sure what the exact scores were but we thought if I just parred out that I would win," said King. "I just kept my head cool and kept going."
The win is King's third PDGA National Tour victory of 2021 and, combined with a fourth place finish from Catrina Allen, she took home the NT points title by four points over Allen. For the four rounds, King was first in the division in finding C1 in regulation and parked shot, and second in reaching C2 in regulation and fairway hits.
Hokom's second place finish at 12-under par total was her seventh Elite Series podium of the season. Velediaz's 11-under par third place showing was her second Elites Series podium of the season and of her career.
Deann Carey and Kat Mertsch both punched their tickets to the Throw Pink Women's Disc Golf Championship.