Final Round Recap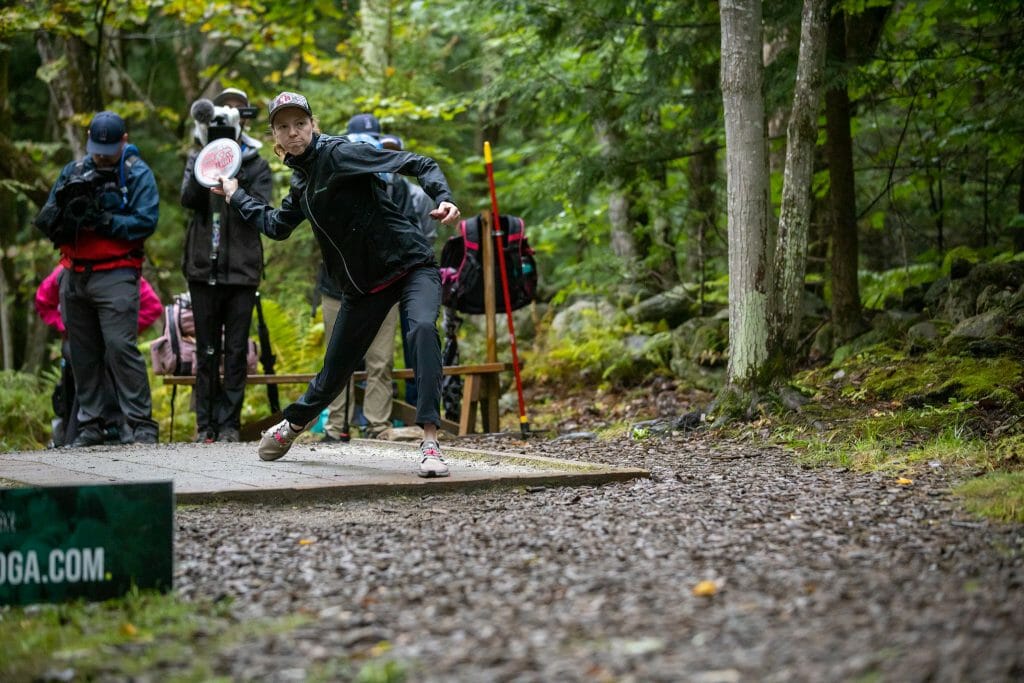 Hailey King takes down the Green Mountain Championship W over the long weekend at Smugglers' Notch, which included a record-setting moving day. It was déjà vu for King after a similar final round to last year's battle occurred in this event last year, but this time around it resulted in a victory. Like Chris Dickerson, GMC marks King's first Disc Golf Pro Tour regular season win, and comes on a course where she has had success in the past and long admired.
"I feel like I'm going to cry," said King. "I have been looking forward to this day since I first came here, and it just feels good for it to finally happen."
King played very solid golf on the round but did have a couple of late hiccups which consisted of a bogey and a double-bogey on holes 12 and 13, respectively. The miscues and sharp shooting had allowed Sarah Hokom to make up a four stroke deficit to take the lead on the back 9. Even with these setbacks, King was able to rally herself in order to close out the round with three birdies.
"A lot was going through my mind, and I actually shut off for a couple holes," said King. "Then Paige stepped in, and I was able to turn it back on."
King's teammate Paige Pierce, playing on the same card as her and finish in third place at 3-over par, was the motivation in the teenager's ear. King and Hokom were in a two woman race and it was King's perseverance that showed through.
"I would like to thank Paige Pierce because she did not let me give up," continued King. "She kept me going at the end and kept pushing me. I need to learn to keep pushing, and I'm still trying to do that, but today was really rough. I learned a lot today."
The birdies on holes 16 and 17 allowed King to regain a share of the lead with Hokom at 7-under par heading into the final hole on Brewster Ridge. Both players were stymied by foliage midway up the fairway off their drives, but Hokom clipped more branches on her approach and was unable to save par from the edge of the circle, her first missed putt of the day, while King stuck her second shot within 10 feet of the basket for an easy par and the win.
King won the tournament at a score of 7-under par with a final round coming in at 1-under par. Hokom finished in second, one stroke off King with an impressive 4-under par to make a late surge for first and capped off a very consistent weekend of golf.
"Sarah played really well and always plays this course super consistently under par," said King. "I feel as if she always shoots the best out here. She has a simple game which is to get three's and get out of the course. It almost worked today but I came back."
This marks King's third Elite Series win of the year and is truly a special one. After such a strong performance the previous year, she was able to right the wrongs and take home the title.
"I didn't feel any nerves and I finally felt confident. I just did what I needed to do for the first time, so it feels really good," said King. "My first time here was 2018 Worlds, so it's been three years now coming back here and it just feels good to get it."
King will hold the fifth seed for her upcoming defense of the DGPT Championship title at Hornet's Nest, in Charlotte.
"It definitely gives me a confidence boost," said King. "If I just stay in it then I can win and it's going to be a battle. I can do it as long as I stay in it."