Final Round Recap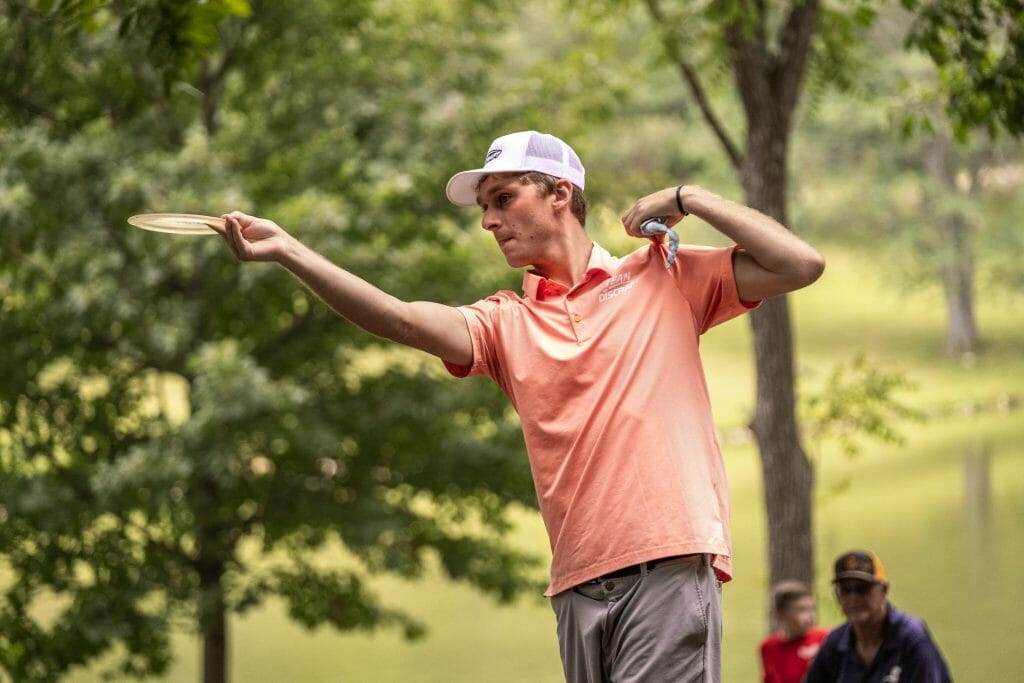 "It's Maple Hill so I don't ever count anyone out," said Adam Hammes, after the final putt of the MVP Open. "Definitely not counting myself out today. I wanted to come out strong and start out really hot like I did — keep the pace going."
Coming into Sunday, Eagle McMahon looked unflappable. Back-to-back hot rounds had McMahon in front by four strokes, but Hammes and a handful of others were doing enough to keep things interesting with 18 holes to play.
It would be Hammes, however, who would put together the clutch performance during round 3 with a 9-under par and take home his first career Disc Golf Pro Tour Elite Series win.
"I'm working pretty hard this year. To win a National Tour feels great, but to finally get a Pro Tour, it's a dream come true," said Hammes, who won the Masters Cup earlier in the season. "To do it here at Maple Hill, I can't pick a different tournament I want to win besides a Major. This is the one I wanted to win the most."
As McMahon rode the roller coaster early with a bogey and double-bogey to open the round 1-over through six holes, Hammes erased the deficit and had taken the outright lead by one stroke after McMahon tapped out the double on hole 6 and Hammes himself started 4-down. Playing on the chase card, Ricky Wysocki had also climbed into the scrum of podium positions with an early five hole birdie streak.
With the addition of a 50-footer for birdie on hole 7 to start a turkey, Hammes was 7-down on the front 9. No other player over three rounds was able to shoot as low on the tougher scoring to par half of the course, and even Hammes' first round was even par on the front 9 with four bogeys and four birdies. By the turn, Hammes sat at 20-under par, one stroke ahead of Wysocki who was several holes ahead, and three up on McMahon.
Hammes would pick up his only bogey on hole 10 with a failed scramble and two-putt just as McMahon would have a three hole birdie streak of his own, kickstarted by a 60-foot death putt on hole 10. Two pars followed Hammes' bogey and McMahon moved back ahead of Hames by one with a birdie on hole 12. Wysocki was the outright leader by this point at 21-under par to McMahon's 20-under, but he was about to run into the final three holes where he would go 2-over and drop back into a finishing score of 19-under par. This contest would come down to a back-and-forth with Hammes and McMahon.
"I knew if it came down to it I had those last five [holes] dialed in," said Hammes. "I liked my chances coming down the stretch. Stay smooth, stay calm, play my game. Take an extra second on each tee box and try to convert the shot."
Hole 12 would be McMahon's last birdie. Hammes would quickly tie McMahon with a birdie on hole 13, and get to 21-under with a birdie on hole 15 as McMahon was stuck on pars. The real nail came on hole 17 when McMahon's booming drive caught the last large tree in the fairway. With a light rain falling, the tricky footing in the foliage for McMahon caused him to saw off a forehand approach from his knee. Hammes looked calm as he stared down the elevated pin from the edge of the circle and drilled a birdie putt to seal it.
"This is my favorite course in the world, this is a favorite tournament in the world, and to take it down is unbelievable. I'm pumped," said Hammes.
Hammes finished at 22-under par total, led the tournament in fairway hits, finding both Circle 1 and Circle 2 in regulation, and strokes gained from tee-to-green.
McMahon and Wysocki finished in a tie for second at 19-under par. Matt Bell moved up four spots into a tie for fourth at 16-under par with Matt Orum and Calvin Heimburg, who aced hole 5 during the final round. Thomas Gilbert (T-9th) and Corey Ellis (T-21st) set the new course layout record at 10-under par.