Round 2 Recap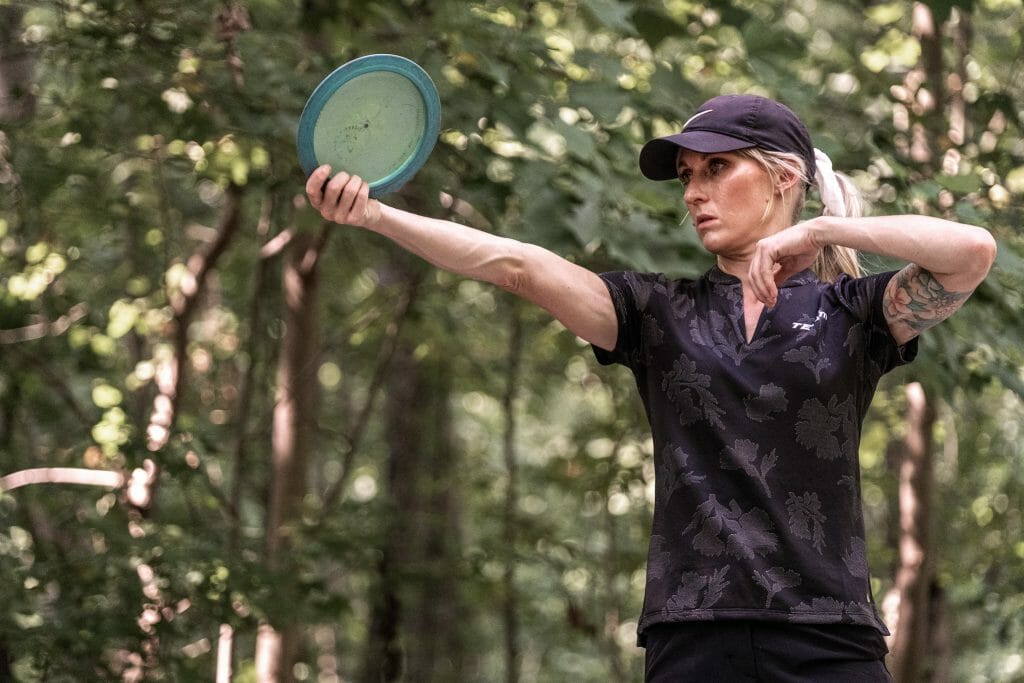 Day two out at Maple Hill kicked off with a tight race at the top of the leaderboard but ended with some clear separation entering Championship Sunday. The FPO division saw success on their second outing averaging a stroke better than its day one.
Catrina Allen tallied the hot round of the course with a 1005-rated, 3-under par, which was enough to solidify herself in first place at 3-under par total. After an OB throw and bogey on hole 1, Allen was able to keep her composure and string together four birdies within the front 9. Her putting stayed consistent at 78% from C1X along with a 40-foot C2 look on hole 8.

Ace Alert: Hailey King throws in an ace on hole 7 which plays as a 278-foot par 3. The ace ignited her round where she then birdied five in the back 9 and capped off a 2-under par round. Her driving was the bread and butter of her round where she led the field in strokes gained tee-to-green at 8.06. She currently sits tied in second place with Kona Star Panis at 1-under par.

After entering the day, the leader, Panis did not keep the momentum going but is in solid position to fight for a podium. Panis saw every bogey accompanied by a birdie which resulted in even par for the evening. Her C1X still seems dialed at 73% but some unsuccessful scramble attempts resulted in the bogeys. 

The player you have all been waiting for, Paige Pierce. Finally, after a slow start to her weekend she will be making her first appearance on the main card. After back-to-back bogeys mid round, Pierce finished the back 9 with four blue squares. Pierce put on an absolute putting clinic where she led the field in C1X putting at 92% and strokes gained putting at 4.03, while also knocking down a 60-foot C2 look on 16. Her round highlight came on hole 12 where she threw it in from 70-feet. Her 2-under par round lands her outside the podium spots at 2-over par.
Statline
The FPO division seemed to be sniping from elite range on day two. The field saw two throw-ins on the day over 200 feet. The first coming from Hailey King's 278-foot ace on hole 7 with the second coming on hole 1 from Christine Jennings at 220 feet. The field seemed to be playing a little more aggressive than they had on opening day.
Heard
"Not too shabby. I feel like I'm playing pretty solid but I would like some more birdies. I feel like I'm scrambling well to keep the big numbers away, so it feels pretty good… I kind of felt like the first round and the second round felt a little like Delaware where I'm figuring out the course, making improvements, and figuring some holes out. So, just hoping tomorrow it all comes together." Catrina Allen, on her round 2 performance.