Round 1 Recap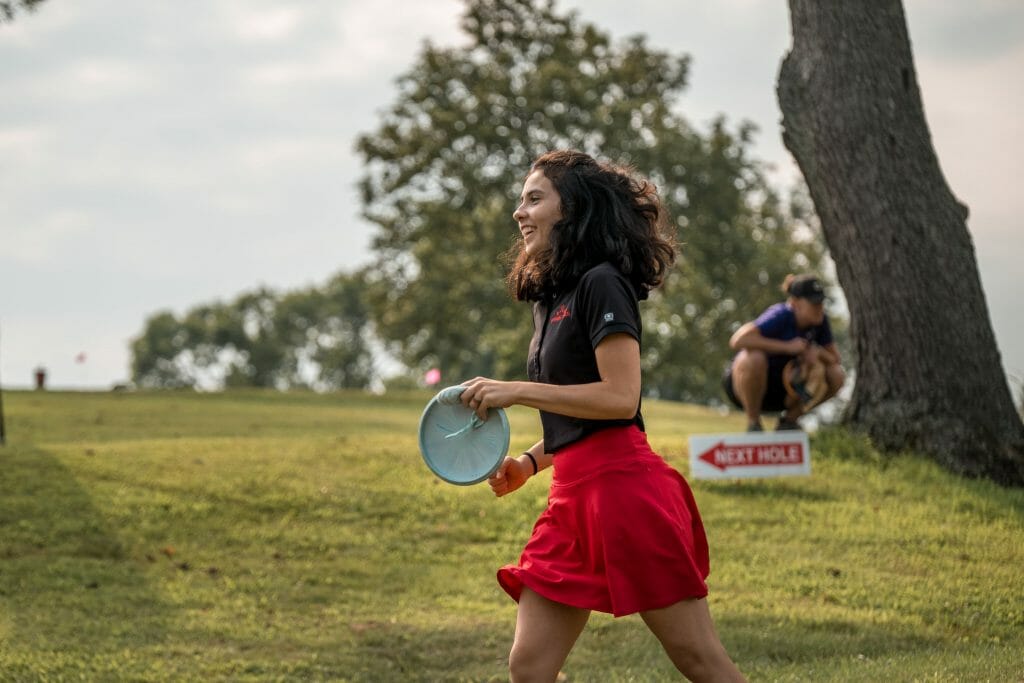 After a week of playing Northwood Black, the field is up against another challenge at Idlewild in Burlington, Kentucky. The FPO division saw rollercoaster rounds on the technical course, with big stars shining and the lead card entering day two seeing a couple new faces.
In prime form entering Idlewild, Paige Pierce is back in the driver's seat. Pierce experienced every side of the coin during her round, with an eagle, two birdies, two bogeys, and a double-bogey in the final seven holes alone. With an eagle on 18, she was able to end her round at a score of 2-under par, one ahead of second place and good for a 999-rating. After a delayed start due to weather, she finished the evening 64% from Circle 1X and hitting 67% of the fairways. Her big shots of the day included a 70-footer on hole 6 for birdie and a 40-footer on 18 to close out her round. Pierce led the field in strokes gained from tee-to-green at 7.58, and led the field in C2 putting at 50%.

If one Paige was not good enough, Paige Shue joined the action landing herself second on the leaderboard. Shue proved consistency and par will get you far at Idlewild with barely any colored squares on her UDisc Live scorecard, and maybe a record-setting 15-hole par streak between holes 2 and 15. With only two birdies  — holes 1 and 18 — and one bogey — hole 17 — she sits in a close race at 1-under par. She was able to keep herself in the hunt with a 75% scramble rate with successful scrambles on 12, 13, and 14.

Sarah Hokom took control of third place after the first day. The action in her game came almost solely on the back 9 where she saw two birdies, two bogeys, and one double-bogey. Her day on the greens saw much success with a C1 conversion rate of 78%. With two OBs on her final three holes, however, she finished the night at 1-over par.

After a difficult start to her round, Juliana Korver was able to string together a strong back 9 performance to earn herself a final lead card spot over Rebecca Cox, Holly Finley, and Alexis Mandujano. Korver saw three bogeys in a row in her front 9but was able to stay composed to finish the round 3-over par. The strong point of her game was her putting, a regular bugaboo for Korver, where she had 91% success rate from C1X. She is tied for 4

th

with the aforementioned trio. 

Shue, Madison Walker (T-10th), and Hailey King (T-18th) were the only players in the 35 person field to not record a double-bogey or worse.
Statline
Idlewild plays as a technical wooded course which incorporates technical lines and tricky landing zones. With that in mind, hole 10 did not have a single fairway hit from the field with zero birdies on the day. The average of 0.69-over par only played as the fifth hardest hole on the course.