Northwood Black marks another new era in Peoria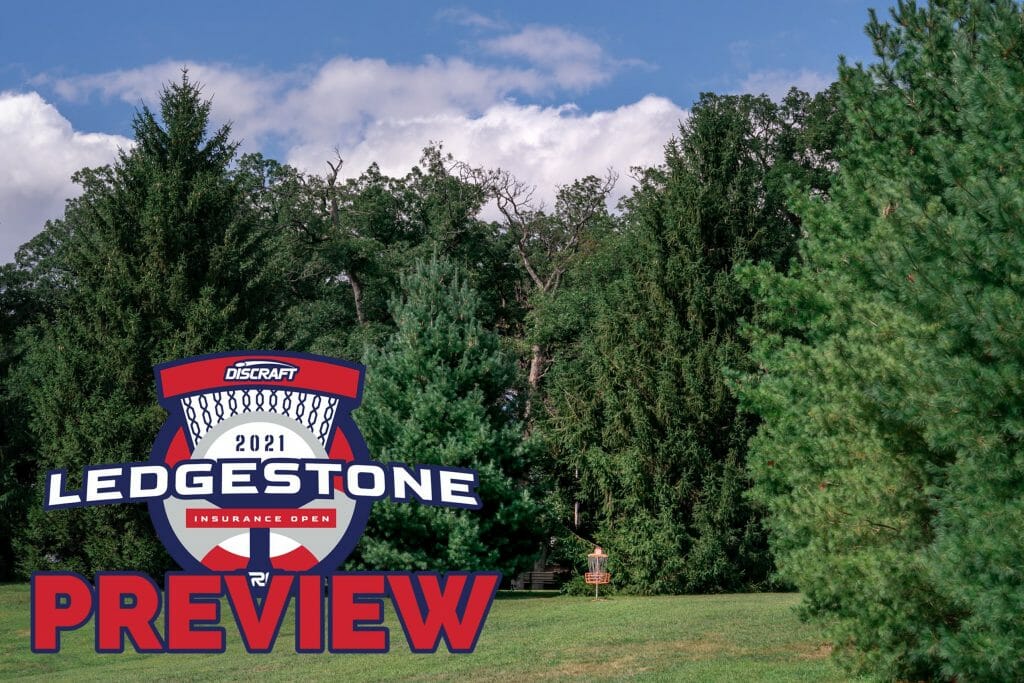 Ledgestone Insurance Open Tournament Director Nate Heinold has created a force in Peoria.
What started as an event known for its big pro purse and infamous OB ropes has transformed into an Elite Series stalwart and former Pro Worlds host with multiple courses testing every facet of disc golf. Where before Heinold and crew were responsible for crafting a challenge on its showcase course, Lake Eureka, a layout that remains temporary a decade on, years of commitment has convinced the local municipalities in Illinois to invest in the sport and tournament. Northwood Black is the result, and some players have been quick to call it among the toughest they've ever played.
Northwood's Gold layout was reimagined for 2019 Pro Worlds and featured daunting par 5 hole 12. With the new Black layout, hole 12 may not even be the hardest on the course. Heinold says he wants the Black course to be a major test for the pros.
"The vision was to make it the hardest course in the world," said Heinold. "We wanted fair fairways with brutal rough that punished bad shots. It makes you stay in the fairway and makes you club down from distance driver to fairway driver or midrange. It was designed that way to resemble the US Open in ball golf."
Heinold predicts a 1000-rated round for the Open division to come in around 6-OVER par, and those who have practiced are reporting barely under-par final tallies.
Ledgestone has always been an ambitious project, and to Heinold's credit, the tournament continues to push expectations each year. With the debut of Northwood Black in 2021, Ledgestone is entering its second decade on a new level of prestige.
Past Winners
Ledgestone Open Past Winners
| Year | PDGA Tier | Open | Open Women |
| --- | --- | --- | --- |
| 2022 | DGPT | Ricky Wysocki | Missy Gannon |
| 2021 | DGPT | Ricky Wysocki & Calvin Heimburg (tie) | Paige Pierce |
| 2020 | A/DGPT | Ricky Wysocki | Catrina Allen |
| 2019 | A/DGPT | Paul McBeth | Paige Pierce |
| 2018 | A/DGPT | Nate Sexton | Jessica Weese |
| 2017 | A/DGPT | Josh Anthon | Valarie Jenkins |
| 2016 | A/DGPT | Paul McBeth | Catrina Allen |
| 2015 | NT | Simon Lizotte | Catrina Allen |
| 2014 | A | Nikko Locastro | Catrina Allen |
| 2013 | A | Devan Owens | Catrina Allen |
| 2012 | A | Nikko Locastro | Sarah Hokom |
What We're Watching
It's high time Kevin Jones finally broke through in 2021. He's been on the cusp of wins on several occasions, including a heart-breaking finish to the Portland Open, and he's been a lock for top 10s at Elite Series events this season.
With Kristin Tattar back home, the Open Women's division has lost a consistent podium contender. Does someone like Hailey King step-up to fill the void and get back on the hot streak she started the year on, or are we back to Paige Pierce and Catrina Allen trading wins?
If Northwood Black is indeed the hardest course in the world, how will it handle back-ups? We already know the front 9 will be causing interruptions to livestreaming, and any more slowdowns caused by the tough conditions may mean we're in for loooong rounds.
GRIP6 Pick 6 Locks of the Week
Coming off the heels of a win in Minnesota, 2020 champ Ricky Wysocki will be raptor-steppin' with extra momentum. Wysocki annihilated the field last year to win by eight strokes, and he's got one of the best scramble games in the world in case he does find those thick roughs on Northwood Black.
Heather Young earned her first career Elite Series podium last year in Peoria, and these courses line up well for her game. She doesn't have to have the serious distance to keep up on Sunset and Northwood, and as always, her putter should gain several strokes extra on the field.
The Courses
Northwood Black: MPO – 10,529 feet, par 68; FPO – 8,818 feet, par 68
From the event: "This course is an absolute beast. There are more par 4s (8) than par 3s (7) on this layout. Add in three par 5s and this course can be as mentally draining as it is physically taxing. To call the rough "thick" would be an understatement. It provides natural impediment that may force players to lose strokes pitching back to the fairway. There is limited artificial OB as well that requires precision on several holes. Most of the course plays through dense woods. Players looking to unleash on a drive must have pinpoint accuracy or they will finish deep in the rough."
Sunset Hills: FPO – 7,539 feet, par 61
From the event: "The course plays through and around the Sunset Hills Golf Course. It features open, manicured fairways over rolling hills. The layout makes use of many cart paths to establish out-of-bounds lines, but also employs some artificial OB to keep players out of neighboring yards. Being on a ball golf course, there are numerous sand traps on the disc golf fairways that play as a hazard, while the greens and tee boxes play as regular OB. Seven of the holes also feature water hazards and sloped greens to add to the difficulty. The first 11 holes meander through the golf course, while the back seven have their own separate plot of land next to the golf course and bring more natural barriers into play using long grass, mature trees, and guarded greens."
Lake Eureka: MPO – 9,665 feet, par 63
From the event: "The Eureka Temp course is an expansive park-style course playing over and around Lake Eureka. It incorporates extensive artificial out-of-bounds ropes and plenty of water hazards. Big arms will have advantages on several holes, but placement over power reigns supreme on this course. The layout opens with a par 4 and a large water carry that gets longer the more aggressively players attack for birdie position. The course then moves into an open park area with large mature trees before emerging into a wide-open field for several holes. The back nine, especially four of the last six holes, is long and grueling with artificial OB and water defining relatively narrow fairways."
Extended Forecast
A couple of upper level shortwave troughs will bring rain chances to the Peoria region Friday and Sunday. An isolated storm or two cannot be ruled out both days. The heat and humidity build on Saturday. The shortwave on Sunday appears a bit stronger than the Friday shortwave, leading to stronger surface winds for the final round of the tournament.
Thursday: Afternoon highs top out near 84°. South-southwest winds of 5 to 10 mph possible, gusting to 15 mph.
Friday: Showers and thunderstorms possible. Highs top out near 84°. Southwest wind of 5 to 10 mph with gusts as high as 15 mph.
Saturday: Highs top out in the mid to upper 80s. Humid conditions will make it feel more like the low to mid 90s. Southerly winds of 5 to 10 mph possible.
Sunday: Afternoon highs approach 90°, but humid conditions will make it feel more like the upper 90s. Showers and thunderstorms will be possible. Southerly wind of 10 to 15 mph, with gusts to 25 mph possible.
How To Watch