Round 2 Recap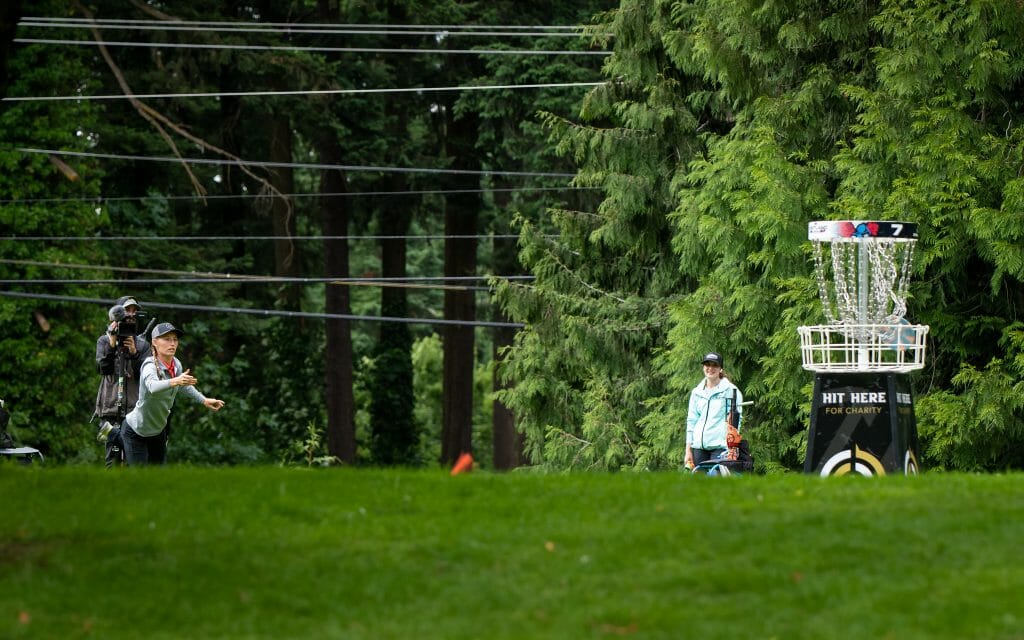 Day two kicked off for the Portland Open and only saw a few modifications to the top spots. Glendoveer showed a slightly different side of the course with cooler and windier conditions passing through. The leader board, however, did not seem to be greatly affected by these conditions. 
Unlike her round 1 performance where she dominated the front 9, Paige Pierce shined on her back 9 finish on Saturday. Her 5-under par day tied for the hot round despite being accompanied by three bogeys, two of those coming back-to-back on holes 5 and 6. Pierce ate up the back 9's soft pars, birdieing four of the last six. The shot of the day comes on hole 13 where she perfectly flexed a 300-foot backhand to park a birdie off the tee.  She sits in first place with a four-stroke lead at a score of 14-under par total. She's currently first in the division in Circle 1X putting (94%), fairway hits (93%), and Circle 2 in regulation (78%). 

Catrina Allen did not stay hot on the greens from her round 1 performance. A 2-under par round was plagued by her putting at 50% from C1X, something she looked bothered by early on hole 1 when she short-armed a birdie look whiel putting into the swirly winds. She continued her strong driving, landing 91% on the fairways, but it was not enough to stay in line with Pierce. She finished the afternoon in second place with a score of 10-under par after two unfortunate bogeys in her last four holes.

Ella Hansen sneaks into the lead card after tying for the hottest round on the day and also captures the statline of the day. Her 5-under par round only showed one bogey on her card, but consistency reigned supreme. Even though she cashed in 64% of C1X looks, she also led the field in parked percentage at 17%. This impressive performance has her sitting at 6-under par to move into Championship Sunday.

Tied with Hansen in third are Jessica Weese and Hailey King. Weese displayed a very similar round to her first day, limiting her mistakes and scoring when she should. She's fourth or better in five of eight major UDisc Live statistical categories, including C1X putting and fairway hits. King's finding birdies on Glendoveer without any issue, yet is also finding the limited OB; she's 21st of the 35 player field in OB rate. The battle for third should be a fun one.
Statline
Ella Hansen had a phenomenal moving day to put herself into position for a strong final round. She tied the field lead in parked percentage at 17%, she led the field in C1 in regulation at 56% and finished the round with a 100% scramble rate. An incredible performance by her sets up an entertaining Sunday, and Hansen's experience in soggy conditions as a native Oregonian may be a boon. 
Heard
"It was a lot windier today, so the expectations kind of went out the window. I was hoping to shoot better than I did the first round, but after walking up to hole 1 and my hat almost falling off, I knew it was going to be a lot different of a day." — Paige Pierce, on the conditions.