A legend sat in the midst of the spectators at DeLa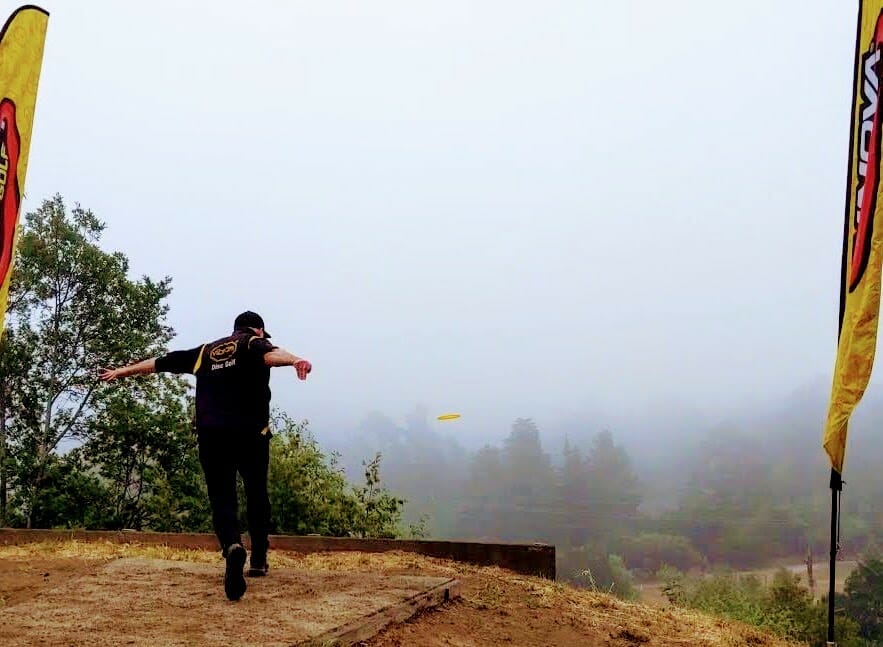 My 2021 Masters Cup experience began a little before 8 am. An opaque fog hung low enough to obscure baskets and leave a fine layer of mist on resting discs. I came out early to watch some of my MP50 peers tackle the course with guile and experience, and was rewarded with some quality golf and a soundtrack of incessant birdsong, soft library voices, and the tree-muffled ringing of chains.
This quiet pursuit of sport persisted until after 10 am, until the fog began to break apart. As my group worked its way through its standard 4-hour Masters Cup round, I started a list of observations that I would continue after joining the primary Open feature card of Paul McBeth, Ricky Wysocki, reigning champ Garret Gurthie, and Sean Brookman. Enjoy said observations, in no particular order.
---
First off, if you're unfamiliar with the last name, Brookman is a Santa Cruz local and winner of this year's Amateur Masters Cup. Local tradition dictated that his victory came with paid entry in the PDGA National Tour Masters Cup, as well as a spot on a feature card in round 1. Brookman, who at age 40 isn't exactly a young phenom,1 showed the moment was not too big for him, birdieing the uphill opening hole.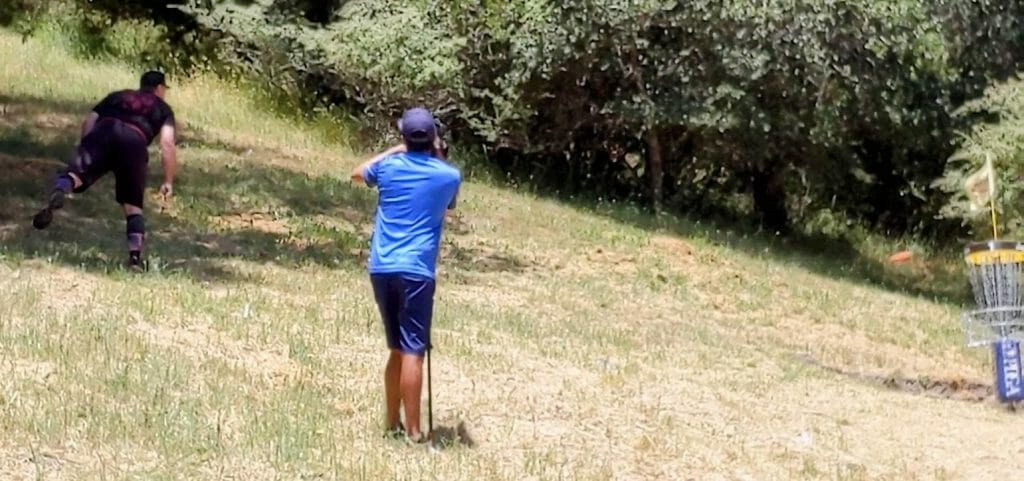 A bit later in the round, one of Brookman's drive would come to rest 10 feet up in a tree. In Santa Cruz, that means a stroke penalty in addition to the tough upshot that resulted from the disc being stopped prematurely. I am a traditionalist on most matters when it comes to my two favorite sports — disc golf and baseball — but I'm all for a computerized strike zone and would like to see the ending of the 2-meter penalty rule universally abolished. It's too arbitrary and too ambiguous. DeLa now has a giant upturned root ball bisecting event hole 22; if a disc lands atop this part-log, part-earth thing, is it OB? And, really, it's just a bad look having a rule that differs from region to region. As a Californian and Santa Cruzan, I say: Mr. Gorbachev, tear down that! . . . er, PDGA Rules Committee, abolish that rule!
I was bummed for my buddy Sean about that bad break, but he saved his bogey and went on to shoot 1-under par. McBeth and Wysocki both shot 10-under, and defending champ Gurthie started rough and came in at 1-over. Maybe because I haven't followed a lead card in person for a couple of years, or maybe because I knew Brookman had never gotten the "feature card" treatment before, but the unsubtle presence of the JomezPro film crew leaped out at me. The players have obviously bought into an agenda that calls for compelling footage, and camera operators frequently stand within a few feet of players as they execute their shots.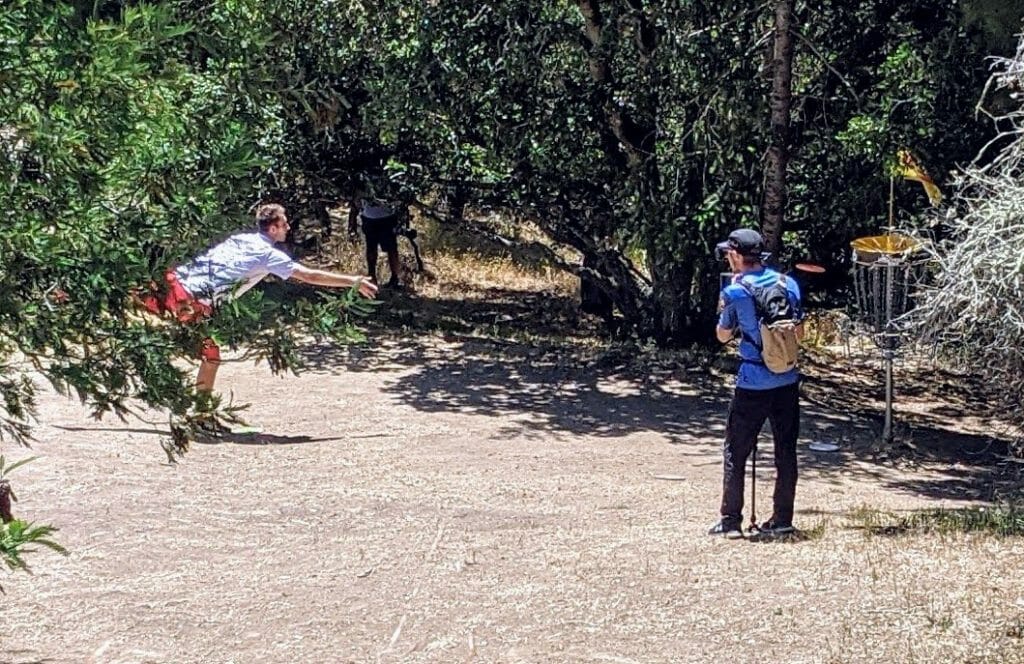 DeLaveaga has a couple crossing fairways, and on one of these, holes known as "Frick and Frack," film crews from JomezPro and GK Pro adroitly avoided bumping each other's gear as they switched places. This patchwork approach for covering the most action possible is quintessential disc golf, and I love it.
---
You know how some things are better once you finally see them in person? For me, today that thing was Calvin Heimburg. The height was higher, the fro was fro-ier, and the chill that comes through on the Disc Golf Network broadcasts was undeniable. The guy is like a cross between Napoleon Dynamite and The Big Lebowski. One of my goals as a player is to keep a low resting heart rate, and this guy at least seems to be the posterboy.
I plan to follow the women's lead card on Saturday, and expect some great action. Paige Pierce leads but Catrina Allen, Hailey King and Juliana Korver, AKA Phil Mickelson, are all a "DeLa'ed" away. I love watching the ladies because they throw lines I can (mostly) throw myself, and the competition is just fierce.
One final thing on my mind. I spotted old friend Tom Schot sitting in a beach chair tucked just off the back of the fairway on hole 19, not far from one of the spectator pods. These pods, I was happy to see, were filled with fans who were mostly new to the game.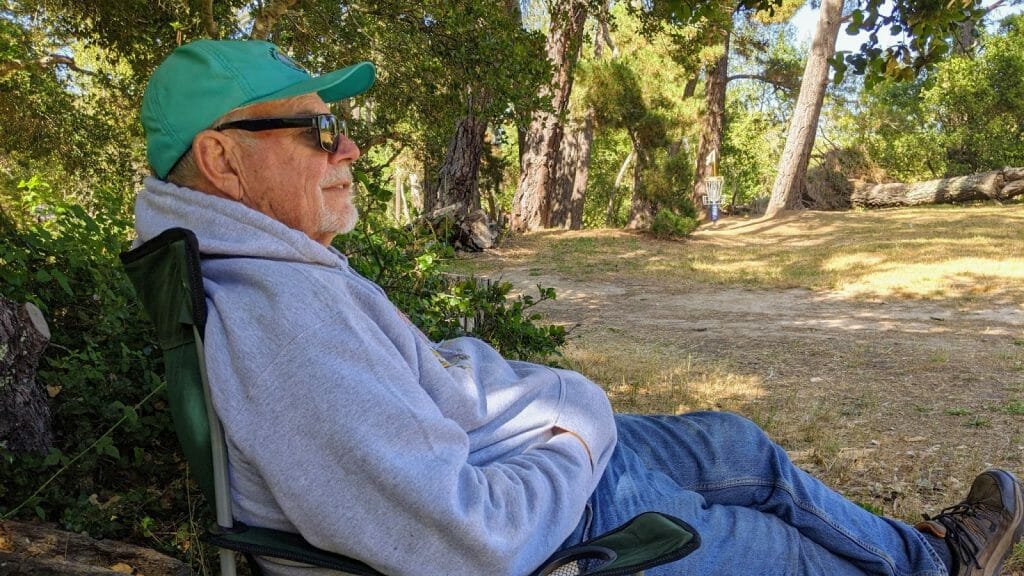 How many of them had any idea that the architect of this famous, historic course, an early inductee to the Disc Golf Hall of Fame, was in their midst? The history of our sport used to be common knowledge to all who played, and although that may not be the case right now I have a feeling that the sport's early days will soon be the stuff of celebrated lore — if they're not already.
---
although he's been on a phenomenal run ↩