Round 2 Recap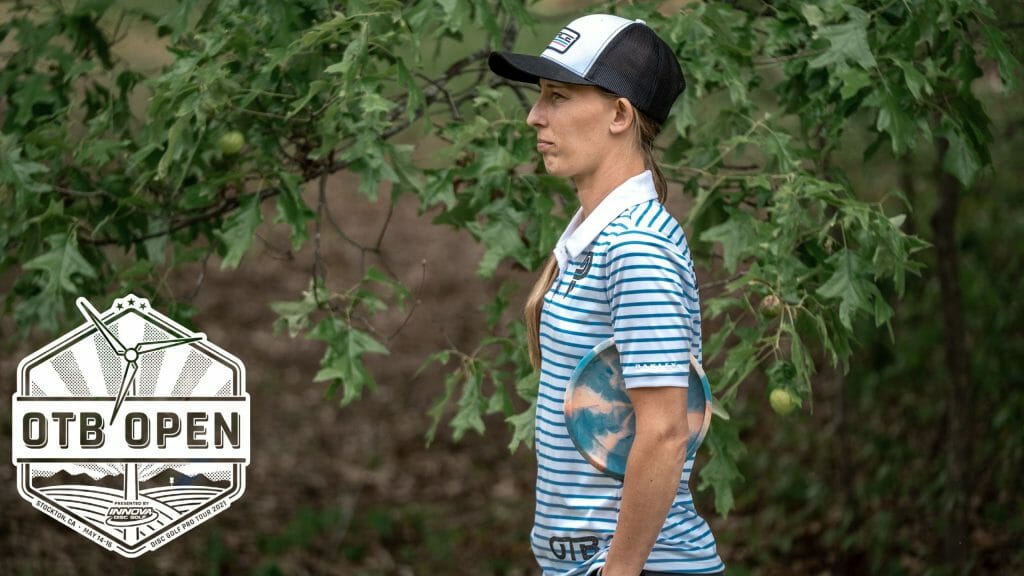 The FPO field seemed to be dialed in during day two out at Swenson Park. The field averaged 3.42-over par compared to day one's 6.06-over par. The four women featured on the lead card on day two will also be on livestream for day three of the OTB Open but with a shake up in the order.  
 

Paige Pierce is absolutely back. Her screaming hot 6-under par round sends her to the top of the leaderboard, two ahead of the pack at 10-under par total. Pierce really got the day going with a 50-foot eagle on hole 4, starting a streak where she managed to birdie or better eight holes in a row. Through 13 holes Pierce was 9-under par and in the lead by six strokes, but saw a humbling end to her round bogeying three of the last four. She improved her Circle 1X putting despite the two two-putts over the final five holes. Her vintage performance puts a target on her back heading into Championship Sunday.

Heading into the final day, Catrina Allen sits in a close second place setting up a classic Cat and Paige bout. Allen had a hot start and finish to her round. She was able to find birdies in three of her first five and four of her last seven, including earning an eagle on hole 18 with two rollers and a C2 connection. The late charge had Allen moving up from a potential final round chase card appearance to remain on the top card. Other than the lopsided ends, Allen was consistent throughout the round going 60% from C1X. Combine that with a couple of C2 putts and 86% fairway hits and you get the 5-under par round. She is tied with Jessica Weese at 8-under par.

Weese continued the trend of the "hot front nine" with four birdies in her first six after bogeying hole 1. This composure led to a consistent finish to her round which kept her in the hunt. Her driving was the bread and butter, reaching C2 in regulation on 72% of the course. An efficient scramble rate and 63% conversion on the greens from C1X were good enough to hang around with Allen. 

Lisa Fajkus played an identical round to her day one performance. She once again finished 3-under par, but drastically improved her C1X putting to 92% making 11-of-12 attempts. Consistency was key for her with only one bogey on the round. She sits at 6-under par and will need her best performance on Sunday if she wants to beat her best Elite Series finish of the season — a fourth place showing at Waco.

Kona Star Panis, although on the outside looking in, sits at 4-under par and tied for sixth place with Missy Gannon. She had the shot of the round with a 215-foot throw-in on the 800-foot, par 5 hole 18 for eagle. She joins Allen and Pierce as one of three players to eagle on the day. 
Statline
The storyline of the first day was how the wind played into effect on the course leading to an unordinary amount of OBs. Day one saw 105 OB throws whereas day two only collected 76. This set the field up for an overall better round and improved the field's performance on the greens by 6% and lowered the average score by about 1.6 strokes. 
Heard
"I missed four inside the circle yesterday, which were four I definitely should never miss. It's improving, but it's just a mental thing that's going on. I know that I am one of the best putters in the world and I just have to turn my brain off like Ricky [Wysocki]." – Paige Pierce, on her putting improvements into day two.
Highlights
Paige Pierce putt on hole 4 during round 2. OTB
Jessica Weese hole 9 approach with fox. OTB
Paige Pierce approach on hole 11 during round 2. OTB
Catrina Allen drive on hole 13 during round 2. OTB
Catrina Allen putt on hole 14 during round 2. OTB
Kona Panis throw-in on hole 18 during round 2. OTB
Catrina Allen roller drive on hole 18 during round 2. OTB
Catrina Allen roller approach on hole 18 during round 2. OTB
Catrina Allen putt on hole 18 during round 2. OTB