Dominant start as junior players could foretell continued rise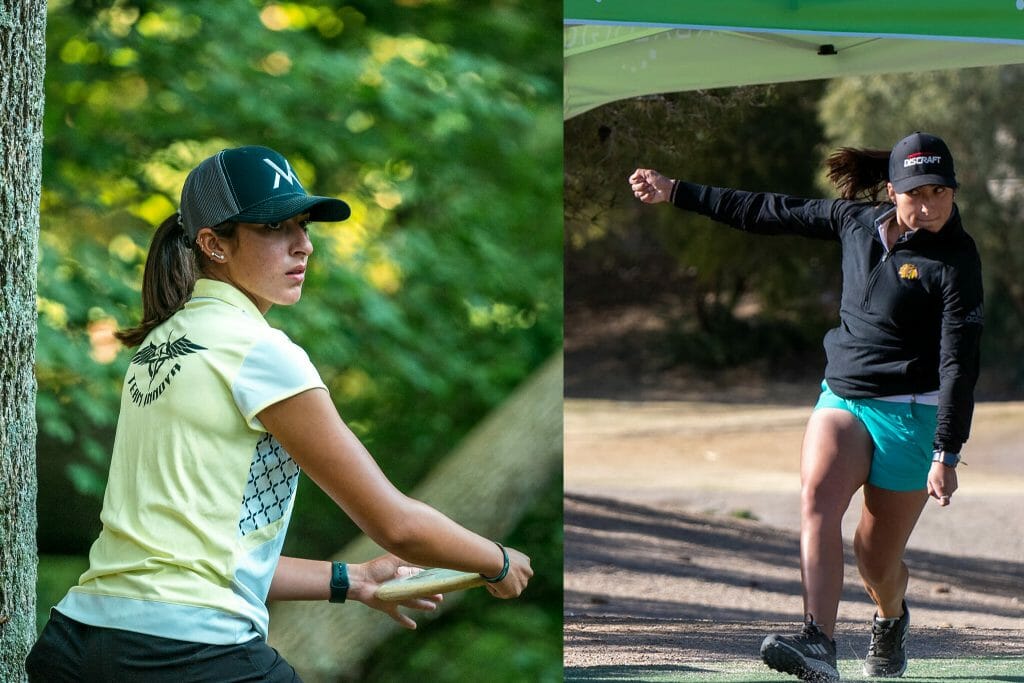 A common refrain around the Open Women's division is the need for emerging talent who can challenge the top competitors. For six of the last seven years, Paige Pierce and Catrina Allen have taken the top two spots in the end-of-year PDGA world rankings. As Paige and Cat continue to dominate the American field, two sisters are looking to rewrite the narrative.
Valerie and Alexis Mandujano only played a handful of Disc Golf Pro Tour (DGPT) events in 2020 — Valerie finished eighth at WACO, sixth at Idlewild, and fifth at Ledgestone; Alexis was ninth at Idlewild and 13th at Ledgestone — yet it was still a successful season for the sisters. Valerie, the older of the two, had 11 wins including two A-tiers, and Alexis added seven top five finishes in half as many events.
This recent success did not appear out of thin air but stems from many years of hard work, as well as some friendly sibling rivalry. 
"It's always been two teams, one family. We always want to win and be our best when playing," Alexis said. "I'm rooting for her and she's rooting for me." 
That has been the motto for the Mandujanos even since they were young. 
Playing out of Texas, the Mandujanos are surrounded by elite disc golf. "When I was first getting into the sport it was mainly me and my family," Valerie reaffirmed. "My brother created one of our local clubs, so one of our main family activities was to play the minis on Saturdays." Even at a young age, Alexis already started seeing the potential in the sport, "When we first started playing it was just for fun, we really didn't know too much about the sport but now I feel that disc golf is becoming the next big thing."
The world took notice of Valerie in 2014 when she captured her first Junior ll World Championship title. This achievement placed her on the national stage which soon resulted in sponsorship by Innova's Junior Team in 2015, but this was only the beginning. Her onslaught in the junior division continued, where she won three consecutive Junior Championships from 2014-16.
 "Since winning, I can say it was something that pushed my game further every day," said Valerie. 
Alexis, right on the heels of her older sister, began to build her impressive resume one year later. In 2015, Alexis finished second in Junior l Worlds and capped the next two years with first-place finishes in 2016 and 2017 at the Junior Il and Junior I level, respectively.
The 2016 season turned out to be a productive year for the Mandujanos and put them on the path to stardom. According to Valerie, that season included her most memorable win, an Amateur Worlds where both sisters brought a world championship back home to Texas. Tackling this feat certainly seems like a dream for anyone, but to do it with your sister is even more special. In total, the two combined for five Junior World Championships before entering the professional ranks.
In 2017, Alexis signed a deal with Innova to join her sister and continue their growth in the sport. Alexis enthusiastically said of her sponsorship in 2017, "I am most excited about being on the same team as my sister because it adds one more thing we can do together. How many sisters can say that they are sponsored by the same company?! It doesn't get any better than that."
The momentum for the Mandujanos did not slow down after moving out of the age-restricted divisions. Alexis won the 2018 PDGA Amateur World Championship over Valerie, Deann Carey, and Christine Jennings while easing into full professional competition over the past couple of years. Their strong mentality and the focus on their game is what helped them compete at such a high level.
"Playing professionally compared to juniors there definitely is an intensity about it, there's more pressure for sure but in a good way," said Alexis.
As the 2021 season gets underway, the dynamic 20- and 21-year-old sisters are looking to capitalize on their early career momentum – but will have to do it with more separation than they are used to. The two will be throwing different primary disc manufacturers for the first time since the amateur years.
"Being on separate teams is nothing new to me and Alexis," Valerie explained. "Being separated again doesn't add any extra rivalry at all. We just want to push each other and make one another the best we can be."
After being the eighth-highest rated female player in the world, Valerie was promoted to Innova's Star team, the top level of tour support. "Being promoted to the Star team showed me that all my hard work over the last couple of years is paying off," said Valerie. "It showed me that Innova knows how hard I work and where my intentions are set for the future."
Alexis, on the other hand, went for a change of scenery.
"With the New Year approaching it is the best time to make changes. One of those changes being my departure from Innova," said Alexis, who signed with Discraft ahead of the 2021 season. "I was with Innova for six years so it was no easy decision to leave, but Discraft offered me a great deal, and to be able to join a team that has amazing players was a great opportunity and I believe it is the best step for my career."
Alexis' new contract allows her to continually grow and advance in the sport. 
"Signing my deal with Discraft has already done so much for me, putting my name out there getting a sponsorship with my favorite bag company GRIP and most recently signing with Ledgestone as an ambassador," Alexis stated passionately. "I'm eager to brand myself more, tour more, and just grow as a player. I have amazing people like my teammates so I'll take every opportunity to learn from them when I can." 
The Mandujano sisters will always continue to push each other in the sport and are rapidly becoming household names. From juniors to amateurs, to now professionals, you can bet that these women are going to be making noise on many lead cards in 2021. They just don't always have to do it together.