Players are expecting the birdies to come easy, and the bogeys to be lurking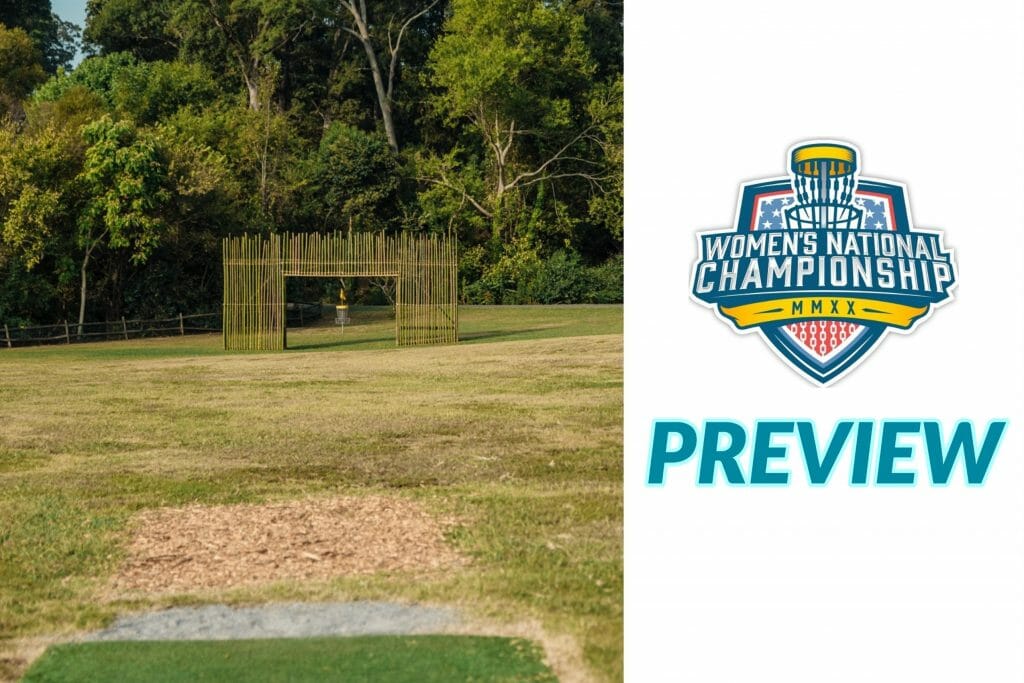 When the reincarnated Women's National Championship was announced several months ago, it not only gave the Open Women's division a major to play for, it also marked the return of a large field of women battling the fairways around Winthrop Arena after almost 20 years.
Reigning world and US champions from the FPO division are invited to USDGC each year, and players such as Paige Pierce have even gotten into the event through Monday Qualifying and regional qualifiers. However, it's been a long spell since we've gotten to see groups of women on the tees, and with a new configuration for the division, the focus will be seeing how the players dissect the course better designed for them. We were promised low scores, and we're looking forward to seeing some people shred.
Pierce just took care of the Jonesboro Open, averaging 1000+ golf over three rounds on the way to a 13 stroke win. She has won three events in a row and looks dialed in. This won't be the first time Pierce has experienced the course, and the course changes should only lower her score. Sarah Hokom and Catrina Allen will also be headlining the contender tier, as both have every shot in the bag to play well.
Players who haven't been on tour as long will not be at a disadvantage. We're still waiting on one of the newer generation of women to regularly challenge for a podium spot at these big events, and the way Hailey King and Heather Young have been playing then it may be about time.
What We're Watching
Will Pierce's aggressive tendencies threaten her chances? We know Paige can get birides, but she's also been held back at times this season with an excessive amounts of penalty strokes. Winthrop is not kind to those who lack control.
It's impossible not to look at lefties and forehand dominant players, they seem to always over-perform in Rock Hill. Jessica Weese is usually a player with top-of-the-field forehand quality, but elbow issues have caused her to switch to throwing her left-to-right shots with her offhand. She showed off her lefty power in Jonesboro and she may be just fine for WNC too.
Does a switch back to early tee times mean we'll see scores get effected? FPO teed first at the Ledgestone Open and there were still many rounds rated over 985, including three 1000+ rated outings.
Past Winners
We know this is not the United States Women's Disc Golf Championship, but with only two previous WNC held in Rock Hill, and a number of USWDGC also at Winthrop, it is our closest major equivalent.
| Year | FPO Champion |
| --- | --- |
| 2022 | Hailey King |
| 2021 | Paige Pierce |
| 2020 | Paige Pierce |
| 2019 | Kristin Tattar |
| 2018 | Paige Pierce |
| 2017 | Paige Pierce |
| 2016 | Sarah Hokom |
| 2015 | Hannah Leatherman |
| 2014 | Paige Pierce |
| 2013 | Sarah Hokom |
| 2012 | Catrina Allen |
| 2011 | Valarie Jenkins |
| 2010 | Valarie Jenkins |
| 2009 | Sarah Cunningham |
| 2008 | Angela Tschiggfrie |
| 2007 | Elaine King |
| 2006 | Angela Tschiggfrie |
| 2005 | Elaine King |
| 2004 | Des Reading |
| 2003 | Des Reading |
| 2002 | Des Reading |
| 2001 | Lesli Todd |
| 2000 | Lesli Todd |
| 1999 | Juliana Korver |
The Course
Winthrop Arena: Rounds 1 and 4 – 8,682 feet, par 70; Rounds 2 & 3 – 8,584 feet, par 70
We've seen the new layout for the WNC, and the gist is, most long holes have been given shorter tees or had their par increased. One hole — the par 3 16th — has a different pin position for the WNC layout. Holes 13 and 17 will have two pin placements in use, depending on the round.
After talking with several pros and course designer Andrew Duvall, there is now some expectation of seeing some low scores over the event, maybe even dipping into double-digits under par, not unlike the Jonesboro Open. OB ropes will still have to be managed, however, so there's plenty of room for trouble.
Women's National Championship Caddy Book
Extended Forecast
Warm conditions can be expected on Wednesday and Thursday before a dry cold front moves through the region Thursday afternoon. This will lead to nice conditions for Friday. However, high pressure to the north of the region will lead to the emergence of Atlantic moisture. This, coupled with the approaching remnants of Hurricane Delta, will lead to a chance of rain on Saturday.
Wednesday: Afternoon highs will top out around 84°. Southwest winds of 5 to 10 mph are expected.

Thursday: Morning temperatures around 58° will warm to around 84° by the afternoon. Calm wind conditions are expected with an occasional breeze possible.

Friday: Temperatures will be in the low 60s to start the day. Northeast winds between 5 and 10 mph will keep highs in the mid to upper 70s.Cloud cover should increase throughout the day.

Saturday: A mild morning may be accompanied with isolated showers. Showers will be possible throughout the day as highs remain in the mid 70s. Southeast winds of 5 to 10 mph will be expected.
How To Watch
The Women's National Championship will be available to watch through the USDGC livestream package. Live scoring will be on UDisc Live.