Will you tune in?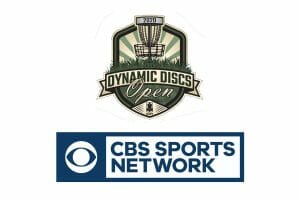 CBS Sports Network will be broadcasting prime time disc golf for four straight days later this month. Coverage of the Dynamic Discs Open and a skins match the day after the event, which took place in late June, will air in one hour broadcasts on August 26th, 27th, 28th, and 29th, starting at 7 PM Eastern Time each day.
The first three broadcasts will cover each of the three rounds of DDO, and the fourth and final broadcast will air the skins match.
In early July, Ultiworld Disc Golf reported details of the agreement between Dynamic Discs, the Disc Golf Pro Tour, Jomez Productions, and CBS Sports Network.
Dynamic Discs CEO Jeremy Rusco is clearly excited about the potential of the upcoming broadcast after viewing samples of the edited footage produced by Jomez. "These telecasts are going to be unlike anything the disc golf world has seen before," he said. "They're of the highest production value we've ever had, they were produced with more cameras than any other disc golf event, and they're landing on the largest stage in disc golf history."
Rusco also made it clear that the goal of the broadcast is to promote disc golf by sharing an accurate representation of it being played at the highest level of competition with those who have limited awareness – or a misguided impression – of the sport. "We've said it a million times internally here at Dynamic Discs, but we truly think that if people could just see disc golf displayed in a manner like other top sports, so many more people would try it out and love it," he said. "Now we get the chance to show disc golf off to the masses. We can't wait to see all of the new players ready to give it a shot!"
CBS Sports Network and Dynamic Discs have not yet shared the names of the participants who competed in the skins match, but according to inside sources, they include both male and female open players, multiple world champions, and some of the most colorful names in the game.
CBS Sports Network is available through many cable and satellite television packages, as well as Hulu + Live TV (free trial available), FuboTV (free trial available), and YouTube TV (free trial available).