Recently, Discraft players have dominated in the company's backyard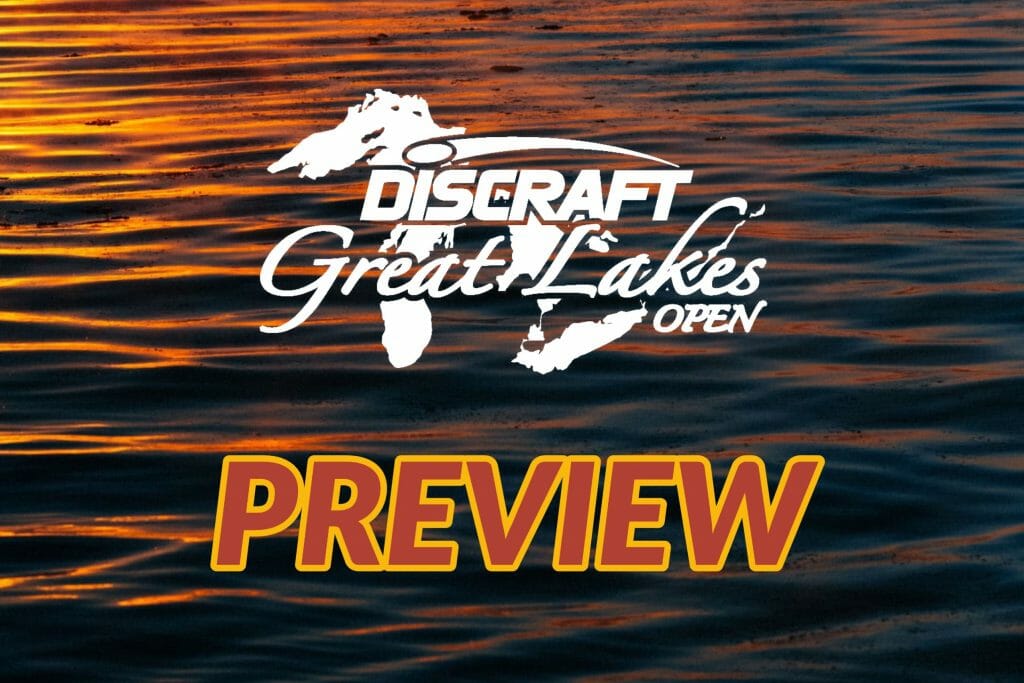 The third event of the covid era Elite Series starts up this weekend at the famed Toboggan course in Milford, Michigan. The Discraft Great Lakes Open is a one of a kind challenge on tour, offering the most consistent and stark elevation changes we see throughout the season. Of course, no conversation about the DGLO would be complete without reminding you, dear reader, that Paul McBeth shot his historic 18-under at the Toboggan in 2018. This begs the question, why doesn't everyone do exactly what McBeth did? I mean, it's right there. You can watch how he did it.
DGLO  joined the Disc Golf Pro Tour in 2018, and with the exception of McBeth and Nikko Locastro and Kevin Jones, no Open division player has bagged a top 10 finish in both editions of the event. McBeth is heading into this weekend looking for the three-peat, and Locastro is looking to keep the good vibes going after his win at The Preserve two weeks ago.  Locastro finished third in 2018, and earned a three-way tie for eighth in 2019. Jones took McBeth to the wire last season and is coming into the event with a lot of momentum.
In the Open Women's division, we have not had a repeat champion, or even a repeat podium. In 2018, Sarah Hokom took the W, with Paige Shue née Bjerkaas and Jessica Weese in second and third. In 2019, Paige Pierce finished in first, well ahead of Catrina Allen and Lisa Fajkus.  Pierce and Allen have a significant leg up on the competition at this event with their abilities to push the disc down range on the long and uphill fairways all over this course. It is worth noting that neither Pierce nor Allen was in attendance in 2018, but Allen won this event four times when it was an A-tier. Missy Gannon will also be playing this weekend. She is hoping to extend her podium-streak to four events in a row as she has emerged as a new force in the FPO field.
What We're Watching
This is Discraft's backyard, and Paul McBeth has stamped his legacy over these hills like a stack of Lunas. Do the reigning world and DGLO champs, and Discraft top players repeat as victors, or does a rival manufacturer get to rain on the festivities?

While Toboggan sometimes has the rep of an "amateur" course, and regularly gives up double-digit rounds under par to the Open leaders, it plays pretty close to par on average for the field. The Open Women usually averages about six strokes over par. Will the par change in FPO move the field closer to even, and will a potentially clear and hot summer weekend drop the MPO scores even lower?

This is going to be Ricky Wysocki's first time playing DGLO since it joined the Disc Golf Pro Tour. He won the event by nine strokes over Garrett Gurthie when it was on the National Tour in 2013. Eagle McMahon and Simon Lizotte are also playing DGLO for the first time.
Previous Winners
| | PDGA Tier | MPO Winner | FPO Winner |
| --- | --- | --- | --- |
| 2022 | DGPT | Calvin Heimburg | Natalie Ryan |
| 2021 | DGPT | Eagle McMahon | Kristin Tattar |
| 2020 | DGPT | Eagle McMahon | Paige Pierce |
| 2019 | DGPT | Paul McBeth | Paige Pierce |
| 2018 | DGPT | Paul McBeth | Sarah Hokom |
| 2017 | A | Ziggy Bierekoven | Krystal Fromm |
| 2016 | A | Reid Frescura | Catrina Allen |
| 2015 | A | Ben Callaway | Catrina Allen |
| 2014 | A | Tyler Horne | Catrina Allen |
| 2013 | NT | Ricky Wysocki | Sarah Hokom |
| 2012 | A | Jon Perry | Catrina Allen |
| 2011 | B | Tyler Horne | n/a |
| 2010 | B | Mike Raley | Des Reading |
| 2009 | A | Mike Raley | Elaine King |
| 2008 | A | Al 'Sugar' Schack | Angela Tschiggfrie |
| 2007 | NT | Cale Leiviska | Des Reading |
| 2006 | NT | Josh Anthon | Des Reading |
| 2005 | NT | Scott Martin | Juliana Korver |
| 2004 | NT | Cam Todd | Des Reading |
| 2003 | NT | Barry Schultz | Juliana Korver |
| 2002 | A | Shawn Sinclair | Leslie Herndon |
| 2001 | A | Scott Martin | Elaine King |
| 2000 | n/a | n/a | n/a |
| 1999 | A | Ken Climo | Juliana Korver |
| 1998 | A | Ken Climo | Elaine King |
| 1997 | A | Ken Climo | Elaine King |
| 1996 | A | Ken Climo | Anni Kreml |
| 1995 | A | Ken Climo | Becky Powell |
| 1994 | B | Jeff Malton | Elaine King |
| 1993 | B | Steve Kohman | Molly Morrow |
| 1992 | A | Dan Ginnelly | Sharon Jenkins |
| 1991 | C | Steve Wisecup | Elaine King |
| 1990 | C | Dan Ginnelly | Sharon Jenkins |
| 1989 | C | Slate Paul | Elaine King |
| 1988 | C | Joe Eagan | Elaine King |
| 1987 | C | Steve Wisecup | Elaine King |
| 1986 | C | Bob Huston/Kevin Stewart | Gail McColl |
| 1985 | C | Bob Harris | n/a |
| 1984 | C | Joe Eagan | n/a |
The Course
Toboggan: MPO – 9348 feet, par 62; FPO – 8,392 feet, par 64
One of the biggest draws for DGLO is how, as Simon Lizotte put it in his vlog, the course looks like a bomber course where big arms can just let it rip without much worry about OB, "natural" or otherwise. Given the elevation and strategic use of the woods and standalone trees on the property, however, a 600-foot bomb could be less useful than a well placed 400 foot "chip" to a more advantageous angle for attacking the green. There are eagles and plenty of birdies to be had, but without a strategy for moving the disc up the fairway, there are plenty of big numbers to be had.
The Open field will be playing a slightly shorter course than in 2019, and the Open Women have gained some distance, more than 400 feet. MPO par remains the same while FPO jumped four strokes. The MPO division will be playing the same tee pad as FPO on hole 1, shortening the opener by about 125 feet. The major changes for the women is playing holes 3 and 17 from the long tees and as par 5s.
Great Lakes Open Toboggan Caddy Book
Extended Forecast
Overall very nice conditions are expected this weekend in Milford, Michigan for Discraft's Great Lakes Open. High pressure and a subtle north surface wind will keep conditions very nice Friday. Winds will shift out of the south on Saturday and Sunday, leading to slightly warmer temperatures. Fortunately, no rain is in the forecast.
Friday: Temperatures to start the day will be around 60°. Those with early tee times may find it a bit chilly. However, temperatures should quickly warm into the upper 70s by noon. Expect the high temperature to top out around 83º. A north wind around 5 mph can be expected.

Saturday: Much of the same is forecast for Saturday. Temperatures will be slightly warmer at the onset of competition and should warm to a high around 85º. A southwest wind around 5 to 10 mph will be possible.

Sunday: Southwest surface flow will strengthen ahead of an approaching cold front. Highs on Sunday will top out in the upper 80s as that southwest wind becomes a bit gusty during the afternoon hours. Gusts in excess of 20 mph will be possible. Current indication is that the rain should hold off until Sunday evening.
How to Watch
The Disc Golf Network will have live coverage for all three rounds, and the final round will be simulcast on the DGPT YouTube channel. JomezPro will have MPO lead card post produced coverage, and Gatekeeper Media will cover chase card. GKPro will have FPO lead card post produced coverage. Alyssa Van Lanen will be on site behind her camera as usual, and UDisc Live will have live scoring.
As always, keep your eye on Ultiworld Disc Golf for all the latest and greatest in news and analysis.
Feature cards are set at DGLO and they are 🔥 Wanna watch it go down live? Head to discgolfnetwork.com to subscribe today!#discgolfnetwork#discgolfprotour#dglo202

Posted by Disc Golf Pro Tour on Monday, July 20, 2020