Round 2 Recap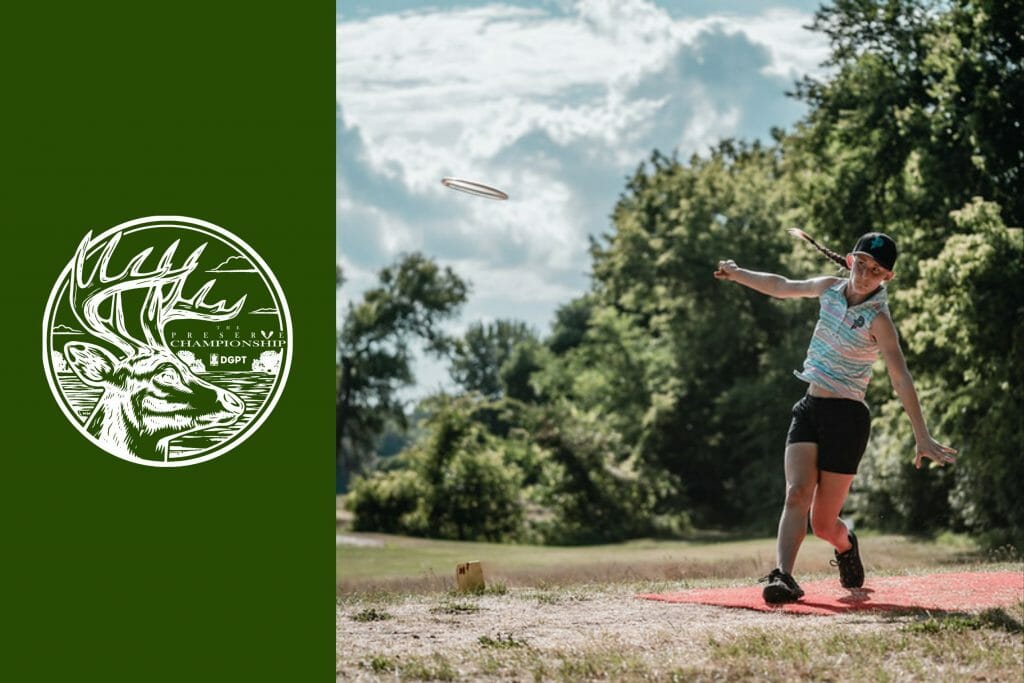 Day one leaders at the Preserve Championship continued to play well at Airborn Disc Golf Preserve, but the scoring conditions mean no leader board position is safe in Minnesota.
Open Women
It was almost another double digit round under par for Paige Pierce, who extended her lead on first place to eight strokes. She posted a second consecutive 1000+ rated round, a 9-under par 56, to move to 19-under par total. Pierce connected on all six of her Circle 1X attempts, added three more C2 putts, and hit a 71-footer on a focused effort around the green while going bogey-free.
She now has Catrina Allen close on her heels, but Missy Gannon maintained a hold on second place for another day. Uncharacteristic two-putts from the world champion chain-smith led to two bogeys in the middle stretch of the Black Bear layout. She's second in the division in C1x putting and finding C2 in regulation.
Allen had caught Gannon in second place at 11-under par total until a late bogey on 18 moved her into solo third at 10-under par total. Allen is pacing the division in C1 in regulation at 53%, nine percentage points higher than Pierce.
For the second consecutive Disc Golf Pro Tour event an Open Women's player has recorded a hole-in-one. In Emporia it was Deann Carey, in Clearwater it is Ellen Widboom. She found chains on the 269-foot hole 17 with water lurking behind the basket.
Open
Despite matching his hot round 15-under par, and having round 1 co-leader James Conrad fall off the pace, Nikko Locastro is still not in solo first. Calvin Heimburg jumped three places with a 1087-rated 17-under par day two to match Locastro in first at 30-under par total. Heimburg was bogey-free with an eagle on hole 18; Locastro had 16 birdies but a bogey on hole 3.
A 15-under par from Eagle McMahon launched him nine spots up the board into a tie with fellow Crush Boi Simon Lizotte at 26-under par total. Lizotte was one of 10 bogey-free rounds in the top 20, and he threw-in a 180+ foot shot to save par on the par 5 hole 8.
Thomas Gilbert was the first player to eagle the 667-foot, par 4 hole 11. The Canadian did it with a 100+ foot throw-in of his own. He is tied in 21st at 19-under par.
Kevin Jones made the biggest jump in the top 25, moving up 27 spots with a 14-under par round. He is tied in 19th at 20-under par.
Maybe the most impressive stretch of golf of the day came from Minnesota's own, Jordan Castro. He went 10-under par over the back 9, closing out his day with an eagle. He's tied in seventh at 24-under par total.
---
Open lead card action with Heimburg, Locastro, Lizotte, and McMahon tees off at 2 pm Central. Pierce, Gannon, Allen, and Paige Shue start the Open Women's lead card at 4 pm.
Coverage begins at 1:35 pm on Disc Golf Network and the DGPT YouTube.