Competitive sporting events must be approved by local authorities first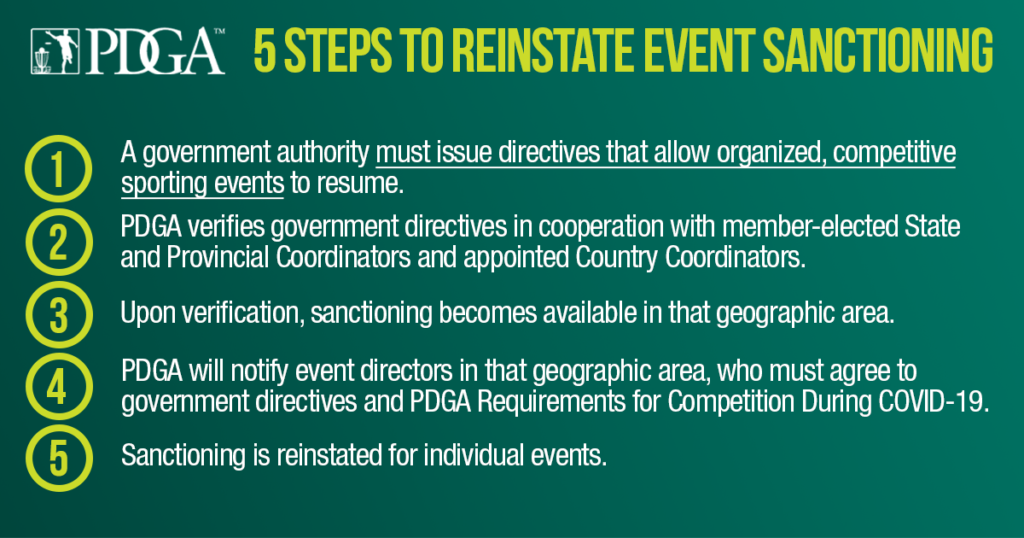 The PDGA announced today a 5-step process for events to reinstate sanctioning effective immediately. The process is heavily reliant on local or state government restrictions.
All events scheduled for May 14, 2020 or later have all been temporarily placed into "reserved status" until competitive sporting events are allowed to resume in the region. Norway and Iceland have been cleared to resume sanctioned events.
The PDGA continued to issue guidelines emphasizing contact-less events, including virtual player meetings, digital scoring, and maintaining social distancing of 6 feet.
Sanctioning will be reinstated on a regional basis using the following process:
A state, provincial, or national government authority must issue directives that allow organized, competitive sporting events to resume.
PDGA verifies government directives in cooperation with member-elected State and Provincial Coordinators and appointed Country Coordinators.
Upon verification, sanctioning becomes available in that geographic area.
PDGA will notify event directors in that geographic area, who must then acknowledge and agree to implement government directives and PDGA Requirements for Competition During COVID-19.
Sanctioning is reinstated for individual events.