He just got a PDGA number but Smith already wields influence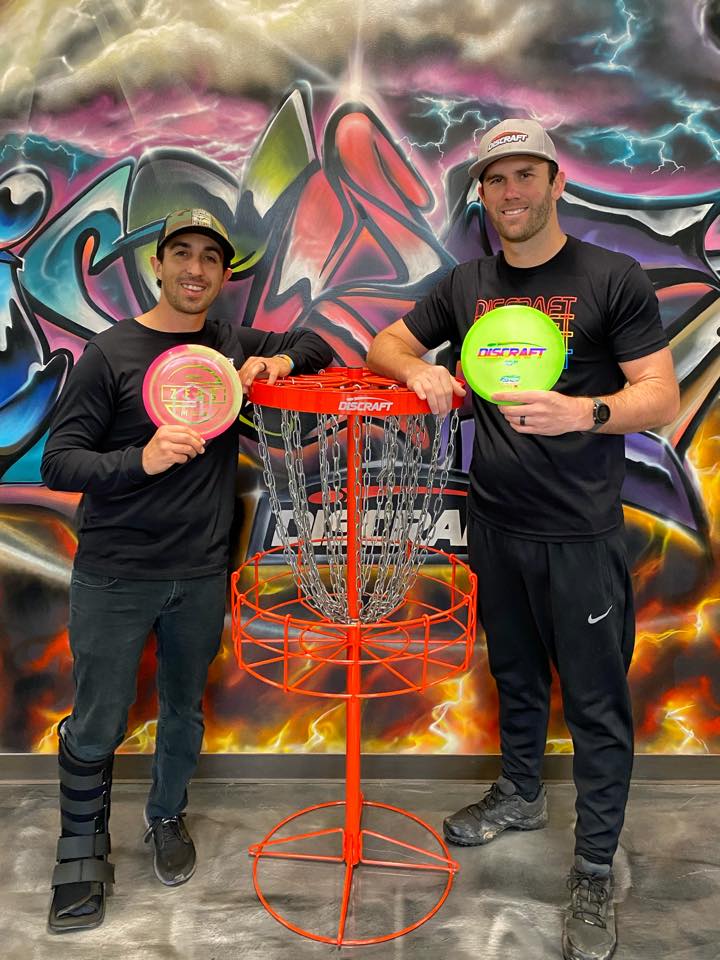 When Brodie Smith announced on social media that he had registered with the PDGA and planned to seriously pursue disc golf, the disc golf world went, frankly, nuts. 
The 2019-2020 offseason had been, as usual, dominated by news of player sponsorship news — most notably Paige Pierce joining Discraft, Nikko Locastro signing with Westside Discs, and Henna Blomroos inking a deal with Innova. While the Pierce, Locastro, and Blomroos signings were big news within the disc golf community, Smith's announcement was sent directly to his 969,000 Instagram followers, 930,100 Twitter followers, 554,598 FaceBook followers, and 2.19 million YouTube subscribers. 
With a single post, Smith became arguably the world's most popular and important disc golf player in the world. And now, he is sponsored by Discraft. All before he has played a single rated round.
Smith's announcement has drawn a lot of attention from within the community of professional touring players, manufacturers, and media outlets.  Smith has been posting videos of him hitting putts and smashing 490+ foot drives, and he appeared on the Smashboxx TV podcast to talk about his decision to get involved in the sport. During his interview, he said all the right things: that disc golf has ignited his competitive passion, that he sees the sport as a great way for people and players of all types and abilities to be active and have fun, that he has been learning to throw putters and mids, and that he plans on playing the Disc Golf Pro Tour's Waco Annual Charity Open, where he will almost certainly be filmed on a feature card for at least the first round.
Meanwhile, the disc golf community has greeted the Smith announcement, both his entry to the game and sponsorship deal with Discraft, with a healthy mix of delight and skepticism.
Reactions from fans and players has been largely positive. From the #growthesport perspective, his social media reach and savvy is undeniably massive: all told and across all platforms, Smith probably has more reach than all disc golf players, companies, and personalities combined, and, as he said during his Smashboxx interview, he will be able to bring a lot of new eyeballs to the game. 
Speaking as one who writes about disc golf for a job, I certainly welcome this. Smith is a charismatic entrepreneur who has risen from college ultimate frisbee star (how many other ultimate players can the average joe even name?) to internet personality to reality TV star on The Amazing Race. 
He has a proven track record of success in promoting himself and his endeavors, and one would hope that as he becomes more involved with disc golf, we'll see increased interest from his fans.
The upsides of having someone like Smith involved in disc golf are obvious, but it wouldn't be unreasonable to be skeptical.
It is important to remember that Smith is a business. He has worked hard to develop a personal brand, and while he may still love throwing frisbees and have a genuine interest in pursuing disc golf seriously, he does not do things unintentionally. If you were Smith and you saw players like McBeth and Pierce getting big contracts, and saw how players like Nate Sexton, Jeremy Koling, Simon Lizotte, Eagle McMahon, and others were able to build their personal brand in a sport with a passionate fan base, it would be absolutely foolish to not explore the options and opportunities that disc golf could offer him financially and in tapping into a new fan base to grow his personal brand. 
Disc golf is a ripe and growing market for him to build his individual brand. 
Smith first "appeared" on the disc golf scene relatively recently. Early in 2019, Smith, JomezPro, Paul McBeth, and Simon Lizotte all teased content involving trick shots, and Smith playing a round of disc golf with McBeth and Lizotte. For context, this was during the winter of McBeth. The video was released in late 2019, after McBeth had won his fifth Pro World Championship. While it was entertaining watching Lizotte and McBeth hit putts, the draw was watching Smith put on a bit of a fish out of water act. In the lead up to the video's release, the advertising was explicitly tied to Smith's participation.  
Brodie Smith Paul McBeth Trick Shots
However, in the intervening time between the recording, advertising, and eventual release of the video, there was no indication that Smith was interested in pursuing the game any further.  His participation in the video, and how he carried himself in the video, suggested that this was a one-off sort of thing. So what changed? Did Smith, like so many, play a couple rounds and get hooked? Or is this a more cynical effort to grow his personal brand? 
Smith, by his own admission, has attempted to break into a variety of brand building spaces and endeavors. Scroll back not that far in his social media posts and you'll see a man who appears to be heavily invested in becoming a professional golfer. Go back further and you'll see a variety of media efforts including a brief foray into Twitch and various YouTube channels, some of which failed. Now he has entered the disc golf space with the same on-brand enthusiasm and front-facing passion as he had for those other efforts.
The response to his appearance in the Jomez video, and the attention his social media interactions with McBeth (both Paul and Hannah), has shown that disc golf could offer Smith a variety of opportunities both on and off the course. Smith has long had his Darkhorse brand stamped on Buzzzes, and one would have to assume that his branding will continue and possibly expand under this new deal with Discraft. 
There is nothing inherently wrong with Smith following the money and finding a space where he can be successful. Smith's motives are his own business, and there is plenty of room to ask whether or not it matters why he is getting involved in the game. It is also just as fair to wonder if, as a sport working toward building its own brand towards mainstream acceptance and legitimacy,  Smith is the person we want as the most wide-reaching public ambassador for the game.  
On the course, Smith will likely become very good pretty quickly. From what we've seen, albeit curated and broadcast over his social media platforms, he is developing quickly. This should be no surprise. The man has made quite a living for himself based on his ability to throw a frisbee for quite some time. He is an all-time great ultimate frisbee player and one of the sport's best-ever power throwers, trick shot genius, and all around excellent athlete. As he rightly said on Smashboxx, he got really freakin' good at throwing frisbees. 
It's hard to set an upper limit on his potential, and it is within the realm of possibility that he could take home some strong pro finishes by year's end. The questions, as noted by Terry Miller and Jon Van Deurzen, will be how he manages tournament golf, adversity, and shot development. 
Smith represents possibilities galore. He might become one of the top players in the game; he might not. He might be able to leverage his impressive social media following and push disc golf further into the mainstream; he might not. 
Smith is not going to instantly transform the landscape of disc golf on or off the course. Regardless of what you think of him or his motives for getting involved in the game, he is likely to bring in new fans and inspire some folks to pick up some plastic, and, like his trick shots, that is undeniably cool.