The edge-of-your-seat moments that defined the season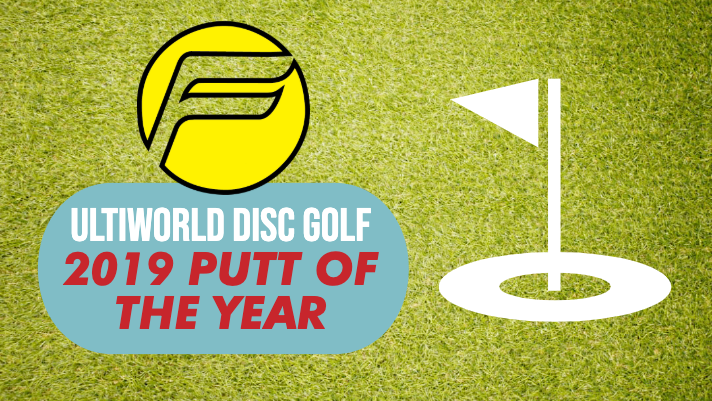 Ultiworld Disc Golf's 2019 Putt of the Year voting is presented by Friction Gloves; all opinions are those of the author. Check out our review of Friction's DG Gloves here.
The 2019 professional season was one for the books, filled with shots causing us to pick our jaws up off the floor. And there were so many, we figured we'd enlist Ultiworld Disc Golf readers to help us decide on the season's best.
With that in mind, we are proud to present the third of four bracket challenges to close out the year. We've culled highlights from the sport's best media providers and broken them down into four categories: Putt of the Year, Air Shot of the Year, Roller of the Year, and Ace of the Year. After each bracket is decided, the winners will battle in a four-way, College Football Playoff-style bracket that will determine the 2019 Shot of the Year.
Pick up to five shots for Putt of the Year to make it to the semifinals. And if you're having fun with this, feel free to share the love on social media.
A special thanks to Jomez Productions, Central Coast Disc Golf, Spin TV, Disc Golf Pro Tour, Par Save Productions, Anhyzer TV, Dynamic Discs, SM Disc Golf, GK Productions, Gatekeeper Media and others for capturing these clips. And we're off!
---
At the year's first PDGA National Tour event, Paige Bjerkaas secured a dramatic playoff win with a long stepper in Vegas.
2019 LVC | FINAL ROUND| Paige Bjerkaas playoff hole 1 putt 
Jalle Stoor did a lot of impressive things in the desert and this putt from a knee on an elevated basket at the Memorial topped the list.
Round Three 2019 Memorial Championship – Jalle Stoor hole 5 putt
Michael Johansen was sure to have a putt in the running and he's got two. Could the long range effort from the DGPT Championship top his water tower flick at Pro Worlds?
2019 DGPT Championship Quarterfinals Hole 18 Michael Johansen putt
2019 Pro Worlds Rnd 1 Michael Johansen Hole 12 Forehand Putt Around Water Tower
Pro Worlds has several entrants because we'd be lying if we said the status of the event didn't play into these candidates.
Anthony Barela looked like he barely put any effort into this 90+ footer.
2019 Pro Worlds Round 2 Northwood Gold Anthony Barela hole 11 putt 
This is a pretty good obstructed death putt by Valerie Mandujano.
2019 Pro Worlds Round 2 Sunset Hills Valerie Mandujano hole 17 putt
Emerson Keith, of course, has a Pro Worlds putt.
2019 Pro Worlds Round 4 Northwood Gold Emerson Keith hole 2 putt
Like Mandujano, Catrina Allen did not have a good look at the basket.
2019 Pro Worlds Round 1 Northwood Blue Catrina Allen hole 14 putt 
Allen really liked the Peoria courses as she also had a nice up-and-over putt during Ledgestone.
Ledgestone Round 3 Catrina Allen hole 9 putt
Adam Hammes has a Circle 2 compilation from the Hall of Fame Classic, and this gets our vote for best of.
2019 Hall of Fame Classic Final Round Hole 4 Adam Hammes Putt
Hammes was hitting long range bombs all season. Here he was at the MVP Open doing silly things.
2019 MVP Open Second Round Hole 16 Adam Hammes Putt
James Conrad also hit big putts at Maple Hill.
2019 MVP Open Final Round Hole 17 James Conrad Putt
At the European Open, Albert Tamm birthed a meme.
2019 European Open Round 4 Albert Tamm hole 9 putt 
Eagle McMahon was doing his best Jalle Stoor.
2019 European Open Round 3 Eagle McMahon hole 18 putt 
At the USDGC, Nikko Locastro showed no fear.
2019 USDGC Final Round Nikko Locastro hole 14 putt
And Chris Dickerson pulled out the tricks.
2019 USDGC Final Round Chris Dickerson hole 7 putt
Eric Coca was also crafty at the Elite Brothers Open.
2019 elite brothers open eric coca hole 6 sidearm putt
Something about this big putt from Briana Ainsley at WACO gets us pumped up.
Round One 2019 Waco Annual Charity Open – Briana Ainsley hole 6 putt 
Same for Gregg Barsby at the Vintage Open.
Gregg Barsby | 90 ft Birdie Save | 2019 Vintage Open | Credit to Anhyzer TV
Same for Madison Walker at the San Francisco Open.
San Francisco Open 2019 – Women – Round 2 of 3 | Back 9 – Madison Walker hole 16 putt
Same for Josh Anthon at the LVC.
2019 LVC | Round 3| Josh Anthon hole 4 putt 
This effort from Tim Barham to close out the CCR Open is just absurd.
2019 CCR Open Tim Barham hole 18 putt
Both our world champs had many worthy putts and we tried to narrow it down.
Paige Pierce saves it from the drop zone at the DGPT Championship.
2019 DGPT Championship Semifinals Hole 2 Paige Pierce putt
She had to go a loooong way to make this connection at the USWDGC.
2019 USWDGC Championship Paige Pierce putt
And the first pump during the final round at Pro Worlds was major.
2019 Pro Worlds Final Round Sunset Hills Paige Pierce hole 4 putt
For Paul McBeth it started with this first big Discraft putt at the Wintertime Open.
2019 Wintertime Open – Round 3 Paul McBeth hole 10 putt
There were plenty in Peoria at Pro Worlds but this one during the final round was timely and tough.
2019 Pro Worlds Round 5 Lake Eureka Paul McBeth hole 4 putt
He really saved his best for the Green Mountain Championship though.
2019 Green Mountain Championship Paul McBeth Hole 15 putt
2019 Green Mountain Championship Paul McBeth Hole 13 putt