Fourth year event supports Victory Junction summer camp in North Carolina


Twenty five minutes south of Greensboro, North Carolina, past a couple performance automotive outfits in the sleepy hamlet of Randleman, sits Victory Junction, an oasis for kids who have spent more time in a hospital than they have outside of one.
Victory Junction provides a true camp experience for children with chronic and serious medical conditions, and its facility and staff are equipped to handle and support children with wide varieties of specific medical needs, all at no cost to their families.
Victory Junction is a special place.
Special isn't cheap though. Providing the facilities and staffing, and ensuring of the that magic at Victory Junction happens can cost approximately $2,500 per camper for one week on the property. With 16 cabins at the camp that can each host up to eight campers per week, you soon start talking about real money. Juggling those sorts of finances can be difficult as no one at Victory Junction wants to see any of those available beds empty. Enter Jacob Byrd, the camp program director at Victory Junction and an avid disc golfer.
"I've been with the Victory Junction for over 11 years," Byrd says. " I started as a counselor in 2008 during the summers home from college. Four years ago, my colleague, Austin Wiser, and I talked about the idea of a tournament to aid in fundraising for Victory Junction.
"As an organization, we rely on donations from individuals, groups, corporate sponsors. And when we talk about camp, most people think about a rustic camp. Victory Junction is different. We have to be accessible to our campers. So we have very modern cabins with amenities for our campers. Paved walkways, adaptable program areas, and more. So we thought about having a unique tournament on a temp course on the property and so we started the Campership Classic, the first year was in 2016 and just finished the fourth annual version.
Byrd continued: "Our goal from the inaugural event was to raise $20,000. This number is significant because it is the cost to fill an entire cabin of eight campers for a week of summer. There are a lot of clubs in my area and there's a great camaraderie between the clubs. I consulted with some big names in my area on putting together the course and tournament.
"That first year we designed the course and had about 55 participants and raised $15,748. Each year we've grown a little more. The second year we raised $18,588 and last year we raised $19,000. This year we raised $23,271."
The idea of hosting a charity tournament is not new. So what sets the Campership Classic apart?
For starters, the tournament is held on a temporary course at the campground. This unique setting allows for all kinds of fun shots and hole designs. Who wouldn't want to throw off of a tree house porch, around a ropes course, over a swimming area, all in the shadow of a giant NASCAR racing car statue? And what's more, who wouldn't want to do all of that to help send a child, who has experienced almost nothing but adversity, to camp for the summer?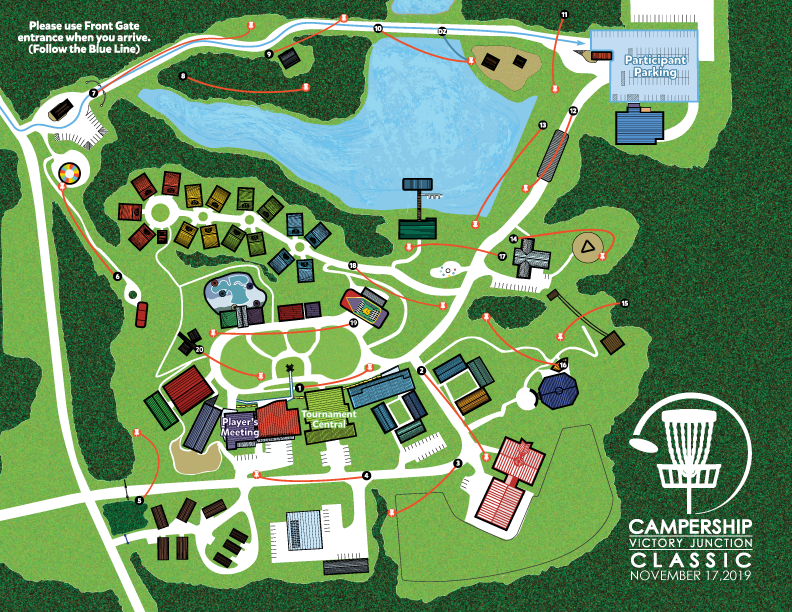 Byrd knows he has something special, and has no plans on slowing down.
"Each year we have been slowly growing in both participants and total funds raised. Dynamic Discs has been a part of this event since the beginning," Byrd explained. "In 2018, representatives from Innova learned about the Campership Classic. For 2019, I approached both Dynamic Discs and Innova Discs about sharing the title sponsorship of the event, at which point they both agreed. For me, this was a huge accomplishment, as two competing manufactures looked beyond direct competition and joined together to support Victory Junction and the Campership Classic."
In addition to the corporate support, tournament players have an option upon registration to raise their own addition funds for Victory Junction through DiscGolfDoesGood.org and campaigns integrated through social media channels.
"This was our biggest year, easily," Byrd exclaimed. "Players could raise money as an individual, or as a team. One participant, Zac Martin and Team Zac, raised over $5,000 for the event. Participants who raised additional money through fundraising is what helped us exceed our $20,000 goal."
The entire event is a true exercise in giving.
"Everyone contributes to make it possible. Innova and DD [donate] all the merch so all the funds raised can go to camp. Another Round Disc Golf and Fly Guy jumped in and gave us prizes," Byrd said. "We had participants donate plastic and go to events like the USDGC to get discs signed by pros to donate for the raffle. There is a ring of fire to buy into and Infinite Discs gave us the merch to make that possible.
"It's a trophy only event and so the top finishers get a basket from Innova or DD.One of the most memorable moments from the tournament was during the awards ceremonies for the top finishes in each division. Kaleb Reeves, first in Advanced, who recently served as a summer cabin counselor, announced in his winning speech he would be auctioning off the basket to raise additional money for Victory Junction. His actions inspired Jared Askew, first place MPO, and Alex Bush, who had recently won a basket from the raffle, to both auction off their recent winnings. Within 10 minutes, we had raised an additional $1,200 from an impromptu live auction."
For Byrd and the rest of his crew, the Campership Classic exists for an expressed purpose: to raise a target level of funds to help children with serious and chronic illnesses to go to camp. Without the camp and without the dedication of people like Byrd, the tournament itself would likely never exist. Without the participation of the local disc golf community, the funds would not be raised to make the tournament successful in its goal.
"To me it's a testimony that the Disc Golf community can come together and bust any preconceived notions or stereotypes and help a local nonprofit," Byrd said. "It was amazing."
There is a critique out there that the disc golf community is a self driving industry; that the money and efforts made by and for those involved with the game rarely leave the disc golf world and that the non-disc golfing community rarely interacts with the disc golf community. In many cases, this is a fair assessment. Here, we see just the opposite, and a strong argument that the game of disc golf is something that can improve and enhance a community in more ways that just recreation,
"I think that the growth of this tournament has me very excited, but also a bit nervous for the future," Byrd said. "I want this tournament to be the best that it can. I want the Campership Classic to be most impactful tournament in disc golf.  Four years ago, what started out as a small C-Tier in the middle of North Carolina with 50 competitors to benefit a local non-profit camp has come a long way.To see all the 4 years of hard work pay off, and for us to exceed our goal of $20,000 is something that brought tears of joy to my eyes."
Byrd also has big plans for the Campership Classic moving forward.
"One of my biggest goals as our tournaments continues to grow is getting exposure." Byrd said. "I want more folks to learn about what Victory Junction provides for campers with serious medical conditions. Perhaps you know of a child that could benefit from Victory Junction, perhaps a college aged student that wants to change their life by serving as a summer staff, or someone looking for a volunteer opportunity in the spring, summer, or fall. I want our camp population to learn about the sport of disc golf. I want a mutual benefit for all people involved.
"This year, we have received so much additional exposure thanks to Dynamic Discs Media Director Bobby Brown, aka Cool Daddy Slick Breeze, who filmed [an episode of] the "Disc Golf Adventure" series. All of this exposure brings new ideas, new audiences, new participants, and more people that want to help.I would love to see more manufacturers to be involved. Prodigy Discs was involved by donating merchandise to the raffle, Team Discraft member Dan Hastings, local to the area, conducted a free clinic for players. They've now seen what we have going on here, and want to be more involved. This is a fantastic challenge to face."
Campership Classic Victory Junction Disc Golf Tournament Fundrasier