The lefty is committed to staying on the road and bringing disc golf to more people - his way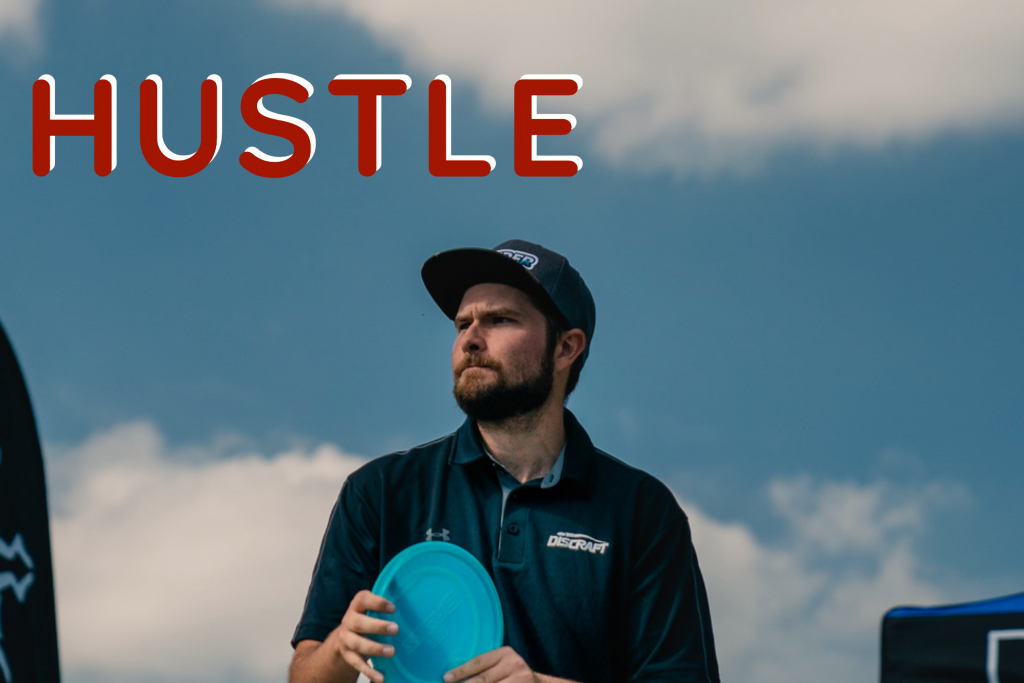 It's a late August afternoon in New England, and the slightest hint of fall is in the air
I'm cruising along 495 North approaching the Mass Pike, heading from my 9-5 on Cape Cod to meet up with Brian Earhart to play a casual round at Maple Hill before the MVP Open. I love this drive, not just because it makes me nostalgic for my college days in Worcester, but because at parts it can be truly beautiful. With the late summer sun beginning to slowly slide from afternoon zenith to early evening the hills of the Blackstone Valley are looking lovely.
Back in February when the Ultiworld Disc Golf Staff was picking potential breakout players for 2019 I highlighted Earhart based on his strong putting game, well rounded strategy off the tee, and that his sophomore year on the road should show some growth. On top of that, he has a strong social media presence, he's a lefty, he throws fore and backhand — he flicks Comets.
Earhart calls to warn me that it's league night at Maple Hill, the course is still open to members during the lead up to the MVP Open. I ask if he wants to audible to play Pyramids or some other local course. He declines, saying he'd really prefer to keep practicing here ahead of the tournament. I take that as a sign that we need to get to the first tee fast, and decide like so many of my fellow motorists, to take the 65 mph speed limit as more of a strong suggestion, and see if I can knock a minute or two off of my Google Maps ETA.
After changing out of my work clothes in the remarkably pristine porta-potty, Earhart, Tim Barham, and Alan Wagner, all members of Team Discraft and Earhart's travel partners, meet me at hole 1.
I introduce myself and decide exactly how much pride I am willing to swallow as I watch them easily clear the opener's water hazard. I don't clear it. At least it's near the edge and retrievable.
Earhart declines to throw, telling me on the walk down to find my drive that he got his main practice out of the way earlier in the day. We haven't done a good job trying to beat the crowd. Barham and Wagner break off to beat the league and practice on their own, as Earhart and I skip over to hole 7, easily accessed through the back of hole 1's green, to avoid interfering as much as possible.
At first I fear I've misread things and encourage Earhart to go play with Barham and Wagner if he'd prefer, and I can be a fly on the wall.
"Nah, I mean things when I commit to them," he says.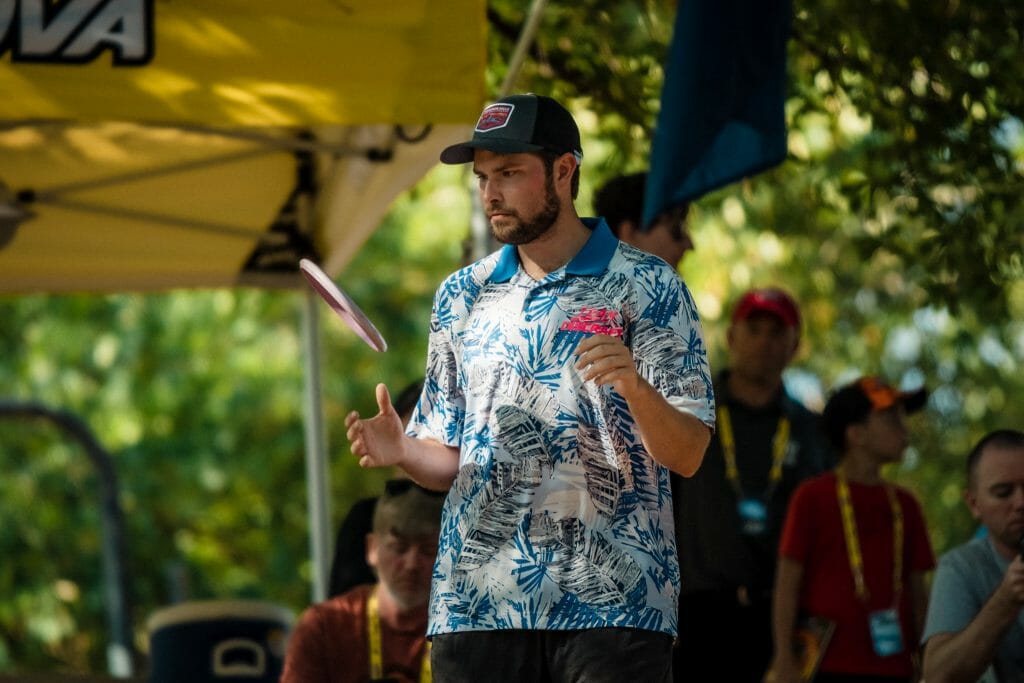 Earhart has made efforts to be active in the game beyond his play on the course. The Discraft-sponsored pro hosts a podcast called The Buzzz,1 has done commentary for Jomez Pro and Central Coast Disc Golf, is active on social media, and even wrote a couple columns for UWDG. It would be fair to call him entrepreneurial, and it becomes clear that at least some of his drive comes from a place of wanting to be accepted by a community, a deep well of energy and enthusiasm, and a sort of scrappiness that a player like Earhart needs to make ends meet in the career he has chosen.
We officially start our "round" on with a tight uphill 375-foot shot that calls for a tight, slightly drifting flick for the lefty, and a dead straight, maybe a touch of turn and gentle fade, for the righty who has the arm for it. I decidedly do not have the arm for it, so I throw a Meteor on a hyzer flip. It flies true — a massive relief — and nestles at about where the short pin is located, maybe 50 or so feet short of the long. Earhart misfires on a flick, and ends up short and left in the rough. We lazily chip our way to the pin and move on.
Early on Earhart talks about his experiences working in the tech industry, his time working with the local parks and recreation department, his time working with kids as a music and physical education teacher. He is eager and passionate in describing both the positive and negative aspects of his life in a "regular job." He tells me he loved teaching kids and finding ways to get them enthusiastic and engaged with the material. He tells me he hated a couple other jobs he had because when he tried to approach a task in a unique way or address an ongoing problem he would get shot down because "that's not the way we've always done it."
At least now Earhart is in a profession where very little has ever been done a certain way,
Earhart describes himself as a nervous kid who would seek out validation and require others to be the source of my confidence. It's something that he has worked on, and is still working on. He's been open and public about his struggles with depression, his efforts to improve his mental health, and how he has worked to improve his mental game on the course.
"I've learned that failure is a matter of perspective, and that just because I missed putt doesn't mean that I'm a crappy person, just that that one thing was bad," Earhart says as we walk. "Not bad, maybe, just, I didn't execute what I wanted to happen."
We play the shorter tee on hole 8 so the is water carry is about 30 feet shorter than the gold tee, but still a healthy 280 feet. I'm not complaining. I'm no sucker and flick my Opto Fury, sailing it well long yet not in the drink. My disc selection and ability to keep the thing flat flabbergasts Earhart. "Did you just flick a Fury? I don't care that it went long, that thing is flippy!"
I assure him that a (low level) am like me is just trying to avoid losing my plastic. I'd be lying if I didn't feel pretty proud of myself at this moment. Earhart throws a Banger, scaring chains on a pure hyzer.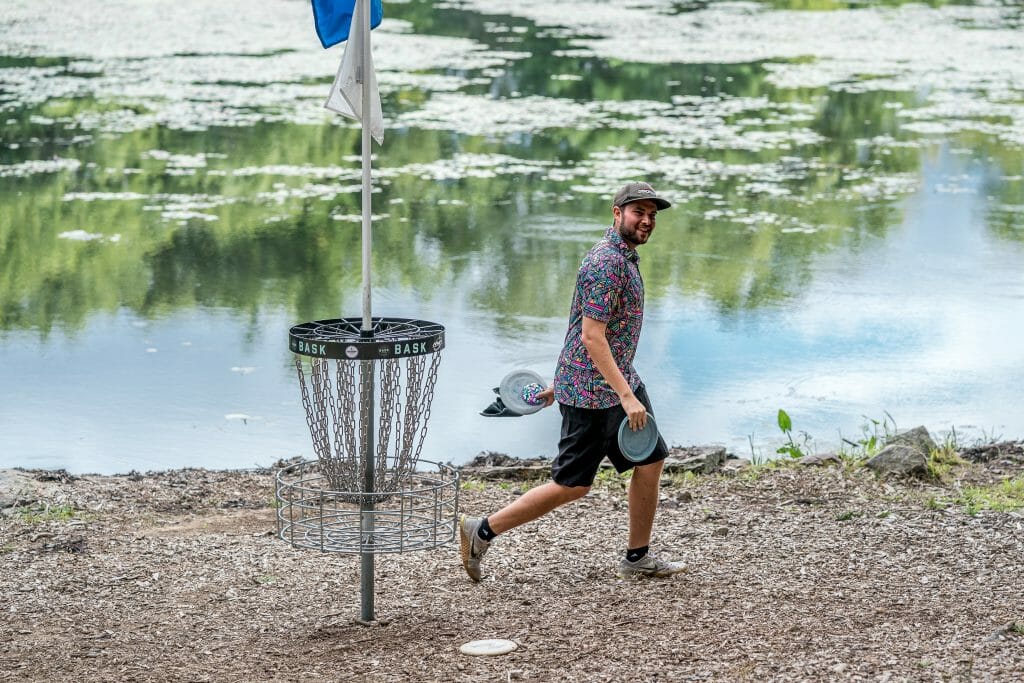 There is a group ahead of us, which judging from the iconic flowing blond locks includes Cory Murrell. While we wait for the noodle arms ahead of us to clear out, I ask Earhart a dud of a question, but the vagueness somehow manages a nice pull quote.
"So how's the season been?"
"Well," Earhart starts, "It's been a grind. I'm not gonna lie. You know at the start of the season everyone is all hyped up and ready to go. I think sometimes it's easy to forget that we've been at this since February.
"The initial plan was for me and Uli [Paul Ulibarri] to be in the RV together, running clinics and selling discs, but when he went down, things obviously changed. I've been playing and doing a lot of the other stuff by myself. I love it, I love doing things to help promote Discraft and grow the game and be involved with things outside of just my play, but it is a lot of work. And it's easy to get down or exhausted sometimes but I'm out here doing what I love."
Hole 11 is one of the opportunities on this course to let the disc take a ride over some Christmas trees-to-be. We do just that.  For those of you who can throw 450 feet plus, good for you, I'm happy for you, honest. For those who don't, I really recommend trying to find a way to watch or play with someone who can. By tour standards, Earhart is not a huge arm. By the standards of, you know, us, he has a howitzer. For me, this hole is two full flight sidearm throws, an upshot, a missed putt, and a tap-in for bogey. For Brian, it's a drive, an approach, and a putt — easy birdie.
At this point Matt Orum and his random draw doubles card play through and we go up the hill to 13. Neither of our drives are great. Earhart leaks left, I leak right. Earhart jump putts and approach for a tap-in. I throw a forehand roller and hit a huge putt. I usually get one pretty putt per round, and I am a-ok with using it right there.
Sitting on the bench behind hole 14's tee pad which the Open Women will play from we wax rhapsodic about the difference between playing a casual round and playing in tournaments, let alone on the tour.
"You get your local pros who have all the talent in the world but they show up to a big event and just can't hang," Earhart says. "It's such a different thing and it requires so much consistency and a strong mental game."
He thinks he is making progress and becoming a better touring player and the numbers bear that out.
In 2018, Earhart's first year on tour, he played in 12 Disc Golf Pro Tour and National Tour events. His best finish was a 15th place finish at the Delaware Disc Golf Challenge. It is worth noting he finished fourth at the Silver Cup XVIII in a very strong field.
When we were talking in 2019, Earhart had played in 15 DGPT, NT, or Major events. He placed eighth at The Memorial, 14th at Glass Blown Open, and 12th at Great Lakes Open. He's been on a good amount of filmed rounds as well, including an ace at GBO.
What's more, he has improved in almost every statistical category. He is four percentage points better in fairways hit, Circle 1 in regulation, and Circle 2 in regulation in 2019 than in 2018. His putting inside C1X is down a single point, but he has played more tournaments in 2019 than in 2018, and his C2 putting percentage is identical.
Earhart has a well rounded game, and throws the disc with power and accuracy both fore and backhanded. He's got a great floaty putter flick shot he uses for approaches. Being a lefty in a righties world, shots which are easy little chip backhand hyzers can be a bit touchier when you're a lefty. For almost our entire round he has thrown two discs: a white Zeus, and a gray-ish Banger. To my eye, all the physical tools are there.
"I feel like this season my lows have been lower, but my highs have been higher," Earhart says. "I've been shooting a lot more like 980 rounds and 1030 rounds. You know, I used to fire off a lot of 1002, 1003, 1010-rated rounds and those are just kind of meh, now I feel like I'm starting to have a glass cannon moment. I've been reading a lot about the glass cannon and how the explosive potential is there but it's not quite under control yet. It's not quite where it needs to be in order to be as effective as it can be.
"So much of it is mental. I've made that putt or thrown that drive before. I know I have the ability to do it once, so I can do it again. It's about consistency and staying sharp."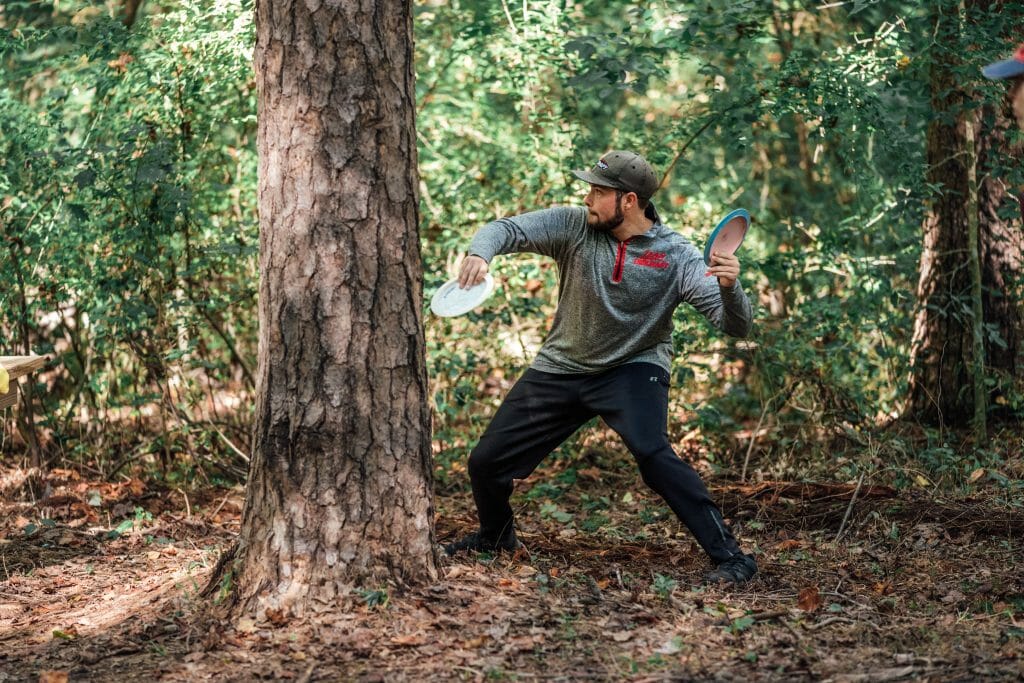 Earhart's approach to the game, and his self assessment of his abilities on the course carries on to how he views his future in the game.
Earhart describes himself as someone who is trying to find ways to grow the sport through the democratization of the language and lingo of the game, and change the way that established players and fans welcome and treat newer players and fans.
"One thing I like to talk about is clockwise and counterclockwise spin. Anhyzer and hyzer, those are great terms for people who are established in the game," Earhart says. "If you're a newer player you don't know what those terms are and it can be intimidating.In my commentary and when I'm talking about the game I like to talk about things like multi-angle shots, clockwise spinning, counterclockwise spin, and things that everybody can understand."
Earhart has the type of personality, which to me having only known him through his commentary and our short time together on the course, thrives on enthusiasm. He is not the type of person who likes to leave thoughts uncompleted and make you feel like he's not giving you his full attention. His enthusiasm is infectious and he makes it feel like I'm playing around with my buddies instead of a top touring pro.
Earhart, like so many players out there, is risking a lot and working hard to find a way to make disc golf a lifelong and viable career for him. He is eager to share and bounce some of his more entrepreneurial ideas off me, and there are plenty. The line "I was talking to [Discraft Team Manager] Bob [Julio] about this idea…" comes out more than a few times.
Over the offseason Earhart will be in Florida putting in shifts at Sun King Discs and converting a van into a tour vehicle. He's got another year on his Discraft contract and he plans to make good on the partnership.
The hustle never stops.
---
get it? ↩