Heimburg, Hokom hot on tails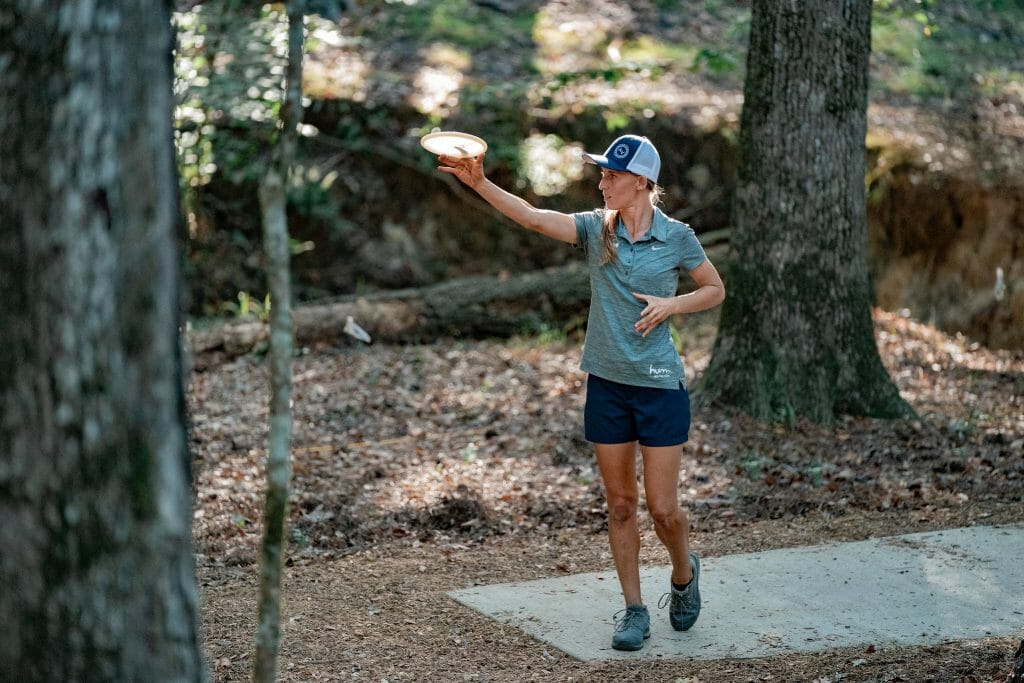 A pleasant fall day amongst the whispering Georgia pines kicked off the 2019 Ed Headrick Disc Golf Hall of Fame Classic. The W.R. Jackson Course and its two sets of tees is the singular track in use for the MPO and FPO divisions. Flipping the script on tradition, the Open division began its tee times at 8:00 am for the first round, with Open Women following after lunch. 
Early in the day it was Seppo Paju leading the field, turning in a 5-under par 63 performance bookended by bogeys on holes 1 and 18. As the day progressed that score would ultimately net him a T-13th as players from the mid-morning tee times traversed the hilly back 9. Chris Dickerson, a frontrunner on this course given his back-to-back top 10 finishes in 2017 and 2018, made a charge after the turn to find himself in a five-way tie for eighth with a 6-under par 62, one stroke off another five-way tie for third.
"I did have a few bogeys that I probably shouldn't have had, bad shots that kicked a little further into the woods than normal, but what can you do?" Dickerson said. "You can throw the disc and play from it."
"It definitely smoothed out a little bit," he said of the back nine. "I told myself, 'You know, if you don't start doing something, you're gonna be way behind if you're not already.'"
Dickerson's cardmate Trevor Harbolt, one of the gaggle of players T-3rd at 7-under par 61, successfully navigated those winding fairways for the most part, and credited his scramble game for the rest.
"I love the woods, man, it's like Kentucky, you know it's just wooded lines. Throw lines the best you can and don't kick a tree," Harbolt said. "I played as consistent as I can on these fairways at this big wooded course, and if I do get off the fairways I try to find the easiest route to get to the basket. If it's 35 feet or 10 feet out I'm still trying to be as close to the basket to make sure I give myself the opportunity to save my par."
Both Dickerson and Harbolt excelled with the putter, canning 100% of their Circle 1X attempts in round one. Putting would prove to be crucial to the early jockeying for position, as every player in the top 10 save Zackeriath Johhson would putt at 88% or better from inside 10 meters. All of these scores would fall just short of the lead however, as Calvin Heimburg would birdie 10 holes, giving only stroke back via a bogey on the 432-foot par 3 hole 4. Heimburg, who led the field in parked holes, 22%, missed only one C1X and one C2 attempt on the day, leaving him only one back of the leader Adam Hammes. 
Hammes had a by-the-numbers similar round to Heimburg, also bogeying No. 4, and both men went on three and four-hole birdie stretches at key moments to elevate themselves above the pack. The in-hindsight key to Hammes' lead was a 121-foot throw-in for birdie on the par 4 hole 7.
"I found some confidence, threw in on hole 7 from 120 feet, and once that happened it was smooth sailing," Hammes said. 
"When I play out here I just try to take the birdies when they come, I don't try to force anything and just try to have a smooth round pretty much. I've always loved this course, it's fair, and there's nice open lines. I'm from Wisconsin, we have tons of woods golf, and this is like home to me."
Hammes would only par 3 of 11 remaining holes after the throw-in jump-started his confidence, and feels that his putting this season will continue to help him stay on top this weekend as he attempts to follow up on his 1061-rated opening venture.
---
Over in FPO the mantra "Par is good" reigned supreme as the division tackled the 9,543'-foot par 67 layout, a tall order for even the biggest arms. The division average was +10.37, and only two players found their way under par – world champions Paige Pierce and Sarah Hokom. Both Pierce and Hokom tied for most birdies on the day, four, along with Catrina Allen, who all played on the same feature card to open the tournament alongside Hall of Fame member Elaine King. If you're playing along at home, that's 12 world titles on a single card. 
The foursome nearly found themselves together again if not for Jessica Weese's two birdie, three bogey 1-over par 68, which relocated Catrina to the top of the Chase card for moving day. 
"Every time I bogeyed it was because I didn't get off the tee," Hokom said. "The lines are so tight that it's easy for that to happen, and I expect to miss a couple of those tee shots so I'm not really disappointed in that at all. Of course I would love to throw every single shot perfectly but that's kind of unrealistic so, only three times I messed up off the tee and I wasn't able to scramble to save them, and that's golf – I feel fine about that. Thankfully I was able to get some birdies to make up for them."
As Hokom alluded to, limiting the damage to single bogeys was the big differentiator for the division. Only four players, Pierce, Hokom, and the unrelated Kings, Elaine and Hailey, were able to accomplish that feat. Had the younger King not struggled on the putting green in the middle of her round she might have remanded the elder King to the chase card as well.
While all four of the feature card ladies looked sharp and confident in their distinct styles of play, the story eventually became about world no. 1 Pierce. She implemented a patient gameplan, marking 13 consecutive pars to open the round and then exploding into the lead by grabbing birdies on four of her last 5 holes.
"I don't know if I would say it started clicking towards the end, I just started getting a little bit closer. All [of] the first part of the round I was throwing great shots as well just not getting close enough to convert," Pierce said. 'It was, I think, my best round of the year. I don't know what stats are going to tell you but the disc went where I wanted it to on every shot but two…so I had two drives that I wasn't happy with and one putt that I wasn't happy with. I thought it was my best round of the year…I just felt dialed."
Pierce, the only competitor in the field to finish bogey-free, was rewarded for her patience with a 1019-rating and a three-stroke advantage ahead of her 9:00 am local tee time on Saturday. With similarly picturesque conditions expected for the second round, endurance and mental fortitude will be the necessary components to putting together the charge to undercut Pierce and Hokom on moving day.