Watch some crafty moves through the trees at Northwood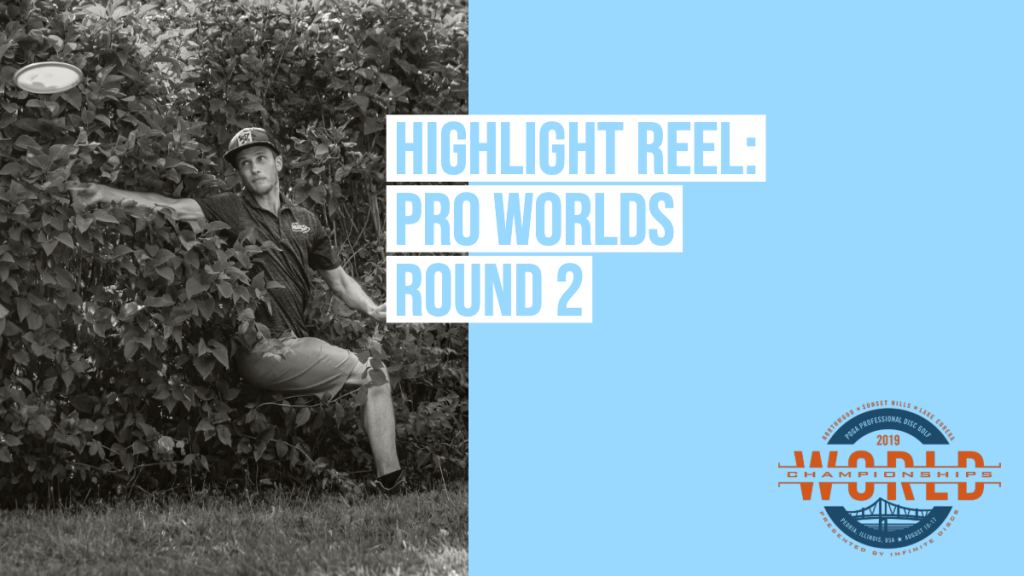 Smashboxx TV, Central Coast Disc Golf, JomezPro, and Dynamic Discs were back out on the course covering four cards of action during the second round of the 2019 PDGA Pro Worlds in Peoria, Illinois.
This was the first round we got to see the Open division play Northwood Gold, and Sunset Hills set-up a lot of scoring opportunities for Open Women.
Prepare yourself for rollers, birdies, and some sweet woods shots.
We've broken down highlights by division.
---
Open Women – Sunset Hills
2019 Pro Worlds Round 2 Sunset Hills Valerie Mandujano hole 3 approach
2019 Pro Worlds Round 2 Sunset Hills Erika Stinchcomb hole 5 putt
2019 Pro Worlds Round 2 Sunset Hills Valerie Mandujano hole 11 putt
2019 Pro Worlds Round 2 Sunset Hills Catrina Allen hole 12 drive
2019 Pro Worlds Round 2 Sunset Hills Catrina Allen hole 13 drive
2019 Pro Worlds Round 2 Sunset Hills Erika Stinchcomb hole 15 putt
2019 Pro Worlds Round 2 Sunset Hills Valerie Mandujano hole 17 putt
Open – Northwood Gold
2019 Pro Worlds Round 2 Northwood Gold Emerson Keith hole 2 drive
2019 Pro Worlds Round 2 Northwood Gold Kevin Jones hole 2 drive
2019 Pro Worlds Round 2 Northwood Gold Anthony Barela hole 3 approach
2019 Pro Worlds Round 2 Northwood Gold James Conrad hole 4 drive
2019 Pro Worlds Round 2 Northwood Gold Philo Brathwaite hole 5 putt
2019 Pro Worlds Round 2 Northwood Gold Chris Clemons hole 6 putt
2019 Pro Worlds Round 2 Northwood Gold Matt Orum hole 7 putt
2019 Pro Worlds Round 2 Northwood Gold Nate Sexton hole 7 forehand roller drive
2019 Pro Worlds Round 2 Northwood Gold Steve Brinster hole 9 drive
2019 Pro Worlds Round 2 Northwood Gold James Conrad hole 9 drive
2019 Pro Worlds Round 2 Northwood Gold Paul McBeth hole 10 drive
2019 Pro Worlds Round 2 Northwood Gold Matt Orum hole 10 approach
2019 Pro Worlds Round 2 Northwood Gold Austin Hannum hole 10 roller scramble
2019 Pro Worlds Round 2 Northwood Gold Emerson Keith hole 10 putt
2019 Pro Worlds Round 2 Northwood Gold Paul McBeth hole 11 drive
2019 Pro Worlds Round 2 Northwood Gold Anthony Barela hole 11 putt
2019 Pro Worlds Round 2 Northwood Gold Steve Brinster hole 12 roller approach
2019 Pro Worlds Round 2 Northwood Gold Steve Rico hole 12 roller approach
2019 Pro Worlds Round 2 Northwood Gold James Conrad hole 12 first approach
2019 Pro Worlds Round 2 Northwood Gold James Conrad hole 12 second approach
2019 Pro Worlds Round 2 Northwood Gold James Conrad hole 12 putt
2019 Pro Worlds Round 2 Northwood Gold Emerson Keith hole 13 approach
2019 Pro Worlds Round 2 Northwood Gold Anthony Barela hole 13 approach
2019 Pro Worlds Round 2 Northwood Gold Kevin Jones hole 14 drive
2019 Pro Worlds Round 2 Northwood Gold Philo Brathwaite hole 14 drive
2019 Pro Worlds Round 2 Northwood Gold Steve Brinster hole 16 roller approach
2019 Pro Worlds Round 2 Northwood Gold Paul McBeth hole 17 putt