Who are we missing? Who is in your top three?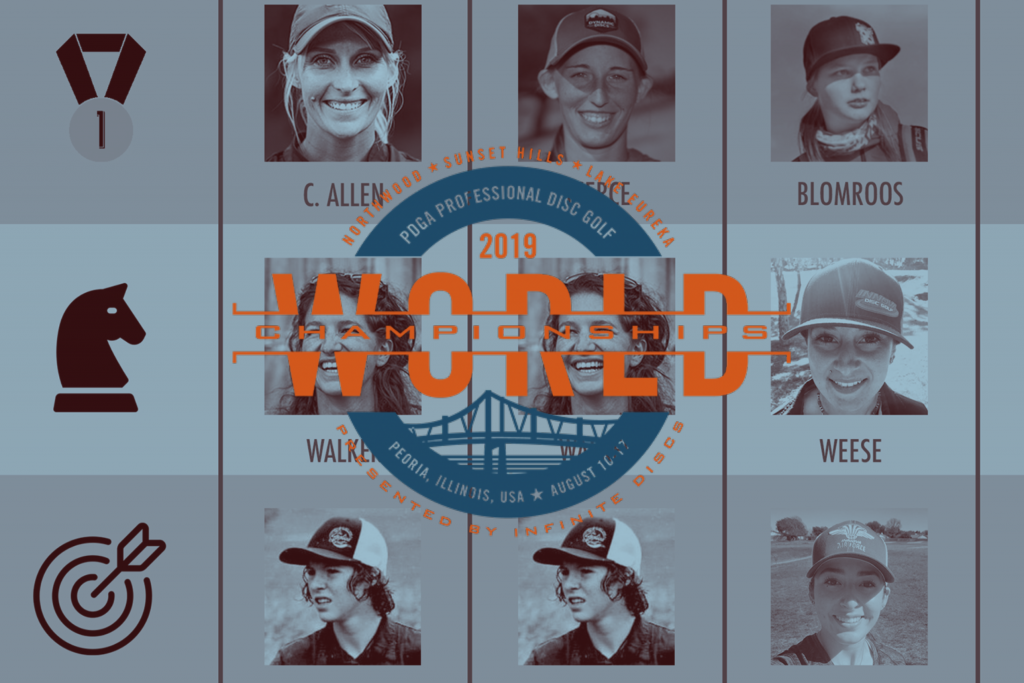 Start your engines, saddle up, step into the starting blocks, and cue the Final Countdown: it's time to drop the green flag and fire the starting pistol in Peoria! For this special edition of the UWDG Staff Picks, we abandon our traditional pick-the-podium model for a spicier take. We've got a pick 3 menu for you today:
1. To Win – No holds barred. Who will stand atop the podium come Saturday?
2. Dark Horse – The old standby. For this bout MPO players must be rated below 1030; FPO players below 950.
3. Long Shot – Who doesn't love a good Cinderella story? MPO players must be rated below 1020; FPO players below 940.
Without further ado.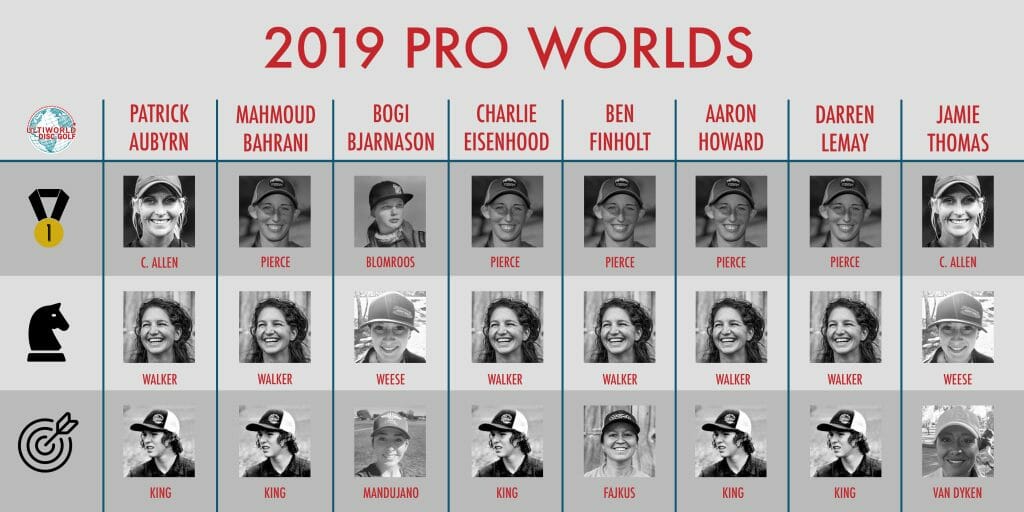 To Win:
Paige Pierce won European Open by 17 shots, and that was after she let off the gas. In the twelve tournaments she's played dating back to the Nick Hyde Memorial in April, she's won nine and finished second three times. Odd year championships were once reserved for Popovich and Duncan, now they're all PP. #yearofthe5x
The player least fazed by Pierce's recent pace is Catrina Allen. Focusing on her mental game has paid dividends, but she'll need a good week on the greens to nab her 2nd title.
Finland is finished firing shots across the bow. Henna Blomroos will dial in the putter and capitalize on her FPO-leading C1 and C2 in regulation percentages to claim victory.
Dark Horse:
Jessica Weese won the Ledgestone Insurance Open in 2018 and may have the best sidearm in the women's game aside from Sarah Hokom. She's having a roller coaster season, and we haven't said her name all that much lately. Exactly how a dark horse likes it. She's the strongest hope to keep a World title in Grass Valley, California.
Pick the hot hand! Madison Walker is averaging 961 golf over her last three events, nearly 20 points above her rating. At Idlewild, her final tune-up before Worlds, she averaged 973 over three rounds and only finished two strokes back of Pierce and C. Allen. This past weekend she and Zach Melton won the Mixed Doubles World Title. Not a bad way to kick off the competition.
Long Shot:
Hailey King has the distance to keep up with anyone in the FPO field. Her fourth place finish at Ledgestone was her best of the year. If she can duplicate her 990-rated second round at Sunset Hills several times over, she'll have a shot.
Vanessa Van Dyken's steady improvement has raised her floor and it seems like she hasn't hit her ceiling. Will she give us a glimpse of how high she can fly this week?
After a forgettable start to the 2019 season, Lisa Fajkus is starting to find her groove. She took fifth at Ledgestone and hasn't finished below than benchmark since. Her fifth place finish at Idlewild shows that she's got the game to tackle both Sunset and Northwood.
Who's got the second longest winning streak in our FPO picks? Valerie Mandujano. She's taken down three straight B-tiers in Texas and averaged 950-rated golf in the process, ten points above her current rating.
DISCLAIMER: The PDGA published a ratings update this morning and neither Lisa Fajkus (941) nor Valerie Mandujano (940) technically qualifies as a Long Shot any more, but it's too late to repick 'em now. Call 'em what you want, they're contenders!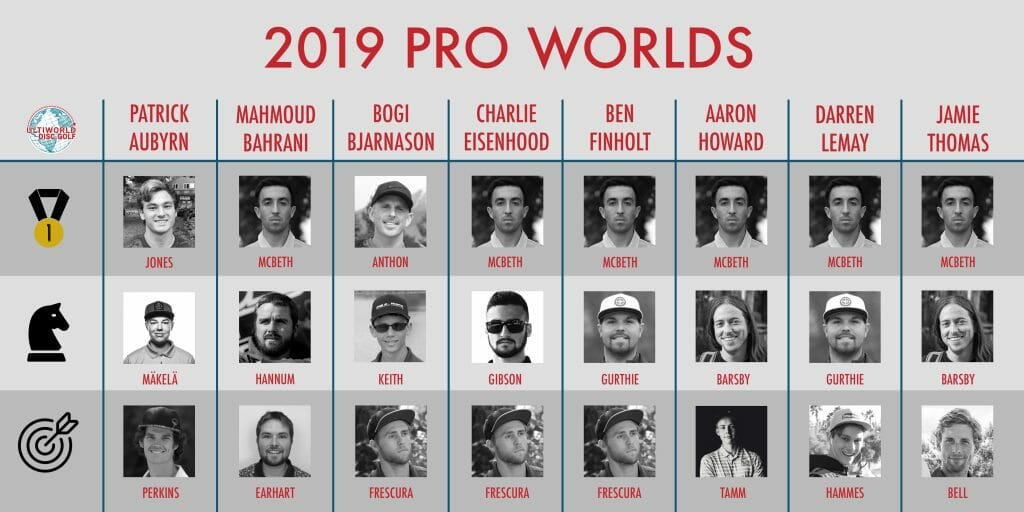 To Win:
The player with the highest ceiling is in top form. Paul McBeth has been on a mission all year, and it would be fitting to cap his best season since 2015 with his fifth World Title. Good luck, everyone else. #yearofthe5x
It's gotta happen sometime, right? Josh Anthon has four second place finishes on his Worlds résumé, three between 2009-2011 and again last year. (Pretty sure Anthon is 100% anti #yearofthe5x.) Based on his recent finishes on tour, a victory would come as a bit of a surprise, but his pedigree and ability to perform under pressure are crucial to winning Worlds.
Kevin Jones seems like he's in a groove, starting with four A-tier wins in his last seven tournaments. He battled and didn't blink against McBeth at the Great Lakes Open and finished five strokes better than Mr. 1056 at the 2018 Ledgestone Insurance Open.
Dark Horse:
Drew Gibson looked unstoppable at Portland Open just a couple months ago and took 11th at Ledgestone more recently. Why can't he catch fire again?
If it wasn't for an errant spectator at the Wintertime Open, Austin Hannum would be on the short list of people who have beaten Paul McBeth this season. One of the most consistent players on tour, Hannum crucially has a great sidearm to complement his backhand, a must-have on the treacherous Northwood Gold course.
Give the defending champ his due. If he's in the hunt for Friday's semifinals, you'd be foolish to discount Gregg Barsby. The versatility of his game is undeniable.
There are plenty of stumps at Northwood Park for Emerson Keith to jump out of and surprise the competition. These finishes jump out to us: 14th at the 2018 USDGC, 12th place at WACO, sixth at Jonesboro, sixth at Ledgestone, and 12th at Idlewild. Ropes and woods on lock. I suppose we should also mention that he won the Mid America Open just over a week ago.
Garrett Gurthie stared down McBeth at the CCR Open and has an NT to his name this season. He has the arm for Eureka and the control for Northwood. He'd be a surprise but not a huge surprise by any stretch.
Väinö Mäkelä is coming off his first A-tier win of the season in Oulu. He's got the skills to be Europe's next 1030+ golfer. To that end, his challenge this week will be to remain consistent across five rounds.
Long Shot:
Brian Earhart has the ultimate home course advantage. While at Illinois State University, Northwood was Earhart's home course. This is the first time Worlds has been in Illinois, and he's the best player from the Land of Lincoln.
Matt Bell has a World Putting Title and a World Mixed Doubles Title already thanks to an "or die trying" mentality with the putter. If he's on target, he'll be on the radar.
We don't know what airport security is like in Estonia. Was Albert Tamm allowed to check his bazooka? His performance at the European Open demonstrated that he has the chops to hang with the best, and who doesn't want to see that victory celebration again?
Adam Hammes. The ultimate heat check performer. He got hot at the 2017 World Championships and made the final round Lead Card after blow torching the third round in his version of the "flu game". A top five finish in the Worlds putting competition indicates he'll be dialed on the greens this week.
Please let Reid Frescura skip a disc or two onto the island at Lake Eureka this week. Would you believe us if we told you Reid Frescura has back-to-back fourth place finishes at Ledgestone? He does. Do not sleep.
Last but not least, Nate Perkins has been flying a bit under the radar this season. Over his first 8 tournaments this year, his average finish was 32nd; over his most recent 8 tournaments it's 15th. Perkins it putting it together at the right time of year to improve on his 14th place finish at Worlds last year.