Lizotte, Wysocki can't catch leader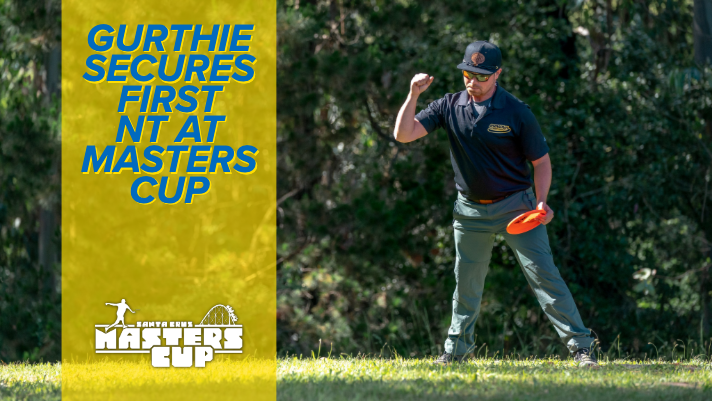 It's been a long time coming.
Garrett Gurthie first accepted cash at a PDGA event in 2004, he was away from the national scene for several seasons before returning in 2018, and now, in 2019, after countless highs and lows, Gurthie is a PDGA National Tour winner after a hard-earned victory at the Masters Cup.
"I feel like I have a lot to prove," Gurthie said. "I've had some unfortunate circumstances, but I'm out here grinding and trying to prove to the people back home that this is what I do for a living and I'm proud to play disc golf. This has been my passion for years, since I was a kid, so this is what I'm going to stick to and I'll be playing disc golf for the rest of my life."
Going into the final round, Gurthie held a one stroke lead over local Matt Bell. By the end of the action, he had widened the gap to six strokes over the field. While the lead fluctuated, with Simon Lizotte often just two or three strokes off the pace, Gurthie never looked shaken.
"I pretty much just tried to stay calm out there. I've been there plenty of times to play with [Ken] Climo and [JohnE] McRay and had the same pressure growing up," Gurthie said, referring to his upbringing in Florida. "You know, these guys are just the new era of it. So I'm excited to be playing with these guys."
Gurthie was again able to play clean, finishing with one bogey Sunday to bring his total to two bogeys on the weekend. His finished above par on just 3% of holes at the event, the lowest total in the field. And even though his Circle 1X putting was still bottom half of the division (76%, 48th), he was top five in every other major UDisc Live statistical category.
"I had some inspiration," Gurthie admitted. "I got a text message from Josh Anthon last night. He said, 'Just focus on you and the shot in front of you.' So each hole — I promise — I said to myself, 'Focus on you and the shot in front of you.'"
Averaging 1063-rated golf over three rounds, Gurthie finished at 27-under par 179 total after his 9-under par 51 final round.
"I'm kind of speechless. You know, with the amount of time it's taken to get here and put everything together in one tournament. Still, I can't even believe that I won my first National Tour this weekend," Gurthie said.
Lizotte was able to climb one spot into second place to finish at 21-under par 185 total with a 5-under par 55 on Sunday. Even with many of his shots clicking, Lizotte doesn't think he'd have been able to catch up to the lead.
"I'm overall pretty happy with my performance. My putt felt a lot better than it has the last couple of events," Lizotte said. "Garrett was just so clearly better than everyone else — yesterday in the rain, today in the wind — he made almost no mistakes."
Ricky Wysocki moved back onto the podium after a rough second round to finish in third place at 19-under par 187 total. Eagle McMahon fell three spots into a tie for sixth with Paul Ulibarri and Paul McBeth at 16-under par 190 total. Matt Bell dropped 12 spots into 14th place.
A hot round of 10-under par saw Eric Oakley move up 18 positions into solo fifth place.