Local Bell stays in second, Wysocki drops to sixth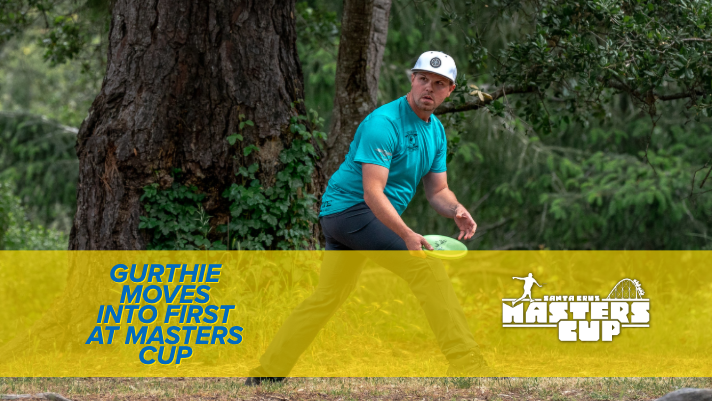 If it was rainy during FPO play Saturday morning, it was a monsoon by the time the Open division leaders were playing round two at the Masters Cup. DeLaveaga had taken on a lot of water and was becoming quite a slog.
Garrett Gurthie made it through the muck and took the lead with a 1062-rated 7-under par 66 showing during day two at the National Tour stop. Despite being four strokes worse than his opener, the 66 was good enough to catapult Gurthie up from fourth place into sole possession of first at 18-under par 128. Matt Bell remained in second place, one stroke back of Gurthie at 17-under par 129, with a 5-under par 68.
With only one bogey over 48 holes, Gurthie has been floating his Sonic around with pinpoint accuracy. While ranking 31st in Circle 1X putting at 80%, he's leading the division at 50% from C2, hitting four birdies from long range Saturday. Bell continues to lead in birdie percentage.
Simon Lizotte and Eagle McMahon are tied for third place at 16-under par 130, and, along with Gurthie, will be looking to use their distance as an advantage on the Golf Course during the final round.
Playing in his first Masters Cup, Matt Orum made a big move into fifth with the hot round 8-under par 65. He jumped 14 spots and is three strokes behind Gurthie at 15-under par 131 total. Jeremy Koling also made a move, closing out his round with five straight birdies to get into a tie for sixth at 14-under par 132.
Ricky Wysocki and Paul McBeth both had days they'd rather forget. Wysocki shot even par on day two, and needed to birdie four of the last five holes to get there. His 1010-rated second round was 71 points lower than his opener, and he dropped into the tie for sixth. McBeth dropped down to a tie for 10th thanks to a 1-over par round which included a triple bogey on hole 9, course hole 7. McBeth was only 40% from Circle 1X, negating the four C2 birdie putts he did make.