Allen, Hokom, Pierce shoot 1010s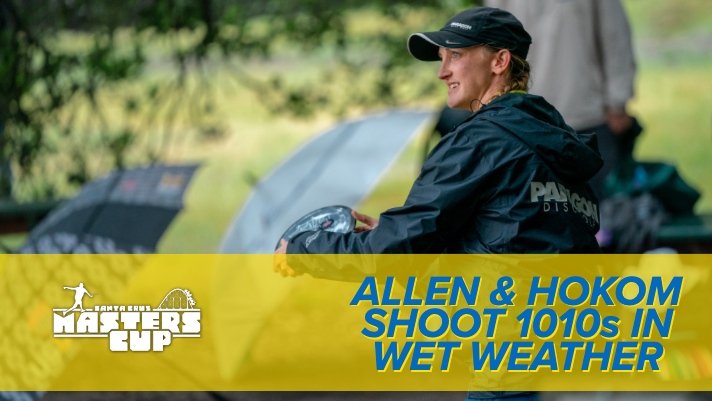 As the sky opened up and the rain came down, the demanding DeLaveaga Disc Golf Course suddenly had new hazards. Not only were the players cautious of the usual DeLa trappings, but potential grip issues were going to force an extra level of focus.
"I was more cold than worried about the rain," Catrina Allen said after the round. Before the action started Saturday, she mentioned that she had never played a rain round at the Masters Cup to the best of her knowledge. "Secretly I'm just dreading the rain, but then I seem to get out here and, maybe it like kind of takes that pressure off, then I just know that scrambling for par golf is good."
Allen was right when she said she wasn't bothered by the wet weather, as she bested her first round score by shooting a 1010-rated, even par 73 to stay in first place at 1-over par 147 total. She only recorded scores over par on four holes, and added two outside Circle 1 putts for birdie, including an unbelievable 66-foot effort from out of position on hole 11, course hole 8A.
Matching Allen every step of the way was Sarah Hokom, who also shot an even par 73 with two C2 birdies.
"It was good," Hokom said. "I was just trying to keep it even keel and not really compare today to yesterday, and I was trying to pretend like it was the first round really."
Her 1010-rated day has Hokom one stroke behind Allen in second place at 2-over par 148 total. She led the field by birdieing 25% of the 24 hole layout. Hokom was also 100% from C1X putting, the only perfect FPO player during round two.
"Going into the golf course tomorrow, it's going to have a whole different vibe out there," Hokom said, looking ahead to the final day venue change on the Golf Course. "I'm just happy that I was able to get a lot of pars and some birdies in there."
Last year's winner, Paige Pierce, was able to do damage when the National Tour event moved down the hill for the final round. Her 4-under par final round in 2018 was six strokes better than both Allen and Hokom, and Pierce is currently in third place heading into day three, five strokes off the lead.
Pierce also came in at even par 73 on Saturday, and leads the division in Circle 1 in regulation at 17%. She is at 6-over par 152 total. Paige Bjerkaas rounds out the lead card in fourth place at 9-over par 155 total.