Skweir makes statement in first Masters Cup appearance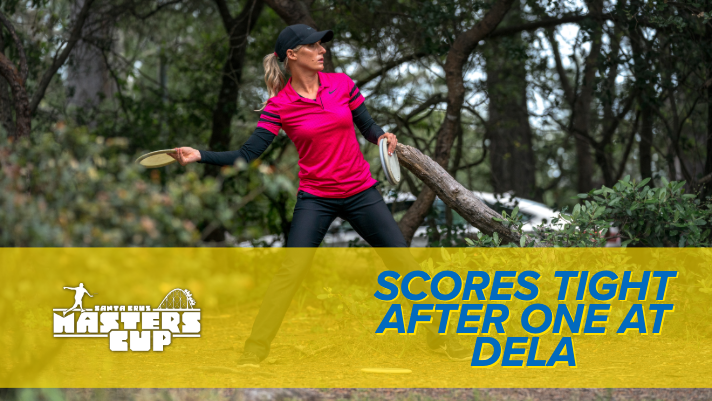 The birdies don't come easy at DeLaveaga. For the first round of the Santa Cruz Masters Cup, it was more about limiting the bogeys for the Open Women's division.
Day one leader Catrina Allen shot a 1-over par 74, matching last year's hot round on the disc golf course, and notched three birdies while going 90% from Circle 1X.
"I know I can get some more twos, but I also know I threed a lot of really good holes," Allen said. "I scrambled really well when I didn't execute my tee shots. My sidearm and my putter shots are feeling good, so hopefully just be a little cleaner off the tee tomorrow."
Despite an early double-bogey, Allen went on a 15 hole streak without a blemish on the UDisc Live scorecard. A near ace on the 354-foot hole 3 is probably the highlight of a round where Allen was top three in the field in every major statistical category except C2 putting. Most impressive, however, was her ability to keep her head.
"If you aren't in a good mental place, I feel like this place will eat you alive," Allen said. "So I feel like even sometimes my game hasn't felt that good, but I know that this place can eat people up. So you just have to be mentally strong and that sometimes will power you through a round."
Leaving a mark with her first competitive Masters Cup round was Camille Skweir, who is tied with Sarah Hokom in second place at 2-over par 75. A steady round saw Skweir go 14 straight holes of par golf, and back-to-back late birdies moved her further up the leaderboard.
"I tried to stay off that roller coaster," joked Skweir, referencing the fickle nature of the course. "A lot of pars and I'm pretty happy with the few bogeys I did come away with. They weren't too demoralizing."
Skweir hasn't competed much as a professional but is no stranger to handling tournament pressure. As a student at Humboldt State in 2015, Skweir won both the individual collegiate title. She's also played two events in 2019 and picked up the wins in both, including her first A-tier victory at the St. Patrick's Classic in March. Friday's 968-rated round was the highest rated of her career.
Paige Bjerkaas, currently in solo fourth at 3-over par 76, will round at the lead card.