Can anyone upset the four horsemen of disc golf?


This weekend the PDGA National Tour will roll on at the Santa Cruz Masters Cup in, you guessed it, Santa Cruz, California.  The Masters Cup is one of the most anticipated events of the professional touring season, thanks in no small part to the venue: the legendary DeLaveaga Disc Golf Course, or simply, DeLa.
For the unfamiliar, DeLa is considered one of the most challenging and beautiful courses on tour. The course features elevation changes on almost every hole, hard-packed soil which can make for some wild ground play, tight wooded lines with unforgiving rough, and the iconic Top Of The World tee shot. And that's just the disc golf course. The Delaveaga Golf Course takes its design cues from its more traditional disc golf sibling: baskets perched on hillsides, tight OB, and pristine scenery. At DeLa, the sentiment that disc golf is a game of player versus course, is more than just a truism, it is truth.
We are about a third of the way through the touring season, and going into Santa Cruz, it has been all Paul McBeth and Catrina Allen. However, that may change this weekend.
Ricky Wysocki is coming into Masters Cup hot off his first Disc Golf Pro Tour win of the season at the San Francisco Open. After SFO, Wysocki told us that he felt like his game was, "finally coming together," and it certainly looked that way as he cruised to a six stroke win. Wysocki is the defending Masters Cup Champion, and also won in 2016.
On the other hand, McBeth has won in Santa Cruz five times since 2011. In fact, you have to go back to 2010 to find a Masters Cup winner not named McBeth or Wysocki. McBeth and Wysocki are the favorites going into the event, but players like Josh Anthon and Philo Brathwaite shouldn't be counted out. Both Anthon and Brathwaite are crafty NorCal veterans who consistently make lead card appearances and finish in the top 10 at DeLa.
For the Open Women, DeLa has been similarly stingy with who it allows to win. Paige Pierce and Catrina Allen have three wins apiece in Santa Cruz going back to 2012 when Sarah Hokom won the event. Hokom has had a disappointing start to the season, and while Pierce hasn't played poorly, Allen has been the dominant player in FPO. Until she gives a reason to think otherwise, Allen has to be the hands-down favorite going into the weekend.
Pierce is the defending champion, though, and last year she won big, besting Allen by 12 strokes, thanks in large part to her 4-under par showing at the Golf Course.
It is worth noting that no FPO player was able to go under par at the DeLa Disc Golf Course last year, and Paige Pierce was the only one able to break below even par at the Golf Course. There are no announced changes to the course, and Allen was able to go under par all three rounds at Jonesboro and Waco, the courses which have most closely resembled DeLa for woods and elevation.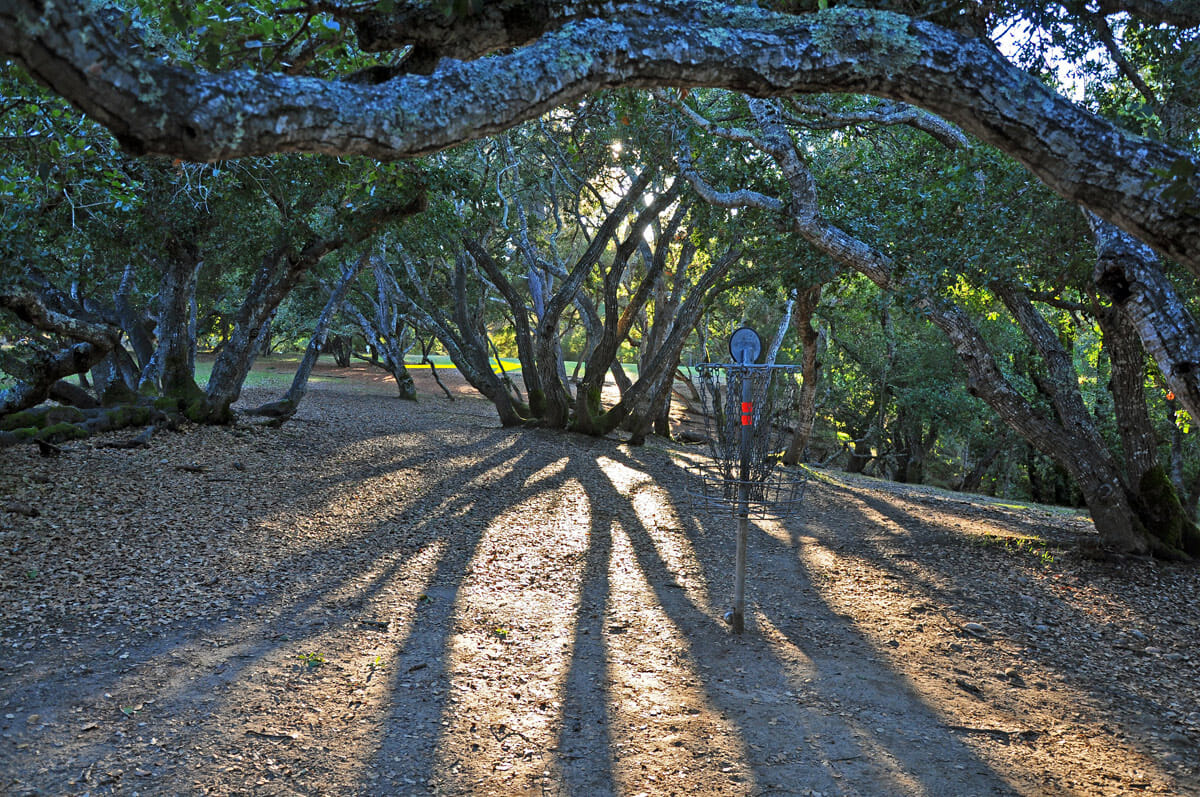 The Courses
DeLaveaga Disc Golf Course
Both MPO and FPO will play the disc golf course first and second rounds. There are a lot of permutations to the course and how it will play for both pro divisions this year. Rather than confuse you with all the different layouts for different days, we suggest you pop on over to the caddy book for some excellent hole maps, pin positions, and distance.
As the crow flies, DeLa is one of the shortest courses we see on tour all season, with only two holes measuring in at longer than 400 feet: hole 13 at 550 feet, and 16 at 435 feet. However, discs and crows fly very differently and you can bet that elevation, trees, and fast greens will make the course play longer than the hole distances might suggest.
The most notable change to this year's layout will be the order of holes played. Hole 27, best known as Top of the World, will no longer close out the round. Due to safety and course flow, Top O' will now be the fourth hole on the circuit, and the basket will be in the short, 378-foot position instead of next to the parking lot.
DeLaveaga Golf Course: MPO – par 60, 8,713 feet; FPO – par 60 7,475 feet.
As should be expected at every golf course, there is plenty of OB guarding greens and defining landing zones. One notable feature of the Golf Course is, like the Disc Golf Course and even Mulligans at the Utah Open, pins are placed on slopes and in spots where rollaways are an ever-present danger. This forces players to manage how their plastic lands as much as how it flies.
Forecast
We escaped the rain last week in San Francisco, but it looks like conditions won't be so kind in Santa Cruz this weekend. While conditions will be nice Friday, an upper-level disturbance will move into the region Saturday, leading to some rain chances. Those rain chances will linger into Sunday morning as the system begins to depart the region.
Friday: Temperatures in the mid 50s will warm to the low to mid 60s by the afternoon hours. Northwest winds around 10 mph will turn out of the west and increase to around 15 mph in the afternoon.

Saturday: Dry conditions are expected to start the day with temperatures again in the mid 50s. Rain should move into the region by the late morning hours. Southerly winds around 10 mph will be possible. Highs will only make it to the low 60s.

Sunday: Rain chances will diminish throughout the day on Sunday. Morning temperatures in the mid 50s should once again warm into the low 60s by the afternoon hours. Northwest winds around 10 to 15 mph will be possible.
Last year Ricky Wysocki won the Masters Cup. Can he go back to back? What about Catrina? Can she keep up her hot play despite the cool, rainy conditions?
How To Follow
No live coverage at Masters Cup, as cell service limits the livestreaming capabilities. UDisc Live will have live scoring all three rounds. Jomez Pro and Par Save Productions will have next day coverage of MPO lead and chase card, respectively, and Central Coast Disc Golf will cover FPO lead all weekend. The PDGA will be producing daily podcasts and video updates, and we'll be following here at Ultiworld Disc Golf with recaps and analysis.