Jenkins claws back strokes late to stay within striking distance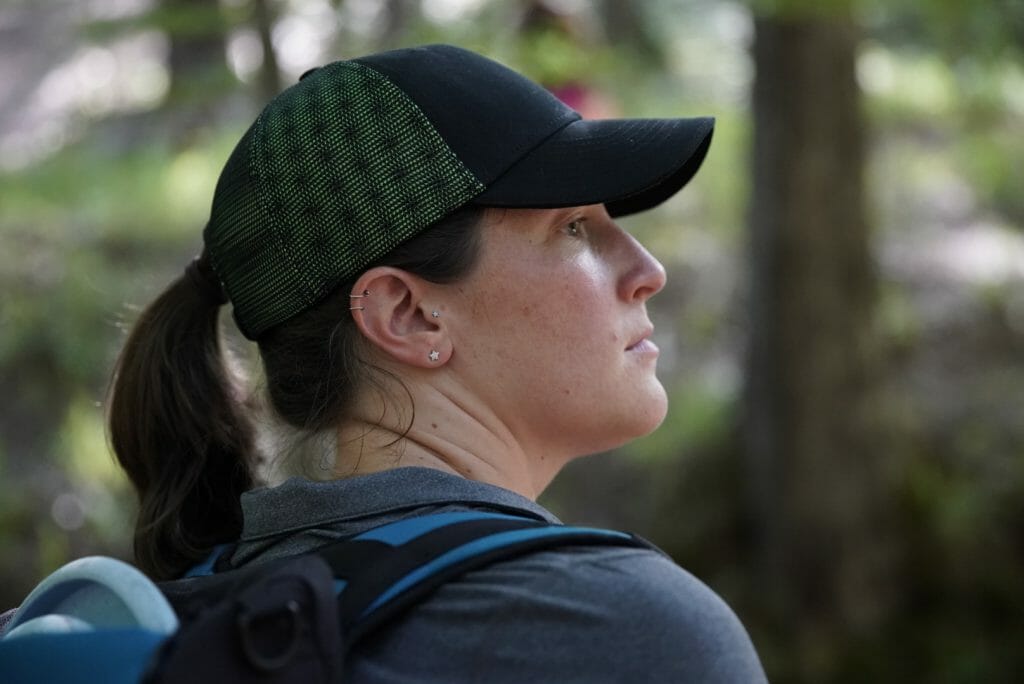 APPLING, Ga. — With temperatures breaking 100 degrees halfway through what ultimately turned into a five-hour hike through the woods at the International Disc Golf Center, nobody in the Open Women's field left unscathed during the PDGA Professional Disc Golf World Championships' third round. W.R. Jackson lived up to its reputation as one of the most challenging championship-level courses on tour this season.
At the end of the slog, Paige Pierce and Valarie Jenkins both came into the clubhouse with 1-over par 68 scores, which maintained the six-stroke margin between the two for a second straight round. Pierce currently sits at a 7-under par 193 and Jenkins at 1-under par 199 with just 18 holes left at Fort Gordon to determine the world champion.
Catrina Allen made the jump to the final round lead card after her 5-over par 72 score moved her to a 7-over par 207 total. Her move up the leaderboard put her one stroke ahead of Lisa Fajkus, who entered the day in third place but finished with an 8-over par 75 round to bring her to an 8-over par 208 through 54 holes.
Sarah Hokom dropped from the lead card for the final round, struggling through the rough on Jackson's back nine to also finish at 8-over par on the day. Hokom now sits in sixth place after being passed by Elaine King, who carded the second best score of the day. Her 3-over par 70 took her total to a 9-over par 209, good enough for fifth place and a spot on the final round chase card.
Much was made of the World Championships switching to a shorter four-round format, but with temperatures rising and rough terrain in seemingly endless supply during the round there was no question that both physical and mental endurance were just as important as at any prior Worlds.
Indeed, that fortitude came in handy for Jenkins, who scuffled through the first eight holes, taking three bogeys and five pars through to bleed seven strokes to Pierce. But just as the lead crested its largest margin of the tournament — 11 strokes — the defending world champion turned a corner mentally as she arrived at hole 9.
"There was nothing positive happening," Jenkins said. "Then I looked at the tee sign and I'm like, 'Wow, we're not even halfway through.' So I just kept digging deep."
The realization showed on the scorecard, as Jenkins easily parred holes 9 and 10 and went 3-3-2 through the difficult stretch of holes 11 through 13, known by some as "Turkey Gulch." The "big swing," as Jenkins called it, coincided with the beginning of a tough run for Pierce.
She got red flags on both 11 and 12, taking a bogey and double bogey in quick succession before getting one stroke back with a birdie on 13. That gave way to a  roller coaster final six holes, complete with another swing in momentum for the pair.
Pierce's tee shot on hole 15 put her in excellent position for an easy up-and-down birdie, but Jenkins' drive landed in the rough on the right side, and with no look to progress any further than 40 feet she pitched out to the fairway.
Jenkins cranked on her upshot and flew 70 feet past the basket, leaving a long comebacker just to save par. And that's where the round took yet another turn.
"I thought I just went way past the basket," Jenkins said. "And I was basically right in line with the basket, and I threw it in to save my par. It was the craziest 4 I could've imagined."
The momentum stayed with Jenkins on the next hole, too, while Pierce struggled to find the fairway. Throwing her only forehand tee shot of the day, Pierce's shot stayed straighter than she was hoping and landed out of bounds, passing over the creek that runs the length of the fairway.
Jenkins was on the box next and put her drive inside the circle. She emphatically put home the putt from close to 30 feet, while Pierce was forced to lay up for a bogey. Just like that, the gap was back down to where it had started. The pair would card matching scores on the final two holes to finish out the day.
"I feel like Paige and I kinda just flip-flopped, so we ended up tied for the round after all that," Jenkins said. "It's just a matter of trading strokes out here, and with the scoreboard up there — I am paying attention to it, but not trying to let it affect me. But it's a positive thing when you're seeing, 'OK, I'm ticking down some scores here.'"
After dropping to the third card after the second round at Fort Gordon, King is looking forward to having another go at the Marine/Navy course after feeling much better about her showing at Jackson.
"Even though I shot two strokes worse than the first time I played Jackson, it felt better," King said. "I felt that I hit my line every single time, and even though I might have gotten the same scores on many holes it was easier to get that score, you know? It was an easy 4 or an easy 5 rather than scrambling. So I'm really happy with the way I played."
The five-time World Champion knows that the resulting boost can translate to the final round, and that it can help correct some of the mistakes she made in the second.
"What I have to do tomorrow is just throw cleaner lines at Fort Gordon," King said. "What I found at Fort Gordon, sometimes I was on the tee and I wasn't fully confident in which disc I should throw and how I should throw it, and having had that experience I think I will be more confident this time with my disc selection."
With just five strokes separating third place from the three-way tie for eighth, finishing places in the top 5 are decidedly still up for grabs. So is the battle for first, if the recent World Championships are any indication.
Just last year Jenkins captured the title in a come from behind victory over a final nine, and recalled a similar instance from the 2012 World Championships in Charlotte, North Carolina, where she jumped from fourth to second.
"In one of the Worlds final nines I made up six strokes," Jenkins said. "So just in nine holes you can make that up. You never know what's going to happen and there are a lot of birdie opportunities out there [at Fort Gordon], but they're not gimmes. So anything can happen on that course. I'm ready for it."
The final round lead card of Pierce, Jenkins, Allen and Fajkus tee off at 9:40 a.m. Eastern  at Marine/Navy. Follow along with the live scoring at PDGA Live and on Ultiworld Disc Golf's twitter page for live updates throughout the round.