Life as a touring disc golfer was forever changed by one player from Michigan and a rotating cast of characters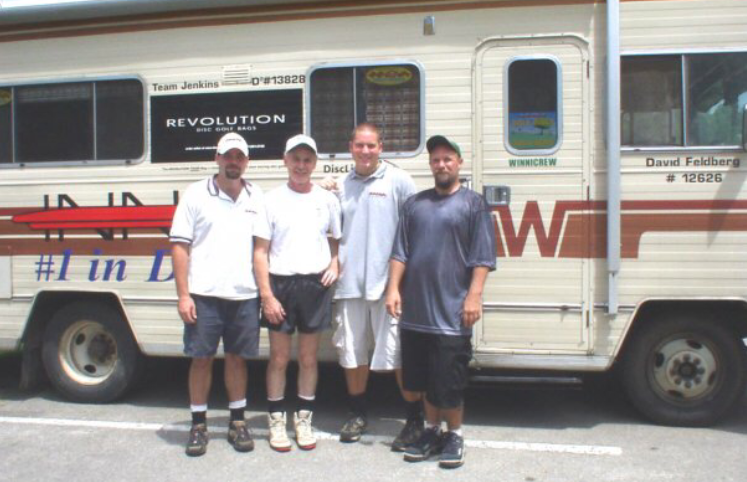 As disc golf enters its fifth decade of official life, most of the sport's trails have already been blazed. As a result, the list of names behind those trails – Headrick, Dunipace, Climo, to name a few – is woven into the game's historical fabric.
There are others, though, whose influence has been more subtle, yet just as important. Their names might not possess the household notoriety of disc golf's founding fathers, but their impact has been felt and their legacy continues to shape the game today.
And on that list is where we find Todd Branch.
One half of the Michigan native's resumé looks like it could be that of an average top local player: A one-time 1013 rating; 18 PDGA wins, including two A-Tiers; and two Top-20 finishes at Pro Worlds show the depth of his skills.The other half of that docket, though, proves he is a legend and innovator who paved the way for the modern day traveling professional. He was the first person to travel year-round, and the first to do so with a group. He was also a pioneer in bringing tour life to the internet with his DiscLife.com blog, and was the first player to have a television show dedicated to those travels.
'I Was Hooked On That First Day'
Born in Kalamazoo, Branch entered the military after high school. After four years of service in the Army, he attended Western Michigan University and obtained his degree in mechanical engineering. Always one who enjoyed throwing Frisbees at trees and other objects, Branch was introduced to disc golf in 1995 when he first heard of a course at Hudson Mills in Ann Arbor.
"I played (disc golf) with a regular catch Frisbee and was amazed by golf discs and the beautiful course," Branch recalled. "I was hooked on that first day."
He quickly ascended in the game, dominating the amateur disc golf scene in 1997 by finishing 12th at the Amateur World Championships and winning the Michigan state series. Branch turned professional the next year and started playing with the Wolverine State's best players, including Al Shack, Mark Ellis and Mike Raley.
"I played almost daily with these three great players with some world championship experience," Branch said. "Al joined my bowling team and we talked often about packing a motor home and touring. I was 29 at the time, and figured if I was going to something like this, this was now the time."
Branch submitted a four month notice as his job, saved up funds and bought a 1973 Winnebago for $1,000.  He – along with Shack, Darren Harper and two dogs – hit the road in April of 1999. Harper made it three weeks before heading home. As for Shack and Branch?
"The rest is history," Branch said.
'We Broke Down A Lot'
While there were plenty of disc golfers traveling at the time – Climo, Barry Schultz, Ron Russell, Scott Stokely, and Steve Rico come to mind – no one did it for a full year until Branch and Shack. And no one did it in groups like the two did.
"Before us, there had been some single players who traveled in their car or van," Branch said.  "We were the first to collect numerous players and live together full time, on the road, without going home for an entire season."
The group – informally known as the WinniCrew – became de facto disc golf celebrities. Most followers knew Climo, but Branch was the first to actually bring his experiences to an online audience.
"We were the first to chronicle our tour on the internet," Branch said. "The internet was young in 1998. Before then, everyone really only got any disc golf news by reading the PDGA magazine that came in the mail once every three months. I would recap what we did each week and sometimes send a digital picture and Brian Sullivan, the website owner, would post it. It got pretty popular."
Blogs, however, do not pay the bills, so Branch hit the course. He played in 33 events that year, winning $6,285, while Shack's 36 tournaments yielded $10,797. But thanks to the website, the disc golf public saw the struggles first hand and, in a way, it humanized a profession that seemingly everyone wanted.
"I didn't know what to expect when we first started out in April," Branch said in a blog post summarizing his first year on the road. "One thing for sure, I didn't think driving the Winnie would be as tough as it was!"
"We broke down a lot," Branch said of that first year. "We lived in a parking lot outside of Las Vegas for about a week over what turned out to be a small electrical problem. We lost a couple starters along the way, had around 12 flat tires on the side of the road. We caught on fire twice while driving down the road. The brakes went out on us several times."
Despite the struggles, the duo still found plenty of time to play, averaging about 20 rounds per week on its way to visiting 113 courses. That 1973 Winnebago accumulated an additional 33,000 miles on it, as well. They returned to the road in 2000, this time adding Sue Stephens, whom Shack was dating. Shack would win more than $20,000 that season, while Branch would collect $11,587 and win his first A-Tier, the Lumberjack Open, in his hometown of Kalamazoo.
With the mileage covered came allegiances formed and players discovered. One of those was another young Michigan native named Dave Feldberg, who Branch said would ride with the trio in spurts as he played in the amateur division. At the end of 2000, Shack and Stephens bought their own motor home and decided to travel on their own. Branch, however, was not done and brought Feldberg into the fold.
Monday Funday
With a new duo ready to hit the road full time, Branch and Feldberg needed a third player to join them. They bought a 1978 Winnebago and looked toward a player who had made a splash in 2000: Ohio native Avery Jenkins, who had won an A-Tier in his rookie year as a professional, making him the first player to accomplish the feat.
"Todd showed me the 'rules of road,'" Jenkins said. "He gave me a chance, showed me the way, and motivated my drive and cultivated my passion for this amazing sport."
With a new crew, this created more opportunities for the outside world to see what life on the road was like. Not only was the DiscLife.com blog about the trio extremely popular, there was even a TV show made about the third version of the WinniCrew.
"We had a weekly cable TV show for a year," Branch said. "A film crew from Chicago would show up each week and file the final holes of whatever tournament we were at. Then there would be an instructional segment with me, Dave, or Avery. Meeting other disc golfers and getting to be 'famous' was a lot of fun."
Even with the newfound notoriety, though, life on tour still was not easy.
"Together we all did what it took to stay on the road," Branch said. "It's a struggle to make enough cash to pay entry fees, gas, and food every week."
"Todd could endure almost any situation or scenario," Jenkins added.
One of those struggles that few encounter today is simply how to get to the next course. In a pre-GPS world, the trio relied on maps and the PDGA Course Directory to get from event to event.
"Usually we would have one guy driving, one guy reading the map, and one guy sleeping," Branch explained.
By 2003, the idea of touring in groups started to catch on, and these collectives started hanging out together. There was The Flying Eye Crew, made up of Cam Todd, Lesli Todd and Mike Young; the Carolina Crew, comprised of Brian Schweberger, Brian McRee and Billy Crump; and, of course, The WinniCrew. These groups typically played the same events and spent their off the course time bonding. They started a new tour policy that pros today still follow: Monday Funday.
The most memorable of these came between Las Vegas and the Memorial in Arizona one year, when a group of 19 golfers headed to Los Angeles for a taping of The Price is Right. The group spelled out "PLAY DI$C GOLF WITH BOB," each wearing T-shirts with one letter. Branch, acting as the I in DISC, celebrated when Brian Mace of Texas was called on to the stage.
While disc golf was certainly starting to become known around the country, this random moment born of players looking for a fun day away from the course became a monumental piece in the sport's history. Not only did Mace make it on stage, he was acknowledged as a "Frisbee Golfer" by host Bob Barker. And, just as how many people react when first hearing of disc golf, Barker was amazed. Mace – on his way to winning skateboards, a children's race car bed, and a fireplace – was able to promote the sport, the life of a traveling professional, and the PDGA.
"That was a lot of fun," Branch recalled.
"It was one my top three memories from the road," Schweberger said.
While the layover in L.A. provided plenty of fun, it did not bring in any tournament winnings. So the group jumped back in the Winnebago and kept chugging along.
Branch would go on to win another A-Tier, The Waco Charity Open, and earn close to $20,000 over the next two years. Jenkins and Feldberg? Both would win world championships in the 2000s.
'It Was Time To Get Back To Real Life'
The final version of the WinniCrew would be in 2003, when Branch joined soon-to-be world champion Schultz on the road for six months. Now 34 and "pretty burned out," Branch decided to leave the road full time.
"It was time to get back to real life," Branch said. "Touring is hard. It's stressful. We were always broke. I was 34. I wanted to get to my career while I still could."
Branch still plays today, just not in tournaments. His job as an industrial maintenance consultant requires him to be on call, making it difficult to play events. Now 48, years of playing disc golf 20 times a week, combined with an injury suffered during his service time in the Army, has finally gotten the best of his body.
"I've had trouble walking for the past year," Branch said. "I just had surgery to have my ankle fused. I will have a 90-day recovery period from the operation. Once I can walk again, I hope to get back out on the course."
The physical toll, as well as his experience on the road full time, leaves Branch in the position to offer some sage advice to the McBeths, Wysockis, and Kolings of the world to assist in their survival.
"These young guys traveling now have to take care of themselves," Branch said. "Most people I know stop playing because of injury. I've learned that nothing is much fun when you are in pain, so stay healthy."
And even if health is a priority, Branch said age and life changes can contribute to taking players off the road, just as it did for him.
"I think it's mostly just due to a change in priorities," Branch said. "When you are touring, it's all that matters. There really isn't anything else. When you stop touring, well, new priorities take over. For me, touring was my job and I took it seriously. Now I have a different job and I take that seriously, too."
While he may not have collected as many victories as Climo or revolutionized the industry like Dunipace, Branch left a legacy and started traditions in the sport that are still active today. Does he wish that a few more putts would have gone in, or that fewer tee shots went out of bounds? Of course. But overall, Branch changed the sport of disc golf.
"I have no regrets, I did it for a long time," Branch said.
"I made it."
Updated July 30, 2016: This article originally stated that Feldberg was from Oregon instead of Michigan. Ultiworld Disc Golf regrets the error.