American college student brings his passion for the sport to the island nation

It's a story you've probably heard before: Young man discovers disc golf, falls in love with the sport, and helps to get a new course installed as a way to have more places to play. If it's happened once, it's happened a thousand times.
Tyler Franklin's tale is similar, but with a twist: The course he has installed is the first in the Dominican Republic.
Nestled on the grounds of a Christian sports camp in Boca Chica, Tierra Alta Disc Golf Course is the culmination of Franklin's newfound passion for the game. A senior studying non-profit management at Hardin-Simmons University in Abilene, Texas, Franklin lived in the Dominican Republic for eight years and started playing disc golf only a couple years ago. He quickly found a way to extend his love of the sport to others via family connections at the complex, who were more than willing to listen to Franklin's ideas to bring the game from his stateside home to the island nation.
The result is a manicured, nine-hole course that weaves its way throughout the Tierra Alta facility, the purpose of which, according to Franklin, is to "bring in kids and evangelize them" through sports. But that doesn't mean it is a private property that only few can access. In fact, Franklin views it as an opportunity to spread disc golf to a country that loves all kinds of athletic endeavors.
"We wanted to use the disc golf course and give these kids something new and different to try out," Franklin said. "But we're also opening it up to the public, as well."
He wouldn't have been able to achieve that mission without some high-profile help, though. Touring professional JohnE McCray was instrumental in the course's development, Franklin said, as he approached the veteran with the idea for a course during one of McCray's tour stops in his home town. A lunch date later, and McCray was setting Franklin up with Eric McCabe to help with acquiring course equipment.
"Tyler is extremely excited and passionate about disc golf," McCray said. "I loved his enthusiasm when he was explaining what he was trying to do. I also loved it when Tyler came to my clinic and was eager to learn about the game more."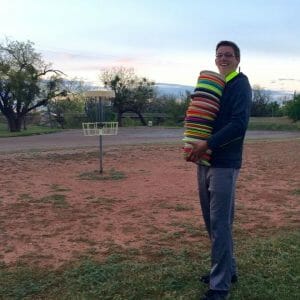 That enthusiasm has started to translate to employees of the Tierra Alta facility, the first of whom recently had their first introduction to disc golf.
"They've been dying to play the course," Franklin said. "We had around seven or eight employees who stayed after work and tried the course. I have noticed something very specific about the Dominicans: They are very competitive. When they were on the course, they were throwing the discs and they would go around and joke with each other and say, 'I'm going to throw this farther,' and they had a really good time."
One of those who has already played the course multiple times is Jonathan Ortiz, the director of operations at Tierra Alta. As a self-described fan of all sports, Ortiz said he was excited to see a new option come to his country.
"I really, really enjoy it," Ortiz said. "I'd never heard about this sport before. I know golf, I know that there's a Frisbee. But I never thought that there was a sport like golf, but with Frisbees."
Ortiz said he felt most Dominicans would embrace the sport, as they "always try to do new things." The low start-up costs were also appealing, especially when compared to disc golf's clubs-and-balls brother.
"I used to watch golf here in the Dominican Republic, but here it's kind of hard to play golf. You have to have a lot of money," Ortiz said. "I love golf, and I know most of the rules, but I have never played it before. Now, Tyler told me about this game, disc golf…I said, 'Wow, I actually know golf, but can play disc golf.' That's amazing."
And for Franklin, who plans to return to the Dominican Republic after completing his degree to check on the course's progress, he sees it as the beginning of something bigger.
"If we get a good response from the Dominicans and we have people coming in playing the course regularly, we also have designs to do an 18 hole course at the camp," Franklin said. "I definitely want to come back and see how it's going in a year and see the production and see how it's going. There are also different camps all across Central America, and if this kicks off, who knows?"