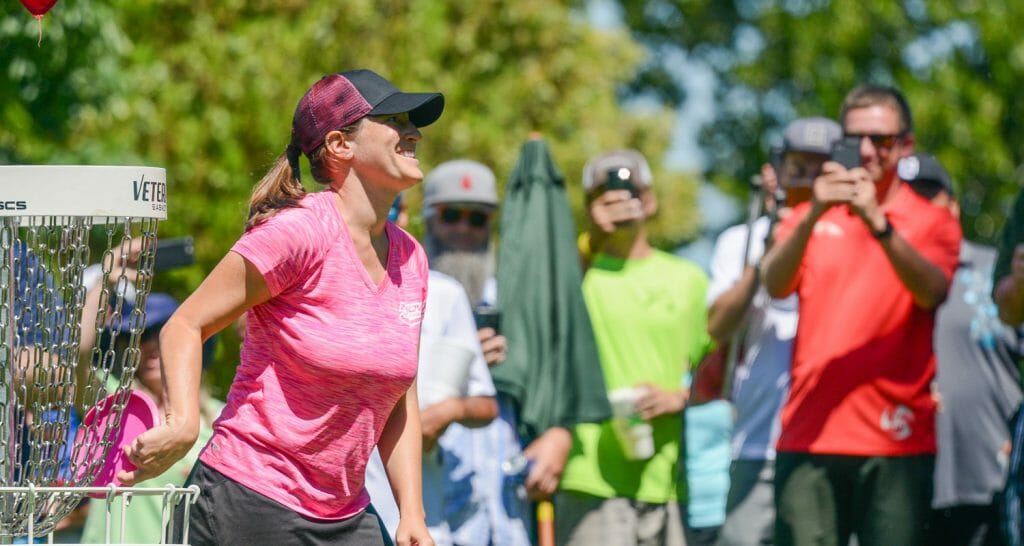 Valarie Jenkins: The Offseason Interview
BY STEVE HILL
Would anyone blame Valarie Jenkins if she decided now was the perfect time to ride off into the sunset?
With a career more than a decade and a half in the making, and now boasting a fourth world championship, it would be easy to look at Jenkins and think that the next step might be one that took her outside the circle and into other ventures.
So, we asked her about what life has in store — including her plans for her and husband Nate Doss' previously announced Bevel Craft Brewing, as well as who might get sponsorship rights to a hypothetical Doss-Jenkins offspring — in our second Offseason Interview. And while she isn't quite ready to hang up her golf bag and put the discs on the shelf, it's clear that 2017 is going to involve different challenges than shot selection and line shaping.
****
So after the last putt dropped for Worlds, and you were being embraced by everyone and handed flowers, was there any thought to just walking away and retiring right then?
[Laughs] It was funny. During that week, that there was the Olympics going on, and that's what every Olympian says — they want to go out with that gold medal. I don't know. We've been talking with you about how we have our brewery goals. We have plans outside disc golf. It was a weird feeling that kind of re-energized my commitment to disc golf. But at the same time, it could be one of those opportunities to say, "Alright, that's it. See ya disc golf!"
Disc golf — we never wanted to say, "This is our last year, we're done, were retired" – because disc golf isn't one of those sports. It's something that Nate [Doss] and I grew up with as a kid, and it's definitely something that's going to be part of our lives forever, whether were touring full time or just hitting our favorite tournaments through the years. So who knows? Who knows?
Have you guys mapped out a 2017 schedule yet? Are we going to see you that often, or just fewer and farther between?
Nate and I have talked about it a little bit, and I don't know if it's completely confirmed or not, but we're thinking about really using this offseason to commit to Bevel [Craft Brewing] and then the tournaments that we want to hit are our favorite tournaments of the year. We're gonna hit the Beaver State Fling — it's only three hours from our house — and Worlds, for sure. At this point it puts us not traveling much until May, June. We might not be hitting those spring tournaments like we do, but really we only went to The Memorial.
No Santa Cruz homecoming for Nate at the Masters Cup?
I don't know, I don't know. It's so hard to pick our favorite tournaments because everything draws us. Santa Cruz draws us home, Brent Hambrick draws me back to Ohio, we love going to Kansas City. It's hard to choose between them. But if we're gonna commit to opening our own brewery, we need to hunker down here and make things happen in Bend. So that's what we're planning so far.
"We never wanted to say, 'This is our last year, we're done, were retired' because disc golf isn't one of those sports. It's something that Nate and I grew up with as a kid, and it's definitely something that's going to be part of our lives forever."
This one goes back to Worlds, but have you had a chance to use the "I have more World Championships than you" argument with Nate yet?
He was the first one to actually say it when I dropped in that last putt. He was the one that said, "Alright, you've got four now, you beat me to it." It was just funny, that was the first thing, as soon as I turned around. He was like, "You did it, you got it."
Have you held it over his head yet?
No, not yet, but that's a good point. I don't know if you saw – Innova released a congratulatory video, and Elaine [King]'s video got clipped. So she released her full one. I love moments like that, where I'm really excited I think, "This is awesome." People are like, "This is a huge moment in disc golf," and then Elaine's there to remind me, "Oh yeah, but I have five. You still don't have five. Four is cool, but you don't have five." It was very humbling, that's what Elaine's for.
You've been a professional disc golfer for what feels like forever now. In what situations do you most rely on your experience and knowledge you've gathered over the years?
I would say in those high pressure situations. So like Worlds, or any situation where the pressure is on for every single shot, I get that tunnel vision. It was different [at this year's] Worlds — it's different from some of the close world championships that I've won. There's a calming sense to me now, having gone through those situations so many times. I think that kind of experience is only something you can get from being in those situations year after year, so I think that really pays off.
Who is one up-and-coming women's disc golfer for people to keep an eye on over the next few years?
Hmm. Let me think of who's on our trail. I know you just released the article on Madison [Walker]. She's the only one who's popping in my head right now. She would have to be a solid contender for that. She's jumped on tour with Paige [Pierce], traveled to all these big tournaments. And you always see her putting in the time. She's going out to the course, she's practicing, practicing putting. She's getting mad when she's not competing to what she knows her potential is, and I think that's the kind of fire you want to see in any up and coming woman. She's got it.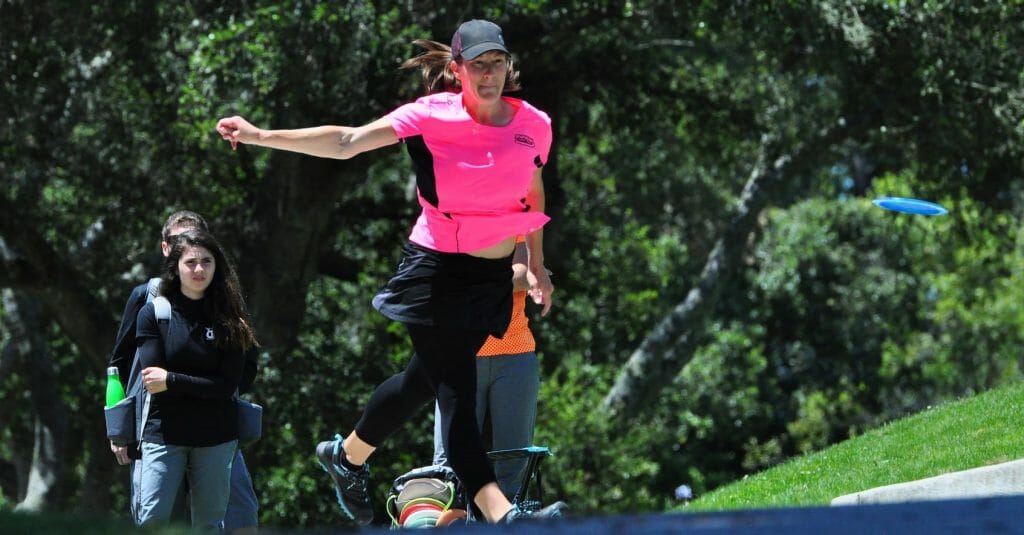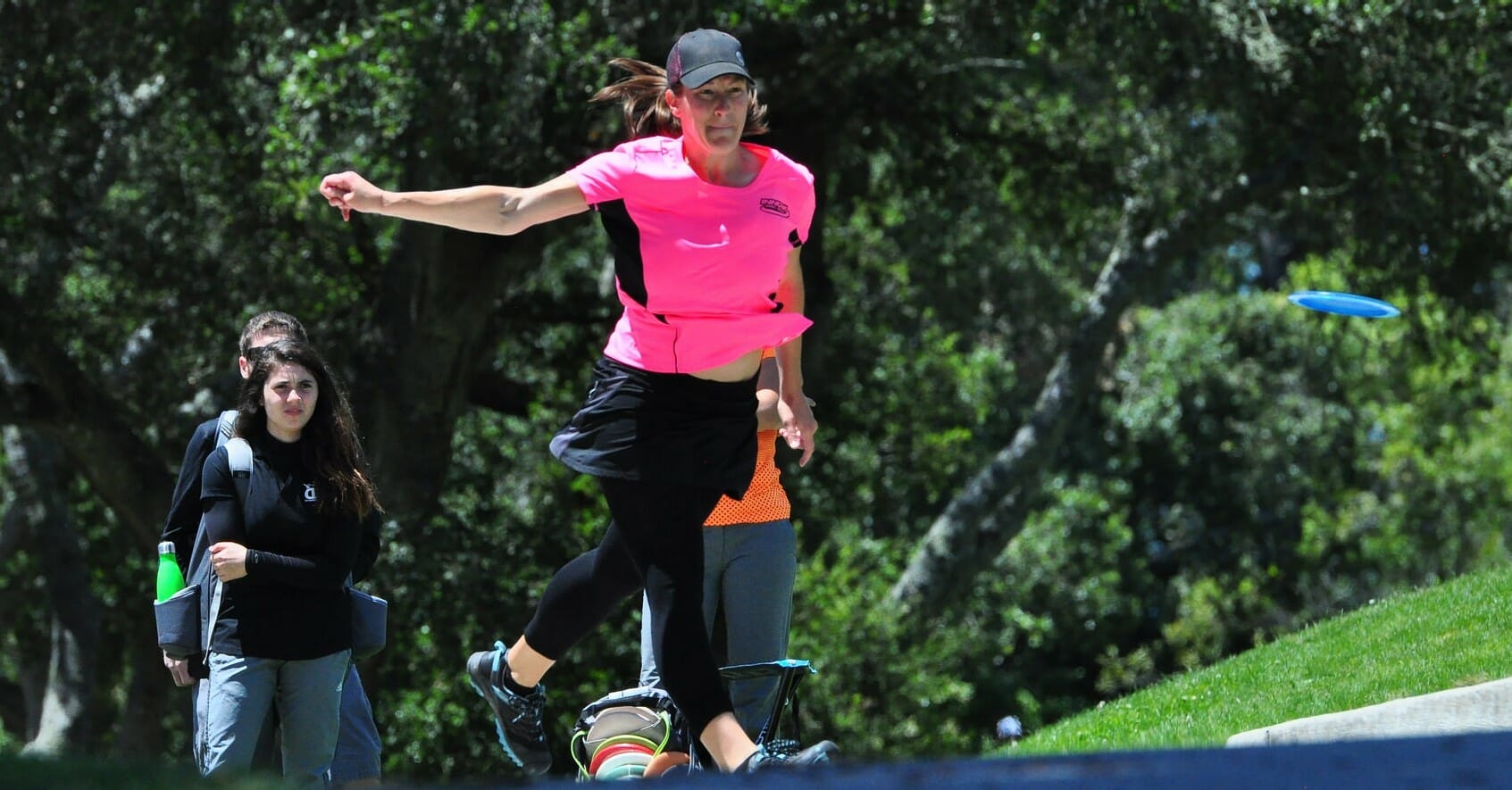 If you were able to change one thing about professional disc golf, what would it be?
If I could change one thing? There should be more women playing. This is the offseason, this is the time when we start working on our other projects, and the [PDGA] women's committee is definitely one of the things that I'm committed to during the offseason. So [fellow women's committee member] Sara Nicholson — I was just talking with her — we want to make it our goal to change that percentage from – we're at eight percent of the total PDGA is women, is female members. So we want to change that percentage.
Do you have a specific number in mind, or just progress in general?
Progress in general. If we can branch out – I mean, at the same time we've been growing steadily with the growth of the PDGA, so that's a good thing. But still, we want to break that eight percent.
"To release that energy, to release the frustrations and to have somebody that understands what you're going through? That's everything. That's helped us with so many situations."
OK, some of these questions are going to be a little lighter and less focused on disc golf. What was the best beer you tried on tour this year?
Whoa. [Long pause] I have a book that I write stuff down in. I know that – let's see, what did I have? [Hums to self]
I'm sorry, I'm putting you on the spot.
I know! And this is going to be documented somewhere! [Laughs] We just had one from Deschutes that was pretty awesome since being home. It's a sage double IPA. It was pretty awesome. Of course The Alchemist, they've been able to release more beers than Heady Topper, so we got our fill this year. The best beer from what people say is the Focal Banger, but I like the Crusher. So I've gotta go with the Crusher.
You've probably been asked this question before, but I've never asked it. With you and Nate being married and on tour, I imagine at times there are challenges, just like with any married couple. What's your secret to making it work out on the road?
Communication. That's everything. With the stresses that we put on ourselves on the disc golf course, it's important to have that person that – you know, it's awesome that we're married, but if you just have that friend you can talk to all the time, that's so crucial to what we do. To release that energy, to release the frustrations and to have somebody that understands what you're going through? That's everything. That's helped us with so many situations.
So how is Bevel coming? What's the latest on the brewery planning?
It's coming along good. I feel like we're getting into those situations where we're kind of pinpointing certain things we still have to work on. Right now I'm looking up and researching payroll, and how much it costs to get employees, and if we need employees, and how many hours. There's a lot of technical stuff like that, but we're right now – we gave ourselves this entire season networking. We launched our business plan at the beginning of the year, so it gave us this season as a chance to network, continue to work on the business plan, and just research and talk to more brewers. Now that we're at the end of the season, now it's time to really get down to business. We've had a lot of people reach out to us that want to be investors, from a smaller amount to a huge chunk. So we're trying right now to balance everything and figure out contracts and percentages and things that a company needs to work on, so we're learning a lot of stuff right now and trying to figure all that out, because in the end that's where it all starts. We need to come up with the money first.
Is it more challenging than you anticipated?
No, not really. But I know it will be. It just really — we're learning so many new terms and there's so many things that I don't know about investment. It's been fun, but there are definitely a lot of things we need to learn still. It's been pretty cool.
OK, this is one I've always wanted to ask you. If, sometime down the road, there is a Doss-Jenkins baby, who gets the first sponsorship rights for disc golf: Innova or Discraft?
You've got to let the kid decide!
That was a good diplomatic answer.
[Laughs] Who knows? It can be a hybrid. We'll see. It's funny, because there are so many people that push disc golf and want their kid to be the next world champion, and that's not at all how Nate or I grew up. If the kid wants to play, he'll play. If they don't, they don't. If they want to throw Discraft, they will. So, yeah.
Thanks, I appreciate you humoring me.
Of course.
If you enjoyed this article, consider supporting all of Ultiworld's coverage by purchasing a video subscription or contributing to our tip jar.