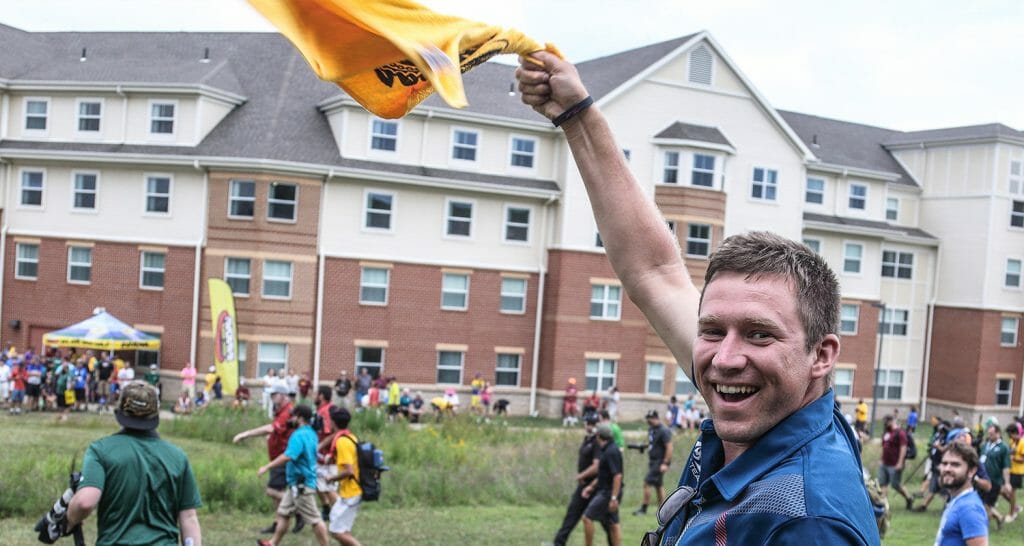 Nate Sexton: The Offseason Interview
BY STEVE HILL
Experience one conversation with Nate Sexton, and it's clear why he's a fan favorite. Equal parts intelligent and well-spoken, with a disarming demeanor and a quick wit, he's ascended to household name status riding a wave of both substance and style. Being the PDGA's 11th-ranked men's player certainly doesn't hurt his standing, nor do his repeat appearances in the commentary booth on various disc golf productions, either. He's the rare player who seems as comfortable in front of a microphone as he is on the first tee.
But why settle for just one conversation with him? We caught up with Sexton a couple times over the offseason and covered a wide range of topics. From the big things in life – his Oregon roots and an addition to the family — to the small, and even the stranger, what follows is the result of those chats, lightly edited for clarity and length.
****
Let's put a bow on last season. What was the highlight for you?
Oh man. [Long pause] It's tough. I would say the Memorial and the Majestic, even though I finished second in both of them. Those were two highlights for me just because I played some of my best golf I've ever played at those two events.
Are there any tournaments you'd like to have back?
Sure. I mean, USDGC for sure. There were tough conditions, and I was feeling a little bit of fatigue in my forearm — just maybe threw a few too many practice shot at the end of a long season. So I felt I didn't really perform there and that was unfortunate. As far as other events, I definitely played poorly at Masters Cup and the first World Tour, but the one that jumps out is USDGC. Obviously that's fresh in my mind. Whatever I took — 30th or 31st — it was a disappointing finish after being top five the last two years.
In 2016, you tackled some of the longest stretches on the road of your career. What do you do to power through those time where you might have been over it and ready to be home?
Paul [McBeth, Sexton's travel partner] and I both have that same feeling sometimes. It's a long season and we're in it together, so we just kinda make sure we're still getting to have some fun and go do stuff after the round, whatever. Just kinda hang out. And then it's just calling my wife on the phone and making plans, buying my plane tickets, knowing when I'm gonna get that next trip home. And then it's just kinda like, it's a job, so – it's still really fun, I wouldn't trade it. There's not a lot of jobs I could imagine trading for. It's a fun life, and it's fun to have this little sliver of fame as a disc golfer and get to throw frisbees for a living, but it can be tough being away from my wife for so long…
I'm wary of sounding like I'm complaining, because it is a great job. But it's not all awesome, as any job is.
So what did you do in those in between times? What was your favorite moment off the course last season?
Yeah, let me think. It'd be like — it's hard to beat just all the experiences of being in Europe and seeing those cities, and walking around the old district of Stockholm, and going to some museums and that kind of thing. So I'd say those are probably pretty high up there. Seeing the Czech Republic a little bit, walking around Prague. Paul and I were walking around Prague until probably one in the morning because we only had one night there. So I think I set my all-time record, like 37,000 steps on my watch or something, because we played the whole round of golf, and we got to Prague and we had a really early flight so it wasn't gonna be a great night of sleep anyway. And then we had a huge nine hour flight, so we were just walking all over that city. It's so old and it is one of the rare places that wasn't damaged in World War II, so all these amazing old buildings, and thousands of people everywhere, that kind of stuff. That's the sort of stuff that I won't soon forget.
"There's not a lot of jobs I could imagine trading for. It's a fun life, and it's fun to have this little sliver of fame as a disc golfer and get to throw frisbees for a living, but it can be tough."
If you could change one thing about professional disc golf, what would it be?
Man. I mean, as selfish as it sounds, I would like it if we could play for more money. And the main reason for that is because then I could afford to play less and I could afford to fly more and drive around less. Obviously, everyone wants more money. But the reason I say that is more that I could keep the job of professional disc golfer longer if I had more time at home — more time with my family, where I could lead more of a normal life — and fly out every other week or something for a big event. Because I think, like, a professional golfer is never really on the road. They play a tournament, go home. Play a tournament, go home. So that would be the thing I would change if possible — if the sky's the limit — that we wouldn't have to play quite as much to make a living.
How many more seasons do you have in you?
Hard to say. There will certainly be changes in my life as I'm getting older and as my wife's school and our family situation changes. But as of now, I view disc golf as my full time job, and I expect – I'll say I expect never again to be away from home for four straight months. But I'd still like to stay relevant and play at a high level as long as I possibly can. I feel like I've got plenty left in the tank as far as my ability to play at the highest level.
But yeah, hard question to answer. I don't think I'll ever have a season as tough as last season, just because of that huge, long stretch away. I think I'm gonna be transitioning into that Steve Brinster model, where you're [logging] a little more home time and making sure you're there for the big events and you're still a guy that nobody counts out. But over the next few years I'll have less time spent on the road.
That's right, I should congratulate you: You've got a forthcoming Sexton mini joining the family. When's the big day?
Due date is June 26.
How are you feeling about being a first time dad?
I'm excited. I think it'll be cool, a big adventure. I don't feel nervous. I feel most nervous about the actual, physical birth, because I'm kinda squeamish…My number one goal is to not become a distraction during the birth.
So obviously that will have more of an impact on your plans for this season. Any determination as to what fatherhood will mean for 2017, or your career in general?
No, not entirely. But I will say my wife has 10 weeks off after the baby's born, and I feel like I am much more interested in being home at that time than playing a tournament. I definitely want to stay competitive and play when I can, but I think that part of the year — like July and August — I'll probably be picking or choosing one or two tournaments to go travel to. But most of the time will be spent at home trying to figure out parenthood.
With that due date you'll miss Worlds, correct?
I think so. I only live three hours away. I'm operating under the assumption that I won't play, and I'm hoping that maybe I can do another commentary gig where I can drive there and be there for it. But the last thing I want to do is go there and play really well and then have to leave. So I'm operating under the assumption I'm not even gonna put myself in that position.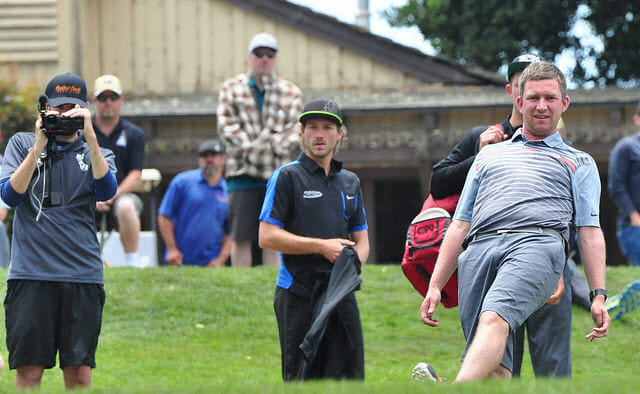 You're not playing the Aussie Open next week. What went into that decision?
The flight just ended up being too expensive. The ones that we could find, it just didn't make sense for me, and I wanted to use all the help that Innova wants to give for travel – I just decided not to blow it all on that trip and save it for the Czech Republic and then, hopefully, Finland.
I was also kind of dreading – it was 35 hours of travel time each way. I know a trip to Australia would be awesome and it would be worth it, but when I think about sitting in planes and airports for 35 straight hours, and then when you get there you're like totally upside down on time zones and everything and you need two more days to feel like yourself again — that part of it was not that appealing to me. But ultimately, yeah, it was a money thing for me. It just didn't seem like a worthwhile thing to spend my money on with the baby coming and everything else to think about. It wasn't in the cards for me.
I know you have team allegiances, but give me your Aussie Open pick.
I mean, I've gotta go Paul. Paul McBeth, defending champion, and I think he's been practicing pretty hard. That's my guess, but there's some great players there, and it's a little more wide open than usual because everyone's a little bit rusty, I'm thinking. It could be a little wilder than you might normally think.
"Obviously I'd wipe the floor with Prefontaine because he's not a disc golfer, but it would be fun to just see what he could do. I'm sure he'd get frustrated with how he was playing because he was notoriously competitive."
OK, so here is where we shift gears and lighten things up a bit with one that harkens to your Oregon roots. Choose one of the following famous Oregonians to play a round of disc golf with: children's author Beverly Cleary; The Simpsons creator Matt Groening; Nike founder Phil Knight; or track legend Steve Prefontaine.
I'd probably take Prefontaine. My wife was a really competitive track and field athlete in Oregon — she actually won the high school athlete of the year for the whole state. He was somebody that I knew about because we were together even back then, and I was going to track meets and cross country meets and watching her. We grew up just 45 minutes from Eugene — she actually ended up going to the University of Oregon — so Prefontaine was kind of like a household name. He had a legendary competitive drive.
Obviously I'd wipe the floor with him because he's not a disc golfer, but it would be fun to just see what he could do. I'm sure he'd get frustrated with how he was playing because he was notoriously competitive, maybe to the point of not being the friendliest guy to compete against.
You studied environmental science at Oregon State. What is your reaction when you hear someone say climate change isn't something to worry about?
[Laughs] Oh man. Shock, at this point. I think it's ridiculous that people can still hold that position, that climate change is not caused by man and that it's not actually happening. Or they cite ancient warming periods or whatever — they think that it isn't an issue. I think it's a huge issue, obviously, and sea level rising is probably the biggest one. You have nations like the Maldives, and other islands, that are set to be swallowed up before too long, and a lot of people live there. Also, just the species that are in polar climates — obviously polar bears, penguins, anything like that that's sort of surviving because sea ice is a thing — are reliant on that sea ice. I think it's ridiculous that people hold that position, and I hope they all get voted out of office and we don't have to hear about that much longer.
This is a question about things that are soft. Which is your favorite: puffy clouds, a bag of marshmallows, or kittens?
Oh, so Blue Ribbon Pines isn't on the list? [Laughs]
I didn't want to softball it to you too much.
You should at least put that quote in there.
I will. You want Blue Ribbon Pines to be your answer?
No, you can just quote me as saying "Blue Ribbon Pines isn't on the list?" What were my choices?
Puffy clouds, bag of marshmallows, or kittens.
Oh geez. Not kittens, I'm allergic. Give me clouds. I'm trying to stay away from the sugar.
I've seen that you're a Toyota Prius driver, and that you actually have two of them. What disc in your bag is most like a Prius?
Hmmm. Let's see. Probably like a Dart, maybe. It could be a Sexton Firebird, because my newer Prius has a button called power mode, and my old one doesn't. With power mode, it might not be a midrange anymore — it gets pretty quick.
It's reliable, man. It gets a lot of mileage for every ounce of energy you put into it. So maybe — it's kind of cliché for me to say Sexton Firebird I guess, but the Prius does everything I want it to do. It's pretty similar that way.
You were out playing recently and got kicked off the course while Netflix's Stranger Things was being filmed. I know you've shown off your acting chops in Central Coast Disc Golf's Starter Pack Challenge – you didn't get in on the action there for Stranger Things?
I knew that they had a lot to gain if they could have gotten me in there, but they didn't seem in the mood to talk. Obviously they made a mistake, but that's how it goes. They had things to do, they had a plan to execute. They had a golden opportunity right there in front of them, but they didn't take it.
If you enjoyed this article, consider supporting all of Ultiworld's coverage by purchasing a video subscription or contributing to our tip jar.