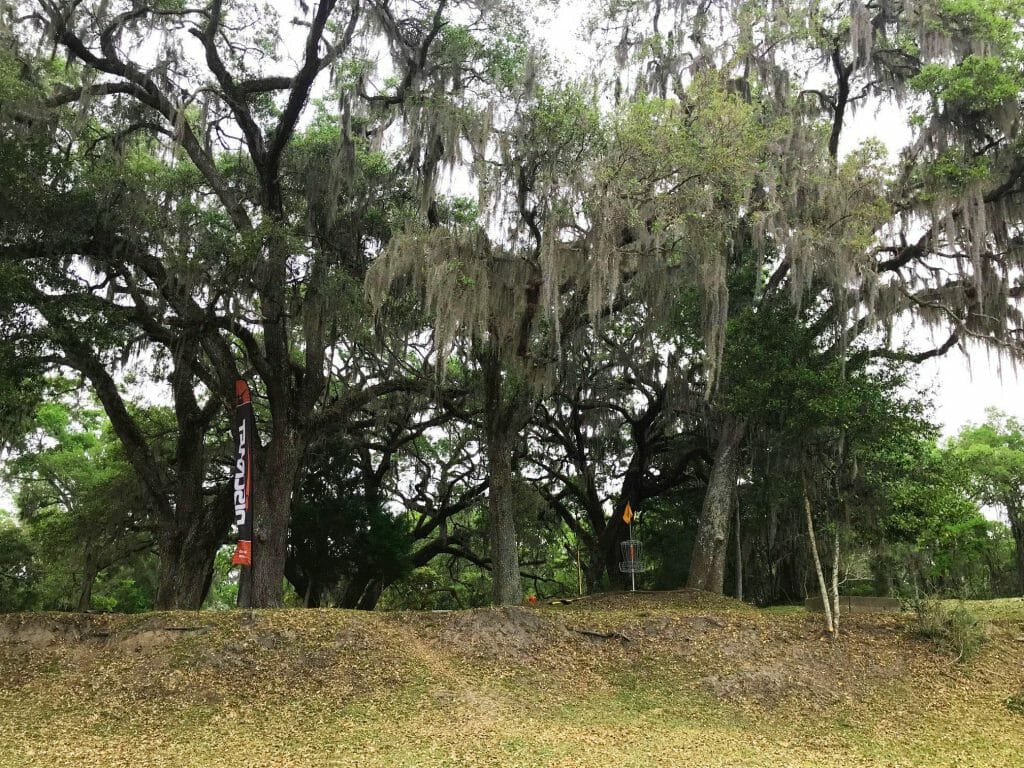 UPDATE 10/25/23: The DGPT has announced its new DGPT Europe schedule, including five DGPT points earning stops.
UPDATE 11/16/23: The PDGA has rescheduled the Champions Cup to June 2024. They are reconsidering the date change due to a conflict with the Swedish Open.
With just a few weeks to go in the 2023 season, the Disc Golf Pro Tour has announced the 2024 season schedule! Notable changes in 2024 include a Florida-based start to the Tour, the elimination of Silver events, and a late season Champions Cup.
Here is next year's professional disc golf schedule:
| Event Class | Name | Location | Dates |
| --- | --- | --- | --- |
| DGPT X | All-Star Weekend | Orlando, FL | Fri, 2/16 - Sun, 2/18 |
| DGPT | Florida Open | Brooksville, FL | Fri, 2/23 - Sun, 2/25 |
| DGPT+ | Waco Annual Charity Open | Waco, TX | Thu, 3/7 - Sun, 3/10 |
| DGPT | The Open at Austin | Austin, TX | Fri, 3/15 - Sun, 3/17 |
| PDGA Pro Major | US Women's Disc Golf Championship | Austin, TX | Thu, 3/21 - Sun, 3/24 |
| DGPT | Texas State Championship | Houston, TX | Fri, 3/29 - Sun, 3/31 |
| DGPT | Jonesboro Open | Jonesboro, AR | Fri, 4/12 - Sun, 4/14 |
| DGPT | Music City Open | Nashville, TN | Fri, 4/19 - Sun, 4/21 |
| DGPT | Dynamic Discs Open | Emporia, KS | Fri, 5/3 - Sun, 5/5 |
| DGPT Europe | Copenhagen Open | Copenhagen, Denmark | Fri, 5/10 - Sun, 5/12 |
| DGPT | OTB Open | Stockton, CA | Fri, 5/17 - Sun, 5/19 |
| DGPT+ | Portland Open | Portland, OR | Thu, 5/30 - Sun, 6/2 |
| DGPT | Beaver State Fling | Estacada, OR | Fri, 6/7 - Sun, 6/9 |
| DGPT Europe | Turku Open | Turku, Finland | Fri, 6/14 - Sun, 6/16 |
| DGPT | Preserve Championship | Clearwater, MN | Fri, 6/21 - Sun, 6/23 |
| PDGA Pro Major | Champions Cup | Morton, IL | Thu, 6/27 - Sun, 6/30 |
| DGPT Europe | Swedish Open | Boras, Sweden | Fri, 6/28 - Sun, 6/30 |
| DGPT | Des Moines Challenge | Indianola, IA | Fri, 7/5 - Sunday 7/7 |
| DGPT Europe | Krokhol Open | Oslo, Norway | Fri, 7/12 - Sun, 7/14 |
| PDGA Pro Major | European Open | Nokia, Finland | Thu, 7/18 - Sun, 7/21 |
| DGPT Europe | Estonian Disc Golf Festival | Tallinn, Estonia | Fri, 7/26 - Sun, 7/28 |
| DGPT+ | Ledgestone Open | Peoria, IL | Thu, 8/1 - Sun, 8/4 |
| DGPT | Idlewild Open | Burlington, KY | Fri, 8/9 - Sun, 8/11 |
| PDGA Pro Major | PDGA Pro World Championships | Lynchburg, VA | Wed, 8/21 - Sun, 8/25 |
| DGPT+ | Discraft Great Lakes Open | Milford, MI | Thu, 9/5 - Sun, 9/8 |
| Playoff | Green Mountain Championship | Jeffersonville, VT | Thu, 9/19 - Sun, 9/22 |
| Playoff | MVP Open | Leicester, MA | Thu, 9/26 Sun, 9/29 |
| PDGA Pro Major | United States Disc Golf Championship | Rock Hill, SC | Thu, 10/10 - Sun, 10/13 |
| Playoff | DGPT Championship | Charlotte, NC | Thu, 10/17 - Sun, 10/20 |
Although the schedule is quite similar to the 2023 season, there is a significant change to the start of the Tour, which will begin in Florida this year for the first time. Typically, the Tour has started in the southwest US in Nevada (Las Vegas Challenge) or Arizona (The Memorial). "This change aligns with long-term planning and Tour Card Holder support for limiting cross-country travel each season," wrote the DGPT in their press release.
The new schedule sends players from Florida through Texas and the Southeast before crossing the country for the West Coast swing. The tour heads to the Midwest — with an option for players to head to Finland for the European Open — before going back east for Worlds; the DGPT Playoffs; and the final major of the season, USDGC.
"The 2024 season schedule is about making the best events in the World even better while delivering our best geographic route for ease of touring travel yet," said DGPT CEO and Tour Director Jeff Spring in a statement. "We're focusing on elevating eighteen of North America's most prominent and loved events to a higher level not just for players, but also for fans as we cultivate an even better experience both onsite and online."
There will be a separate announcement about DGPT events in Europe to come later this year.
No More Silvers, New Point Structure
The DGPT has simplified the 2024 schedule with the elimination of Silver events, which yielded fewer points and were often sparsely attended by top pros. Now, there are four primary event types: DGPT, DGPT+, DGPT Playoff, and PDGA Major.
The points structure is as follows:
DGPT: 100%1
DGPT+: 125%2
DGPT Playoff: 150%
PDGA Major: 200%3
For instance, the winner of a DGPT event will earn 100 points, and the winner of a DGPT Playoff event will earn 150 points. Other placement positions will have their points earnings scaled by the percentages above.
In 2023, Elite+ events (now DGPT+), playoffs, and Majors were all worth 150% of a standard Elite event (now DGPT). Next year, they will scale up in order of the prestige level of each event type.
The DGPT has not yet announced how many events will count towards a player's overall score in the standings.
As for the future of second-tier events, the DGPT said, "Some U.S. Silver Events from previous seasons will be included in a DGPT Qualifying Series schedule that will allow players an additional opportunity to earn their Tour Card for the following season. Additional information about the Qualifying Series and plans for previous Silver Events will be made available this off-season."
Tournament Changes
There are a number of tournaments that are being added, elevated, or removed from the tour. Here's a look at the changes:
NEW
Florida Open: Welcome to the start of the tour, Florida! This new event is set to be held at the former home of Throw Down The Mountain at the Gran Canyon course that was recently purchased by Paul McBeth and Chicago White Sox pitcher Dylan Cease. Note: the lawsuit filed against McCease LLC, the ownership group of the Gran Canyon property, by Trevor Toenjes is still ongoing in Florida District Court.
ELEVATED FROM SILVER TO DGPT
Texas State Championships: A previous Elite event that dropped to Silver in 2023 is back as a DGPT stop in 2024. The tournament will be back in Houston again next year.
Beaver State Fling: The legendary Oregon tournament is back as an Elite event after dropping to Silver for two seasons. It is one of the longest standing top-tier tournaments, having been an anchor of the PDGA National Tour before joining the DGPT.
ELEVATED FROM DGPT TO DGPT+ STATUS
Waco Annual Charity Open: The long-standing Texas DGPT staple event has been thronged by crowds in the past two seasons. It's now getting bumped up to a DGPT+ event, despite having one of the lower purses on tour in past years. It will move to a four round event on two courses, up from just three rounds at Brazos East.
Discraft Great Lakes Open: DGLO isn't really getting elevated, as it was a Playoff event this year. But with GMC back on tour post-Worlds, DGLO will now be a DGPT+ instead of a playoff event.
ELITE EVENTS REMOVED FROM TOUR
Las Vegas Challenge: With the tour's starting location moved to Florida, the Las Vegas Challenge has been left behind. The LVC website still shows the event as scheduled for late February, so perhaps it will still draw some strong players.
PCS Open: The PCS Open might end up returning as a DGPT event, since the Tour has only announced its North American events (and the European Open). But the Norwegian event is not listed on this initial schedule.
SILVER EVENTS REMOVED FROM TOUR
The following Silver events are not getting brought onto the 2024 primary Tour:
Lake Marshall Open
New World Championship
Blue Ridge Championship
Cascade Challenge
Zootown Open
Kansas City Wide Open
Mid-America Open
Rochester Flying Disc Open
Discmania Open
Only 2 of the 11 Silvers from 2023 — Texas State and Beaver State Fling — got the call up. It's also worth noting that there are no announced wraparound events this fall/winter.
New DGPT European Swing
The DGPT has consolidated multiple European tours into one consistent event series for 2024, laying the groundwork for a future global tour.
Five tournaments have been added to the calendar as full DGPT events, offering both standard DGPT points that count towards the DGPT Championship as well as a separate DGPT Europe point series. Additional A-Tiers will be added as Silver events (offering 50% points) that count exclusively towards the European standings.
The five events — the Copenhagen Open, Turku Open, Swedish Open, Krokhol Open, and Estonian Disc Golf Festival — will run from early May to late July, creating a series of tournaments that constitute a wider European swing, which includes the European Open, a major, in mid-July.
The PDGA Euro Tour now paused, and PDGA Europe will put its support behind the new DGPT Europe tour. Prodigy's European Pro Tour is also merging into the new DGPT series.
Updates to Come: United Series, Playoff Cut Lines
There are still a lot of details about the 2024 season that haven't been announced:
The DGPT says that "plans for the continuation of the United Series," the separate points system for events that allow transgender women to compete in FPO, will be announced this off-season. The creation of the United Series effectively allowed Natalie Ryan and other transgender women to play in the FPO division in states where local laws prohibit discrimination on the basis of gender identity. The Tour altered its policy after facing litigation from Ryan in multiple states during the 2023 season.
The number of players that will qualify for each of the Playoff events — GMC, MVP Open, and the Tour Championship — has not been announced.
---
Previously called a DGPT Elite Series ↩

Previously called a DGPT Elite+, worth 150% ↩

Previously worth 150% ↩