Simon Lizotte joins Paul McBeth and Ricky Wysocki with multi-million dollar sponsorship contracts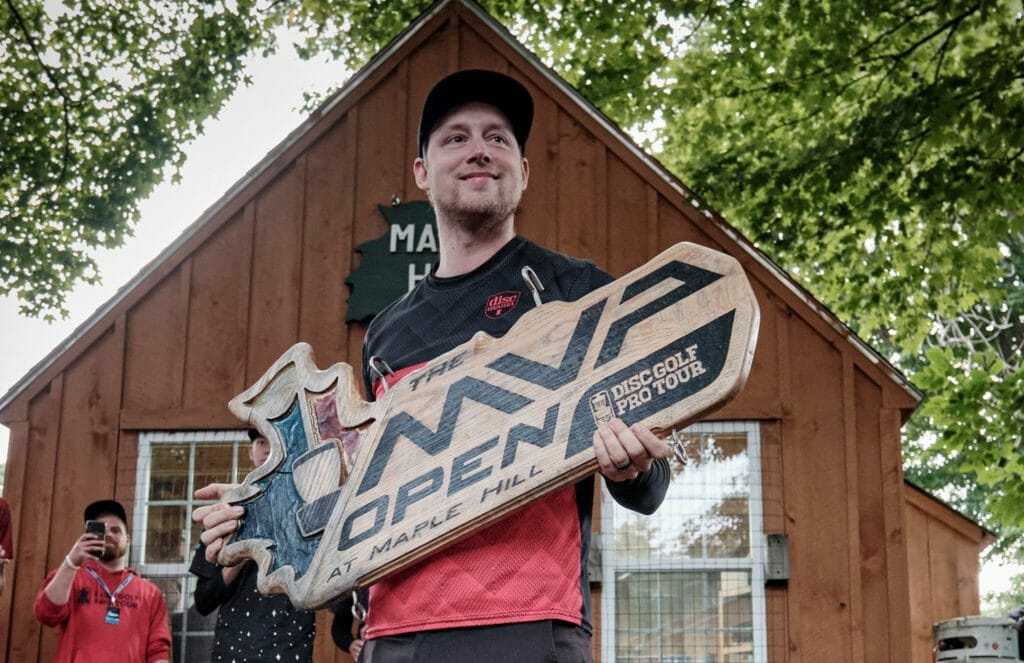 In October, MVP Open TD and DGPT founder Steve Dodge called Simon Lizotte out of the blue. He wanted to know — was there anything that could get Simon to leave Discmania? Simon said probably not, but that he would always be willing to entertain an offer.
Earlier, MVP had contacted Dodge and inquired into Lizotte. "MVP reached out to me and said, 'With Simon living so close to Maple [Hill disc golf course], and Maple hosting an MVP event, we'd be remiss to at least try to find out if Simon is interested,'" said Dodge. He arranged a lunch with Simon, not revealing its true purpose or that a representative for MVP would be there.
"Suddenly, I find myself in a lunch meeting with Steve Dodge and [Marketing Director] Andrew [Johnson] from MVP," said Lizotte. "And they didn't really give an offer, but they said, 'What do you want?'"
In that meeting, Lizotte discussed some of things he would be looking for in a new sponsorship deal — sufficient compensation, the opportunity to work on new disc projects, stability for his young family — and MVP just kept saying yes.
"The framework was set that first meeting," said Dodge.
The Deal
After weeks of negotiations and legal review, today MVP announced a 10-year endorsement deal with Lizotte. It is the longest such contract since Paul McBeth signed for 10 years with Discraft for $10 million — and it reaches a similar scope.
MVP will pay Lizotte a guaranteed seven figures a year along with a six figure signing bonus, with an uncapped potential for more earnings through disc sales and performance incentives. MVP also paid Discmania the $1,000,000 buyout clause in their contract with Lizotte, which was restructured last spring and set to run through 2026.
"The Leading Edge in disc golf now is paired with the leading man in disc golf – charisma, charm, and one heck of an arm," MVP wrote on their website. "This partnership is a perfect match of technical and manufacturing skill, and the most naturally talented disc golfer on the planet – we are ready to turn the disc golf world upside down."
"This whole thing is a new motivation for me to try harder," said Lizotte.
Already, MVP has announced a new Tour Series Eclipse Hex, featuring a stamp inspired by Lizotte's pet axolotl. Many further releases are expected, including a lineup of discs designed specifically for Lizotte, similar to what other top pros are getting from their manufacturing sponsors. Might it even be called the Simon Line? ("The great thing about Simon Line is it's already a brand, so it makes perfect sense," said Lizotte, though he declined to comment on any potential disc lineup.)
Lizotte discussed two different offers from MVP — one a 5-year, the other the agreed-upon 10-year. The contract contains a built-in renegotiation period near its halfway point. "MVP said, 'We want this to be a lifelong thing. We want to be your family,'" said Lizotte.
After 10 years with Discmania — Simon's first contract with them was for "25 discs and a shirt" — he had plenty of family to consider on that side. He spent weeks in phone meetings with Discmania founder Jussi Meresmaa, friend and co-Discmania sponsored player Eagle McMahon, team manager Avery Jenkins, and Director of Operations Austin Montgomery. Discmania made substantial counteroffers — Montgomery says he thought at points they were really close to getting a new deal done and Lizotte said their best offer was "extremely attractive" — but they didn't get to the finish line.
"My relationship with Jussi and Discmania was very family forward, and even a bit too close," said Lizotte. "I had this weird feeling inside of me that I didn't even want Discmania to pay me that much." He expressed feeling a sense of guilt when thinking about accepting a large offer from Discmania, a sensation he didn't feel when discussing compensation with MVP.
"I think the reasons for Simon leaving don't come down to the details of the offer but, rather, it's been a decade," said Montgomery. "He was looking for something new."
"Even if Discmania matched, I think I still would have made the switch," said Lizotte.
Boom Years
Simon Lizotte had his best year as a disc golfer in 2022. And it came as a surprise even to him.
"I actually wrote down three pages last year of what I was going to do with my disc golf career because I thought I couldn't compete anymore," he said, noting that he planned out efforts to get more involved in media and expand his YouTube channel.
Instead, he won four Elite Series events — the OTB Open, Portland Open, Des Moines Challenge, and MVP Open — which thrust him into the Player of the Year conversation and sent him home with eight times more in tournament winnings than he took down in 2021. Meanwhile, MVP was exploding in size, still basking in the aura of James Conrad's Holy Shot. MVP produced more discs in 2021 than they had in their 11 previous years combined, per the Wall Street Journal, expanding from 2 injection molding machines at the beginning of 2020 to 15 by the end of last year.
With revenues rocketing higher and a freshly signed deal with Maple Hill to be the title sponsor of the MVP Open for the next 10 years, an opportunity to sign the winner of their namesake event and arguably the sport's most likable player was tantalizing. And MVP had also watched on as Discraft blossomed when it took on the risk of signing McBeth to a long-term deal. They custom-tailored a deal to fit Lizotte and convinced him to leave his long-time sponsor. Ultiworld Disc Golf was unable to reach MVP for comment.
Lizotte said that he is "extremely happy to do whatever they want me to," but MVP has been clear — "the main thing they want me to do is just be me, and they'll be happy."
The Bag
Simon has already begun to explore what discs he will throw in a new YouTube video. He will be permitted to throw any MVP, Axiom, or Streamline discs, but he has been asked to fill no more than one-third of his bag from the Streamline lineup. He has also been asked to putt with a Gyro disc.
His first Tour Series disc, the Hex, has already found a place in his bag. "I don't remember being this excited about a midrange, ever," said Lizotte.
He said that he has only thrown his new discs a handful of times and has yet to play a round with them, so a lot is still in flux — "There's so many molds — it's so hard to choose" — but he praised the quality of MVP discs that he's worked with so far. "MVP is top 1, maybe top 2 most consistent with their molds and plastics [in the industry]," he said.
"Everything is so different and unique," he added. "Just the way they do things, I really enjoy it."
Next Season
The 2023 disc golf season is just six weeks away. Lizotte got off to a slower start last year, beginning his season with a 60th place finish at the Waco Annual Charity Open but ramped up quickly to back-to-back wins at the end of May and beginning of June. Now, he'll face the challenge of learning an entirely new bag in just a few wintry weeks.
"I'm not going to make the mistake to put too much pressure on myself, because I know that MVP doesn't really only want me because of my performance on the course," he said. "And I'm glad I bring more to the table than being a top 10 disc golfer."
He said he will be practicing putting extensively and throwing indoors into a net while getting in as many rounds outdoors in Massachusetts as he can. For now, he's planning to remain there with his family, nearby his mother-in-law, though he's keeping his eye out for an abandoned golf course somewhere on the East Coast that he could purchase and turn into "a sick disc golf complex."
With his new contract, he's got a sharpened mindset. "This is my real job," he said. "I'm a professional athlete — let's attack."